Discussion Starter
·
#1
·
Had a friend tell me the other day he was getting rid of a few of his bikes.
He said he wanted $500 for the 955 if I knew anyone that wanted it.
(after getting the title I found out it is actually a 98 T595 Daytona)
I of course immediately told him I would take it.
He had picked it up from a neighbor that could not get it running after letting it sit for a while.
My friend drained the fuel and got it running, but it would idle at about 3000RPMs.
The bike already had no fairing in front, and someone had converted the headlights to 2 projector beams.
He took the tail off to make his own since the stock one looked huge without the fairing in front to balance the look.
This is where he stopped and it sat...
I got the bike home Wednesday night, so yesterday I took a look at it and of course found the IACV hoses dried, split, cracked, and falling off.
So immediately ran to the store and got some hose to repair that.
I'm guessing that will fix the high idle as everything I have read yesterday about high idle points to a bad hose, and all 3 were definitely bad.
I am trying to decide what kind of tail to put on here.. I was looking at Early to mid 2000's GSXR 1000 tails,
looked at a few Ducati tails, the cheapest way looks to be around a 2004 CBR600RR tail..
Anyway, here is a photo of the bike where I picked it up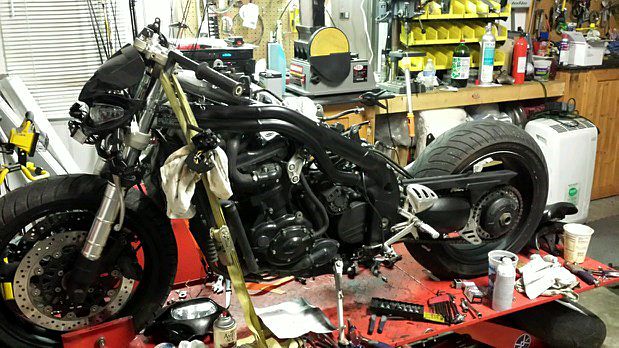 When we got home, it was late and I had not cleared a spot in the garage for it
So my wife suggested I put it in the house, in the spare room for now.
I think I have the worlds most understanding wife..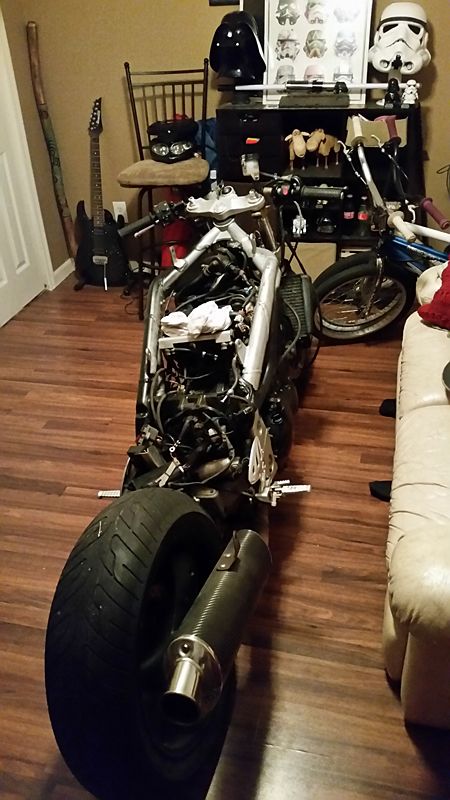 And this is not the first time she let me do this (Even the same room)
She's a keeper