Discussion Starter
·
#1
·
Okay everybody, discussion on this build goes here. bring it on.
http://www.customfighters.com/forums/showthread.php?p=1448929#post1448929
As some of you may know, this is my second round with this build. I entered it in last year's build off but had too much work to do to finish before the deadline. if you want to check it out, you can either see it in the old build-off section, or my ongoing member's build thread
previous buildoff:
http://www.customfighters.com/forums/showthread.php?t=61503
On going thread:
http://www.customfighters.com/forums/showthread.php?t=60761
Okay, down to business. I didnt have a paper, and i didnt get around to posting these up till now, but here is my time stamp (and yes.. the movie WAS good):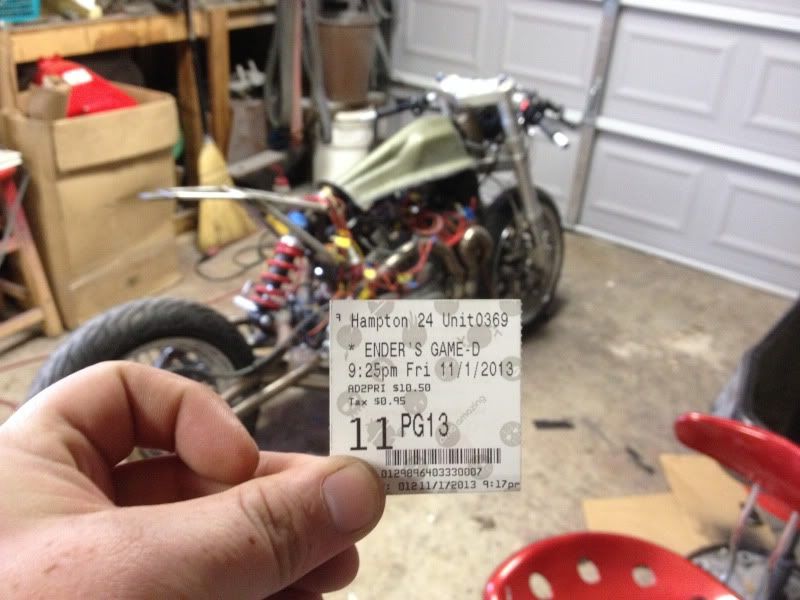 as the bike sat as of Nov 1
A basic assessment of the bike now: (all the custom work i designed and fabricated)
1982 Virago 920 Engine and final drive (shafty)
Gsxr 750 front end, rotors and calipers
Custom triples, rotor adapters, and axle
Custom main frame, subframe, lower frame and swingarm
Harley hub and rim in front
Harley rim and custom hub, CBR rotor and caliper
Custom exhaust with danmoto GP tip
Custom 2-1 intake manifold and harley CV carb
Koso Gauge
Custom wiring (in progress)
Custom carbon fiber tail unit (in process)
Custom carbon fiber tank (in process)
ninja 650r rear shock
cost so far: $2870
I am working on finishing the body-work before finalizing the wiring, ensuring the bike runs and everything is functional before i tear it all down for painting and engine rebuild. my goal is to have the bike cost less than 4k when it is all said and done, and have it running and on the road before the end of the build-off.
Now that all of the formal stuff is done, lets get to work!
thanks for everything
~Chris