Discussion Starter
·
#1
·
hi all CF!
i need ur expertise, knowledge & wisdom on this guys, i've read on other forums regarding this mod, but i have yet to know on how to apply this on my bike.
my bike is a 2003 honda cbr 600rr,
these are the forums i've read so far;
http://www.customfighters.com/forums/showthread.php?t=63693
http://www.customfighters.com/forums/showthread.php?t=63111
http://www.customfighters.com/forums/showthread.php?t=48236
regarding to the previous wirings (maybe this will impact my plan), i had a horn (korsa brand) installed months ago, i discovered the mechanic used a bosch 5-pin relay when i opened my bike up a few weeks ago.
i also installed a LED strip connected to the position light to have this "audi" style look.
my plan is to replace the 2 H7 bulbs with 2 H4 bulbs so that when i flip "on" a switch, both bulbs will be on low beam then when i push the high beam switch on the handle bar, then both will be on high beam.
here's a pic on the wiring from the manual;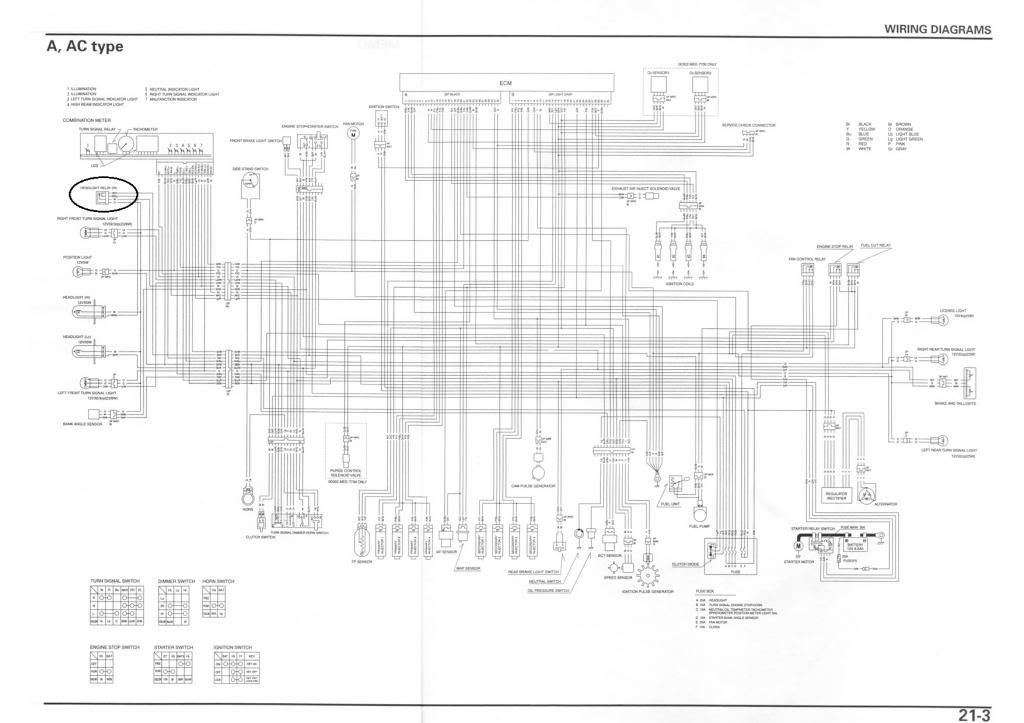 i already bought a bosch 5-pin relay, replaced the 20amps on the fuse(the one a few inches from the batt. in the diagram) w/ 30amps, & 2 100w H4 bulbs cut to fit the H7 bulbs place.
but as i have found out thru opening the "hood" & thru this pic of the wiring (encircled), this mod seems to be a complicated & tricky one to do.
so my question/problem is how to go about the wiring on the headlight when my bike already have this headlight relay for the high beam? which wire colors do i cut/connect/splice to the relay and out?
i've played w/ the wires myself, trying different combinations the present vacant wires from the stock lighting... but to no avail. i could not make the low beam of the H4 bulb light when i turn on the key...
thank you so much even for reading this thread! i apologize for making it a long one.
any help on this matter guys, even in just pointing me to the right forum w/c i have not yet read is greatly appreciated! i'm already missing my ride...
thanks so much my fellow CFs!
God bless u all! :rock:
^_^