Discussion Starter
·
#1
·
Hi guys, names cameron im from the UK currently just bought my first project bike and it needs alot of attention to get it in any reasonable shape.
My plan is to put a SSSA, new subframe and USD forks on. IF anyone has a guide for sticking maybe a R1 subframe or something with the "dolphin" tail look. PM me or reply in this thread
Here is my journey so far.
This is what it started life out as, A track bike which had been trashed and then stored for 1 year or more.
Taking a look under the "hood"
I attempt to fix the brake sticking problem the last owner told me about.
I find the pistons seized and shoes are close to dust. I replaced all the pistons and got them all sorted. (No pics of the new ones yet.)
This is the broken stater solenoid, i have since replaced this and it turns out it's not the problem, im guessing the previous owner had a remote start on the bike as theres wires for it because the ignition button does not work.
Previous owner came off on a corner and bent the exhaust to shit and sheared and seized in the downpipe bolts. Still trying to fix this
might even buy a new engine if its cheap enough.
My new SSSA and old exhaust with the lazer can, i will be cutting down into a stubby
Took me a hour trying to get the back wheel off as everything is rusted to oblivion. Penetrating and hammering until i finally prevailed!
After the back wheel was removed i started to remove the swingarm... BAD IDEA. The whole shock linkage is extremely rusted in, im either going to have to buy a new bigger ratchet, get some heat on it or saw through it.
Finally got the shock linkage off, i cannot remove the bolt securing the dog bones but the rest came off
blowtorch ftw!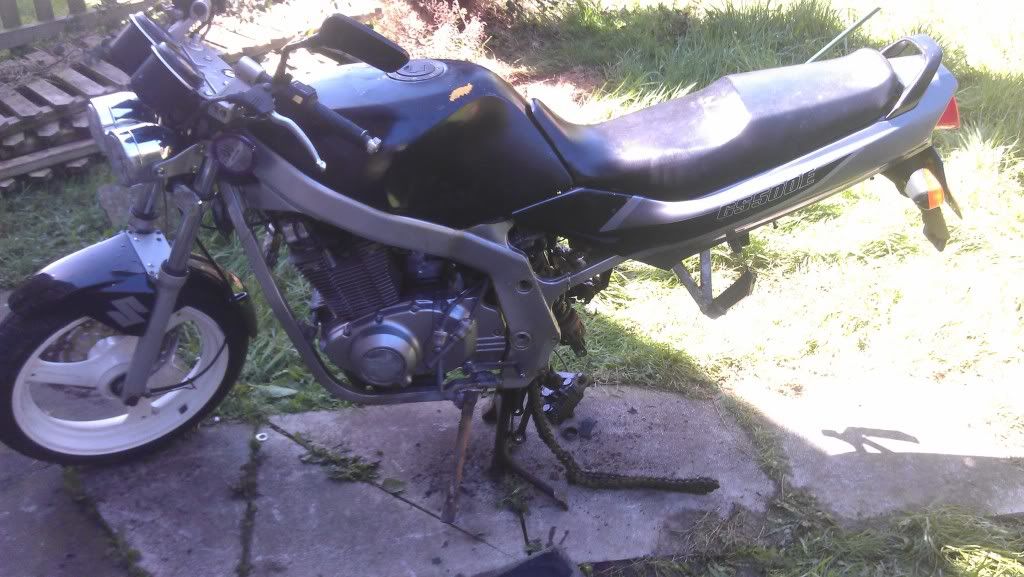 The SSSA i have is slightly too big for my frame, by roughly 2MM. so ill take it down to the fabricator when ive got some spare time and see if he can mill the sides down. I also put my refurbed brake caliper back on the front, seems the braided hoses wont reach now though
going to have to attach the hoses first and then attach it.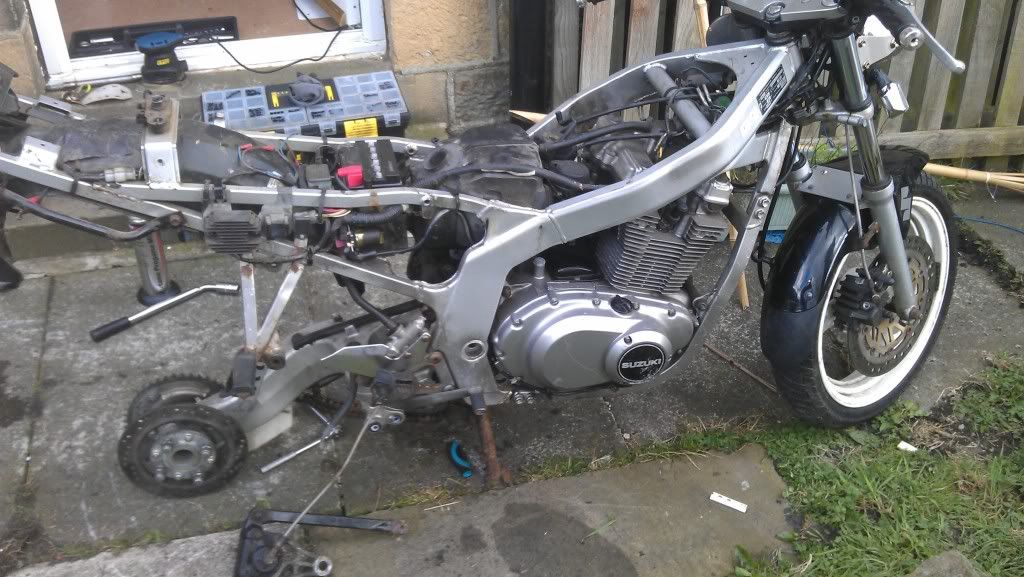 Got some longer braided hoses today
buying them in red when the bikes being sprayed though
Thought i would check the air filter today, maybe clean with some compressed air i bought... Better be some powerful air to blow rust off...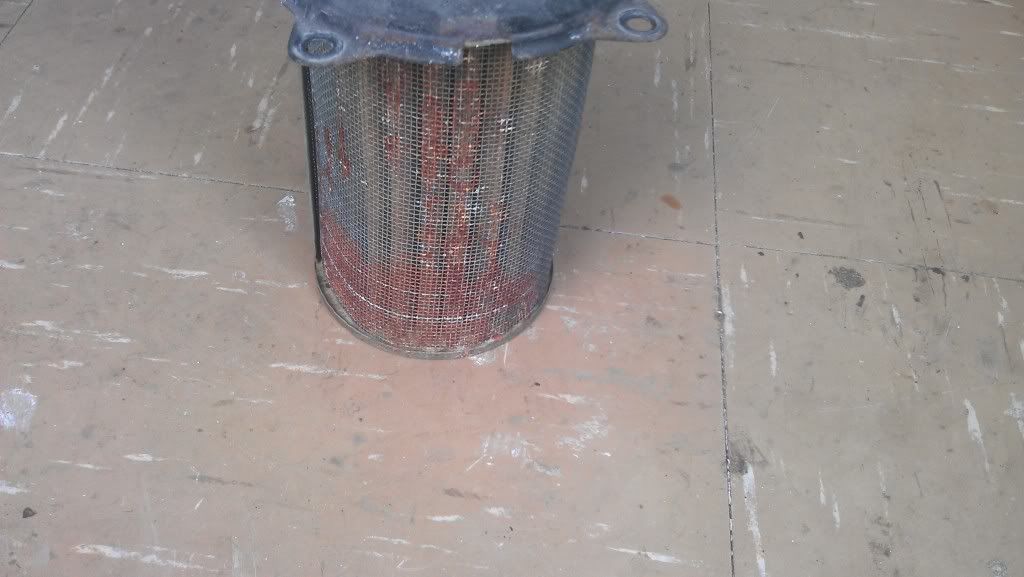 Ok the SSSA is around 1 inch too big, going to have to machine that down. comparison:
Pulled back the rubber today to find the most amazing thing ever! A broken clutch lever and snapped bolt that keeps it tight, so thats a new assembly + cable i need to buy.... Well atleast you can get them in red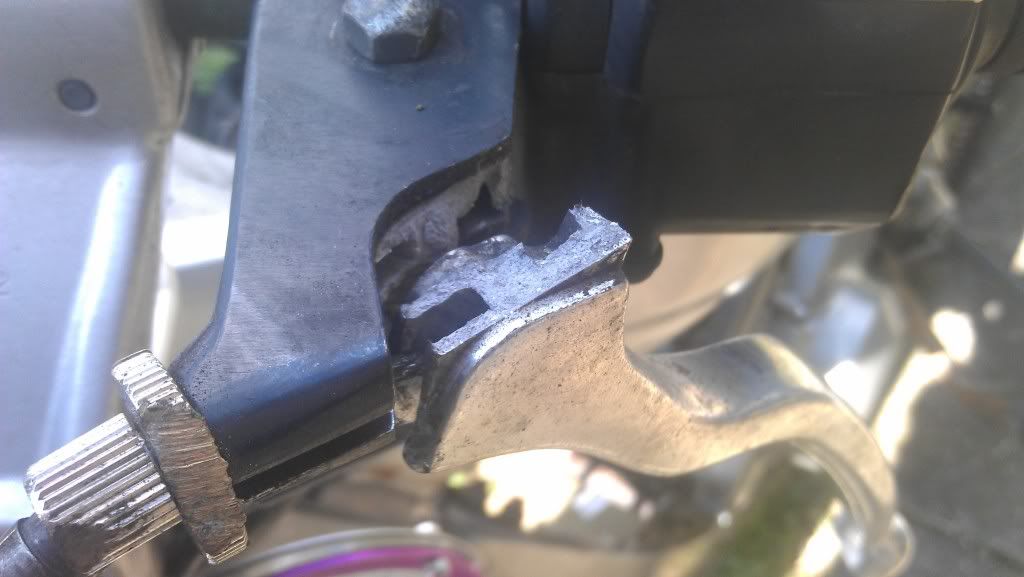 Wanted to check my front sprocket? (sure theres a name for it like on a BMX etc? chain drive?) there was like 3 years worth of shit inside it.... I need to invest in a jetwasher, the degreaser isn't working! it's almost rock solid dirt.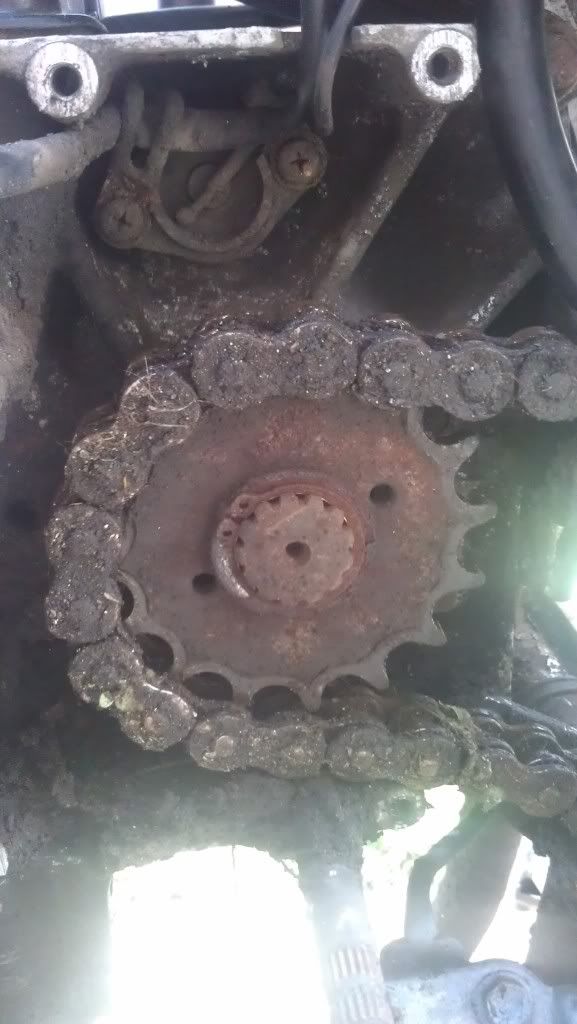 Thats my story so far, i will update with more pics as i get further, im working alot (80 hours
) and i got a holiday coming up.