Discussion Starter
·
#1
·
Long Story Short I Grew up overseas in Thailand where I started off with a NSR 150 2 Stroke Track Bike Which screamed when I was 14 and then When I turned 16 I bought myself a super 4. Growing up in Thailand there was never any need to fix anything myself as my mechanic would drive the pickup truck over to the house drop off a replacement bike and take my bike and fix whatever needed to be fixed. I got the motor rebuilt on the NSR for under 150 Bucks and while he was fixing it I was given a 2010 NINJA 650 to use. Lets just say having a bike in the shop meant that I got to ride something a lot sicker then my original ride
Anyways when I graduated high school I sold my bikes and came back to the states for College. After a year and a half I realized that I NEEDED a bike again. I just purchased my first bike that I'm planning on turning into a street fighter. Ive never really worked on a bike before but I really want to get good with bikes. Ive already decided once I graduate in a year and a half I want to take 6 months off and get some motor skills under the belt. Anyways back to the bike! A lot of the stuff that people do with SV650's have already been done. The bike has already had the following done:
1.SV650 Gen2 cams installed
2.Carbs rebuilt
3.Carbon fiber gas tank
4.Yoshimura full exhaust
5.Apex Rearsets
6.Fox aftermarket rear shock
7.2002 GSXR1000 front end
8.2006 GSXR750 rear wheel
9.Lightened rear rotor
10.Vapor gauge
11.New fuel pump installed with carbon fiber tank
12.Almost new chain and sprocket -- about 250 miles on them
13.Stainless brake lines front and rear
14.SV Racing frame sliders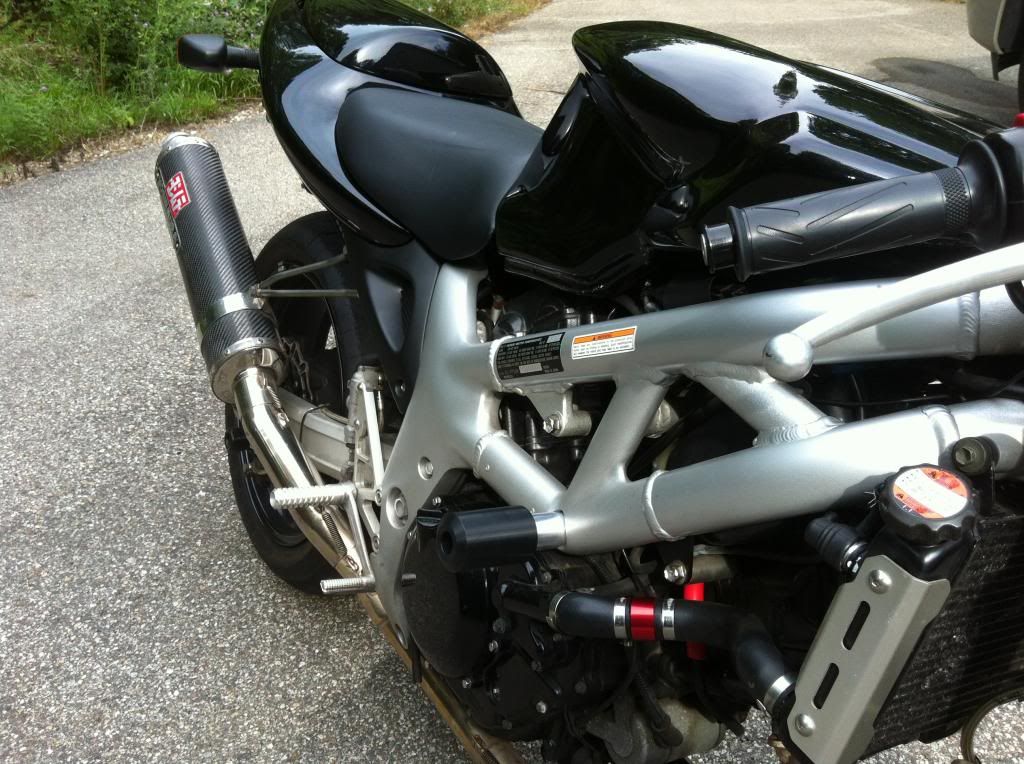 However I want to make the bike my own, I have a list of things I want to do
1. Renthal low handle bars-along with Risers
2. Bar End mirrors-Bought
3. Back Seat
4. Back Pegs
5. 12-Volt Charger For GPS/ Cell Phone
6. GPS+Mount
7. Move Ignition
Ive been Looking over tons of builds on here but didn't think I could ever be a part of it until I got my own bike. Ive gotten it now I just need some warm weather to ride! Excited to learn as I go along!