Discussion Starter
·
#1
·
I picked this bike up a few weeks ago off Craig's list for $250 with a clean title and an ugly vetter fairing along with a ton of stock replacement parts. Guy said it wasn't getting spark and he couldn't figure it out. He had replaced the coil, ignitor and even the pickup and still couldn't get it to run. With RacingGeek's help (by accident lol) we found it to be a temperamental kill switch causing the problem. So with no money into it, I had a running bike for $250. I was beyond excited because I had been searching for a small cc single to do a build for quite some time.
These are the pictures the guy used in his ad. The fairing was the first thing to go once I got it home.
I meant for this to be my winter build off project but with my job demanding a lot of time this winter I got a little too excited when I was given this past Monday off. It started with I'll just get some ideas for my build, to, well that takes care of that ugly subframe.
oh hey this is a good idea lol
Before surgery
After
buh-bye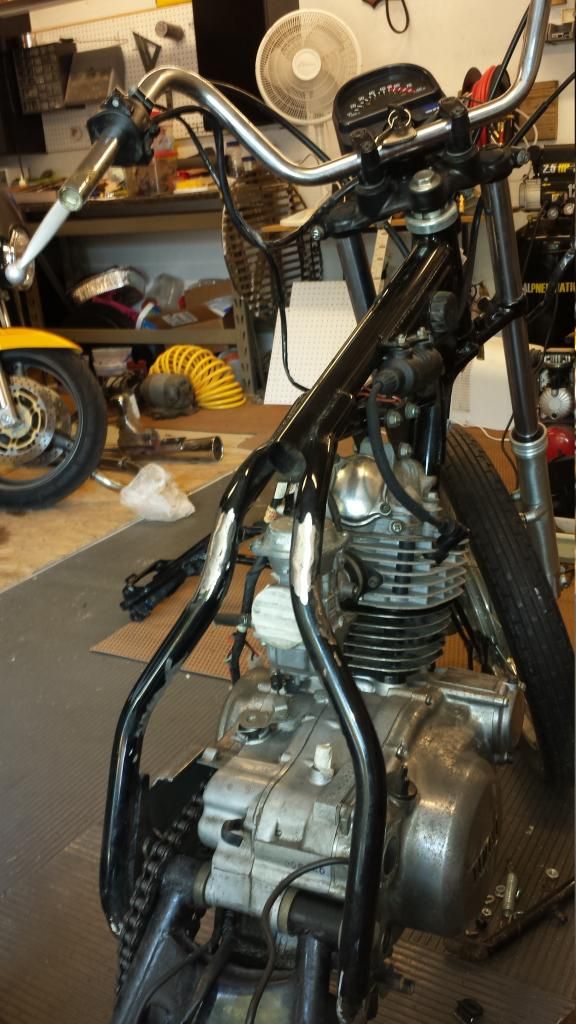 My idea for this build is to keep the cost under $800 or so total including the price of the bike. With RacingGeek's help (he's practically a parts warehouse) that is entirely possible. I plan to reuse parts when ever possible, things like tabs and tubing just to keep costs and materials to a minimum. So with that in mind I began some more surgery on the luggage rack for a mock up of the new subframe. (keep in mind that I have a crappy Harbor Frieght welder and only two hands, when it comes to final welds, I will be taking it to my friends house to use a proper MIG) and yes I realize that it's pretty crooked.
Now my next decision was, what kind of wheels to use. I was debating on using spoked wheels but I've always want to use cbr f2 wheels and RacingGeek just happened to have some for test fitting as well as a f2 front end.
The masking tape shows what will be the support for the subframe just so I could get an idea before cutting up some metal. I must say, I was determined to ditch that tank and use a squarer Yamaha RD tank but after raising it up in back and having the lines of the tank match the frame, it looks much better. All of this progress in one day. I just hope there's work left this winter lol.
I ordered a lower bearing from AllBallz Racing for the f2 forks so they fit right. Top one was the same but the lower one is a little different. I'm debating on whether or not to swap the swing arm. I found a cheap rm250 swinger and linkage for sale locally and I'm trying to get dimensions from the guy to see if it will fit. So if any one has one that they could measure for me that would be great. Otherwise, I'll be sticking with the stock swingarm (boo).
I had a ballistic battery that I was gonna use but when it arrived, it only read 9v so I had to send it back for now and will hopefully get a new one shortly. Hopefully I will have more progress this weekend.
Even though I am starting a little early and probably won't officially be in the winter build off this year, I am keeping receipts and a running total for those who are interested.