Discussion Starter
·
#1
·
My bike when I first bought it. Too much plastic junk. Excluding the crap body work, the bike was sweet. Frame good, no rust, motor felt brand new, I couldn't ask for a better start.
Took it for a full fairing ride in between commutes back and forth to work.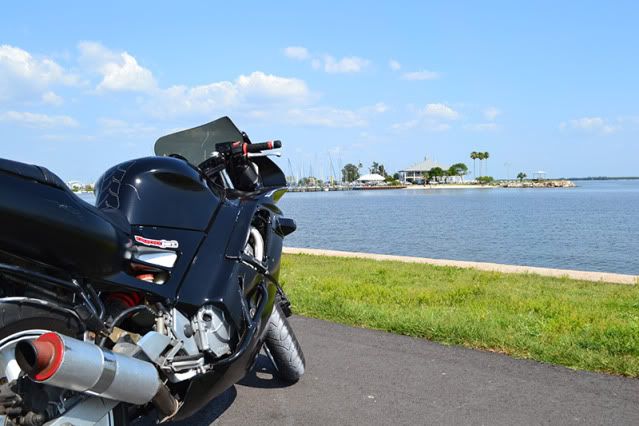 Then today, I had time to get into it. I'm building my bike in phases. Decided it's what will work best for me. I ride my bike daily for transportation. My first phase is a rat / trial phase for a fighter.
What I accomplished today:
-Stripped
-Bobbed the seat
-Bobbed the subframe as much as possible without welding
-Routed wires, shortened what I could, just tucked the rest since I'm sure of what the final length will be and I only want to build the harness once.
-Flipped clips on...then decided my wrist hurt too much(Carpel Tunnel Syndrome), and flipped back to stock. Vortex clip ons in the future.
-Fixed a few things that needed fixing
-Found a fuel leak
-Relocated tag and tail light
-Caught a falling motorcycle that was in the process of crushing me sitting beside it, and got it back on the stand before it did so.
Bike as of 9am this morning
Nice little surprise when removing the airbox
Stripping the bike down
More progress
Some mock ups
First try at a tail light mount
As it sits now.
Got a little more cleaning up to do, but it feels good for the project to be underway. I got a free headlight coming tomorrow, supposedly. Then I'm going to temporarily mount some turn signals, and get a hold of some sheet metal for side "fairings". I also got finish the trimmed fairing belly pan. Should be back on the road by end of day tomorrow or early Sunday.