Discussion Starter
·
#1
·
oooooooooooooo............. I finally made the plunge.
I have always, for as long as I can remember, been a huge motorbike fan. The opportunity kept creeping up for me to buy one, and then slipped away between my fingers.
A few weeks ago, I managed to scrape together some funds, and was left with 2 options.
I could either spend my entire budget buying something decent and then just ride it, OR I could buy something really cheap and spend the rest of my budget fixing it up as a project/hobby as I pretty much customize vehicles as my every day job.
I went with option no.2.....
Deciding what type of bike to buy was no question really, I knew it had to be a 400cc to learn on, and I knew it had to be a Honda VFR400... end of story, no questions asked.
However, I wanted to be a little different and not go for the full fairinged version, just cause they are so common.
I looked around for a while and found a vfr400k standing outside in the rain in Capetown for over six months for R8000.. The owner couldn't tell me much about it except for the fact that he lost interest in it. Anyway...... I paid for the bike and got a motorbike transport guy to pick her up and deliver her to my door for R1500 including transport insurance, which to me was very reasonable.
when it got here, guy's, it was bad, I thought I just threw all my money down the drain. SOOOOOOOOOO much of rust!!!!!! and the back tire was almost non existent.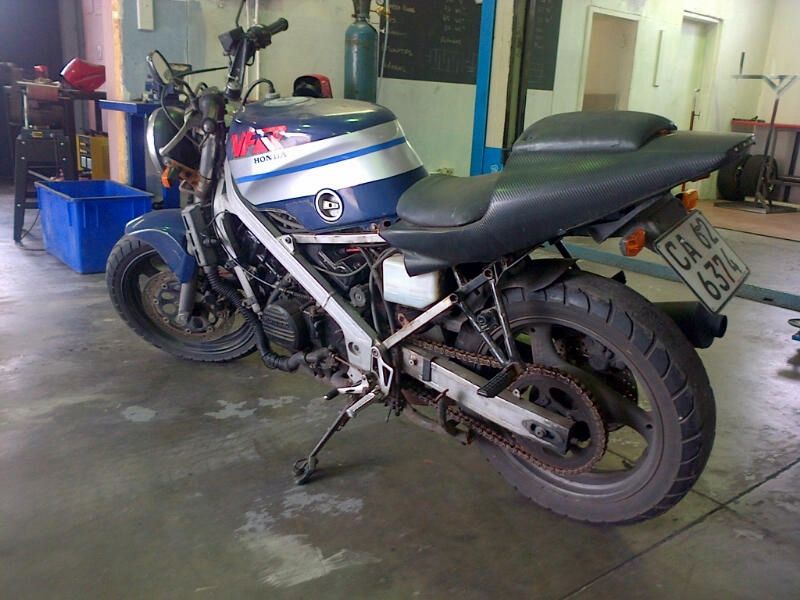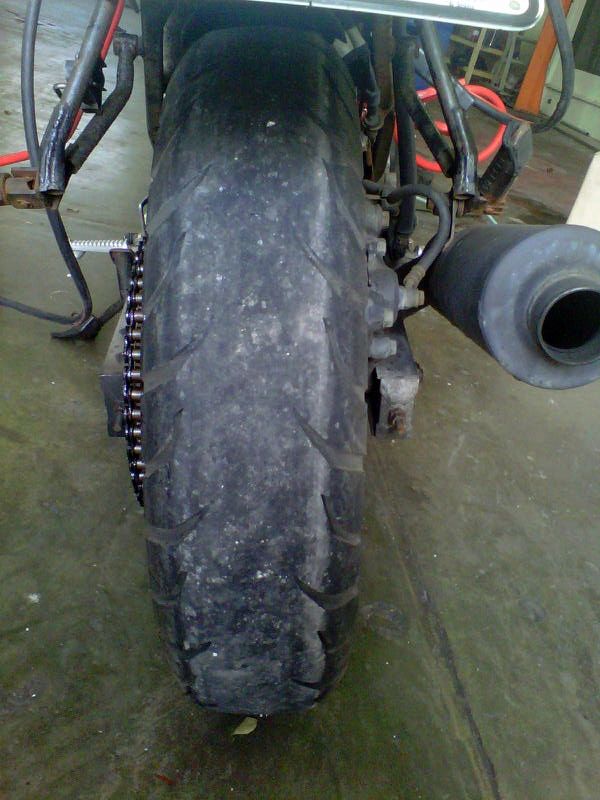 First things first, was to see how sound the engine was, I pulled the dipstick out, I was EXTREMELY surprised, it looked like the oil was thrown in that very morning... clean clean clean, clear and smooth. WOW.. I then checked out the coolant, same thing, a nice clear lumo green color. I then pulled out the spark plugs, looked like they never ever even sparked once. This put my mind a little more at ease.
I cleaned out the fuel tank and all the fuel lines as well as opened the tank valve and cleaned that out, I cleaned the electrical terminals and the air filter. I then shot off to Zeemans down the road to pick up a new battery and had the tank in my boot to stop for petrol.
Got back to my workshop and put everything back together.
It was crank time!!!! I knew I was probably gonna have a issue starting her up, or I was gonna run in to some complication that will shatter my dream..
I pumped a little throttle, held the clutch in, and pushed the start button. IT STARTED FIRST TIME!!!!! NO ISSUES!!! a sweet smooth purr.
I took her around the block and quickly ran in to a SMALL issue the front brakes were binding.
Back to the drawing board... I tool the caliper apart, cleaned everything off nicely, oiled it up and reinstalled.. IT WORKED!!! YAY!!
3litres of degreaser and a hose pipe session later, she looked clean.
I then spray-painted the steel frame that holds the seat section, and she started looking better.
A few days later I was back at Zeemans for a new rear tire. Bridgestone FTMFW!!!!
So now that she was riding the way she should, I needed to start focusing on visuals...
I spent a good few days, just removing each nut and bolt, one by one and putting it on the wire brush, polishing up the aluminum frame, removing the main stand, cleaning up the chain and the sprockets, and spray painting whatever needed a coat including the wheels.
I spray-painted the front mud guard, tank and seat section in a flat black, just so it looks a little better, but that needs to get fully customized as soon as I have the time. small little dings and dents needs to be flattened. I'm thinking of spraying it in a high gloss piano black..
Here is what she ended up looking like after..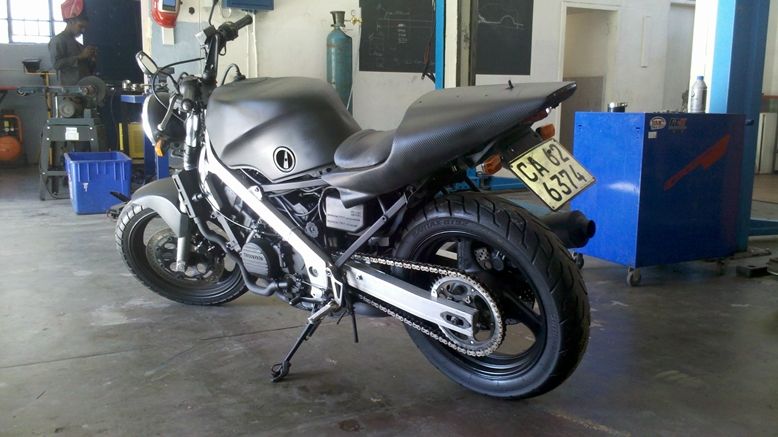 Next up...
custom spray job on tank etc etc.
Having the seat recovered in new leather.
customize the tail section.
Definitely fit smaller numberplate or remove completely.
twin headlights.
copper color wheels.
copper color the forks.
lower handle bars.
new custom full exhaust.
maybe even turbo charge or some NOS, whatever I feel like that day..