Discussion Starter
·
#1
·
So I bought my 96 ZX9 from my buddy for 300 dollars, a new rear tire, and a new Shoei RF-1K helmet. Not a bad deal if you ask me
So the bike started out life as this:
It had chrome pieces here and there, a Muzzy slip on, strapped down front forks, and really beat up fairings. After riding her for a couple
of months I decided to so a 520 conversion...thats where things
went good. We pulled off the back wheel only to see the hub bearings fall all over the floor :nuts:. So now we have to wait a week to get the bearings in...what to do, what to do. Well for some time we have been discussing cammoing the fairings to hide the gouges lol. So we tear the bike down and I start with the tank. Well the cammo didnt go over so well. I was using black and dark blue as the base, and intense blue pearl, light blue, white, and silver as the patterns. I started diggin the blue pearl, so I sprayed a little on the sub frame. This is what the result was: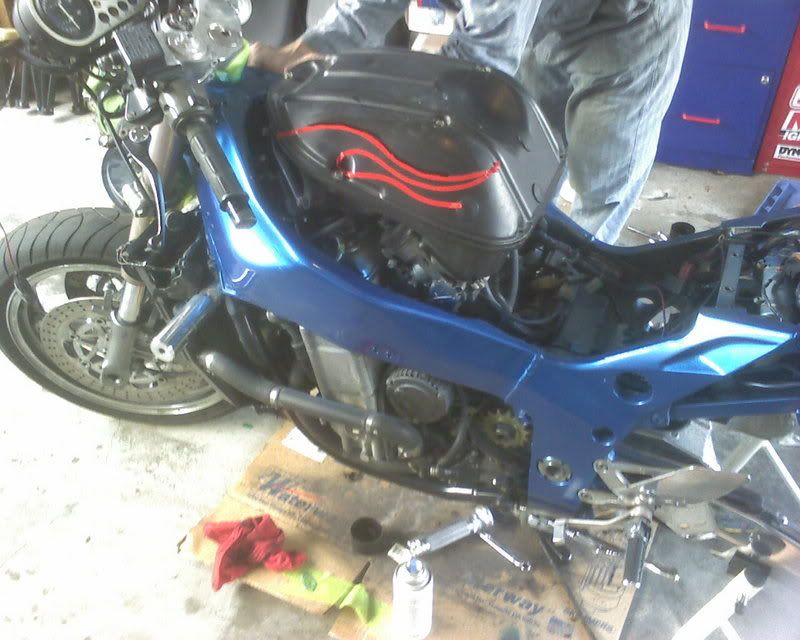 After looking at the painted frame and it being fairingless, nore ideas popped in my head. After getting this look I was hooked on the street fighter look:
So now what to do with the tank to get it to blend in. I really didnt want to paint the whole thing blue, so I did a quick crappy cheese pattern using a pewter color.:
After sitting back and looking at the bare frame, I concluded I needed to make it a 1 seater, and chop the subframe down. Sorry for the crappy pic..cell phone, night shot, and poor photoshop skills lol:
So after all of this was set in motion, I was talking about a bellypan, and we both looked at each other and grabbed the fairings. After a little deliberation this is the final result thus far. I still need to chop the subframe, build some filler plates for the frame, and loose the whole headlight gauge assembly...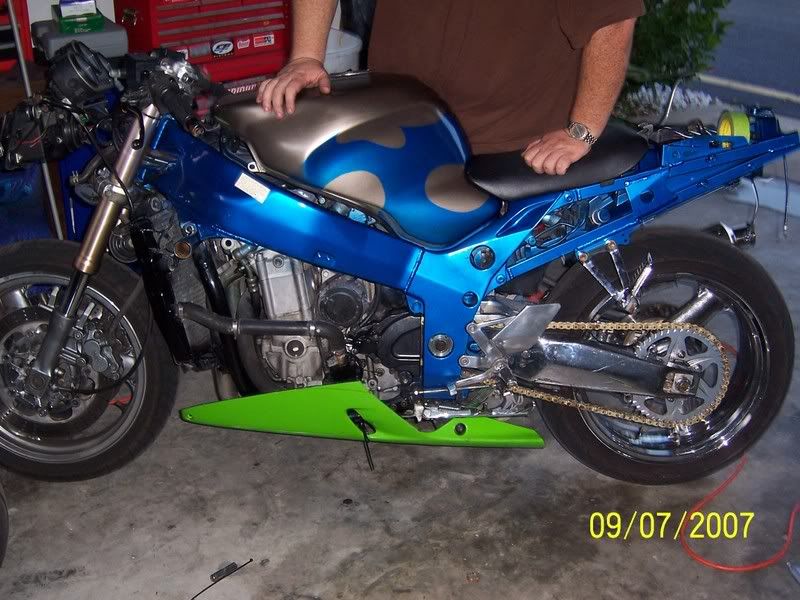 So now I have less than 1500 in the entire build including the bike, conversion, and the rattle can paint.
Future plans include:
new handle bars
new headlights
new gauges
powercoating the frame
rechroming the chrome pieces
new tank with real paint job lol
Any suggestions are appreciated.