Discussion Starter
·
#1
·
Hi guys, my name is Matt, I'm a senior in High School and I just bought myself a 1990 gsx-r750 which I will be using for my Senior Project. I've been riding my dirt bike for a year and a half, and the first time I have ever ridden a bike was when I was 13, when my dad let me ride in a circle on a fzr600. But I haven't been riding since then until I got my dirt bike. I got my endorsement last year so I'm still a noob to the street.
My gsx-r750 came with a spare frame, spare motor and transmission with low miles, and a swingarm from a 96' model. I'm a senior now so this would be my senior project. I plan to switch the motor and transmission out with the other one because the motor in it right now was raced out and abused. I also plan to switch out the swingarm with the newer one and get new tires. For what I've heard, the swingarm just bolts right on without any modifications. I'm going for the street fighter look, so I'm getting an acerbis headlight, and aftermarket turn signals and led brake light. If any of you guys know where I can get turn signal bar end lights, it would be most appreciated.
I'm getting help from my dad (who knows what he's doing) with this project so I'm not going into this blindly. But we'll see...:roll:
I'm going to bent bike tomorrow to pick up some parts so I can get this project going. Hopefully I can get this bike running well in July, but small paychecks from my part time job might set me back a little because I have to buy more expensive things for this bike.
Here is the bike now: It didn't come with the side fairings, and I don't want to buy them, so the street fighter look is where I'm headed.
And here is the bike now:
The headlight I'm getting: I just think it's cool, and it was one of the only aftermarket ones that were DOT certified.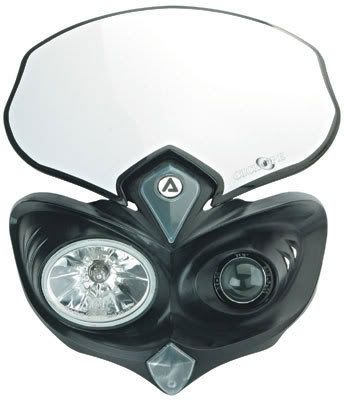 Waiting for the VIN to get checked with the other frame so I can register it and switch everything to that frame cause I found 2 cracks in the current frame.
Anyone got a right up on how to install those make-it-yourself handlebar risers with those universal mounts?