Discussion Starter
·
#1
·
Hello people. its been a minute and a day. am a member on here from a while back that a few of you may remember.
this was my last build
http://www.customfighters.com/forums/showthread.php?t=53942&page=7
had a lot of fucked up shit happening in my life. last time was job trouble. then got a job. met a nice woman. things were going great. I was working at the bar she was working at. and i found an IT job during the day. march 15th i get a call from work saying they had to let me go because their need for my services didn't fit into the budget. that sucked but i still had the bar. and things were cool with that. not a lot of money but it was at least enough to take out my girlfriend and fuck with my current bike.
well the same day i get laid off my now ex got attacked at the bar by some bitch. ended up smashing a pint glass on my gf's face and cutting her up very badly. the glass shattered leaving her with 5 cuts on her face that were down to the bone. one of them from the bottom of her left eye down under her jaw. that was when i lost it. i stuck around and gave her support of course. and am still a friend to her. but she can't handle a relationship now as this whole ordeal mentally left her scarred for the rest of her life.
so I lost all motivation. stopped lifting for a while. even stopped working at the bar for a bit because when i didnt see her there, knowing she wouldnt be back i would find myself aggressive and angry and would be too rough when ejecting people from the bar. so i stepped back and said i needed a break. started riding more. so much so i put 2,300 miles on my bandit 1200 in the last couple of months. but even there on the bike my aggression was getting the best of me and the only source of freedom i could find from it all was pushing the envelope and going fast. becoming very reckless. launching hard off the line and feeling the blood rush out of your head as the wheel floats through the first 3 gears is a great feeling. but lately i have been pushing the envelope way too far. wide open throttle in the tripple digits on highways for long runs. weaving in and out of traffic. and then it happened. someone didnt see me and did a lane sweep in a car. were talking a real close call here. im doing about 100 and he clips my can with his bumper. i dont know how he didnt bring me down. it was that minute when i pulled the bike over and had my buddy come pick me up and load up the bike. all due respect to all the fallen fighters but im not ready to join em yet. so i was sitting here yesterday thinking about the bike. then remembering my old gsxr and the customfighters community popped into my head. really loved being a part of this open community full of people with a similar passion to mine for bikes and such. so i did the smart thing this morning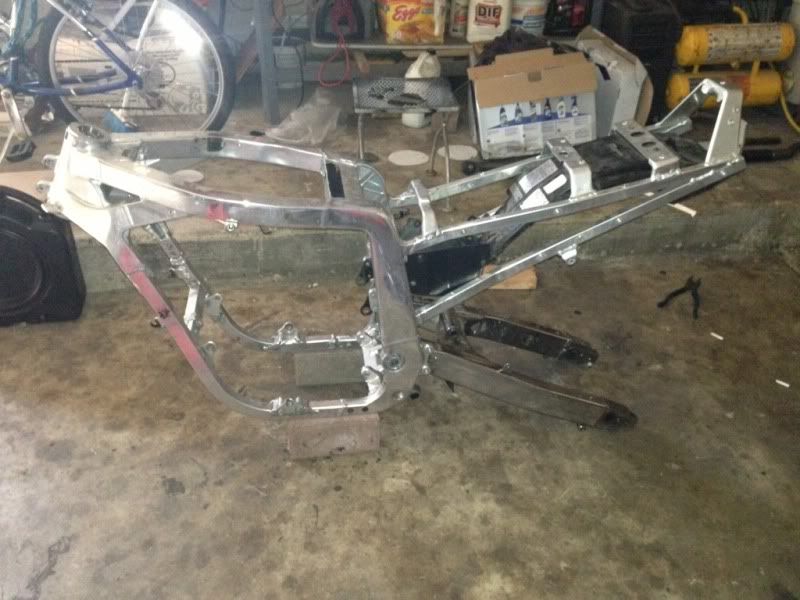 found a guy that blew his motor on his katana 600 and traded him a 600 motor, harness, cdi, and carbs for this polished gsxr frame with clean paper and a chrome swingarm.
soooo... time to sit my crazy ass down and do a build. a big bore build, a big bore turbo build, a big bore turbo build with a twist............. something that hasnt been done yet with these suzuki oil cooled motors which i will not reveal now but you all will see. starting a build page soon. but just wanted to say im happy to be back home on CF! looking forward to doing this build and being a part of this comunity again!!!
~FIL
oh yeah here are more pictures of the bandito