Discussion Starter
·
#1
·
Hey there fellow motorcycle addicts.
This is going to be a build thread for the current daily rider project. Its a 2000 Kawasaki Concours ZG1000. Going to be in full plastics, still going to have the big ol' saddle bags, but I'm going to do some upgrades and custom work for this bike. Add some fighter touches to it since it will be a daily all weather rider. Once I have my own house I will be pursuing another 900rr to being a fighter out of, but for now I just want to ride.
For those that don't remember, I hit a deer back in September on my DRZ400S and ended up waking up in the hospital. Not going to lie, I almost left this sport/hobby altogether but the addiction and people who I know kept me to it. So then the search for a more comfortable bike started and the suggestion came to look into a sport/touring Concours. Big, powerful, comfortable, and reasonable prices on craigslist. Plus this a comfortable enough bike that my fiancee wants to ride with me on it. Am I getting old?!
Ended up picking up the one I have not for $1000, runs and shifts through all the gears so a good base to build up from. Pretty much a rebuild with upgrades for performance and handling. Bringing some fighter touches to a otherwise stock bike.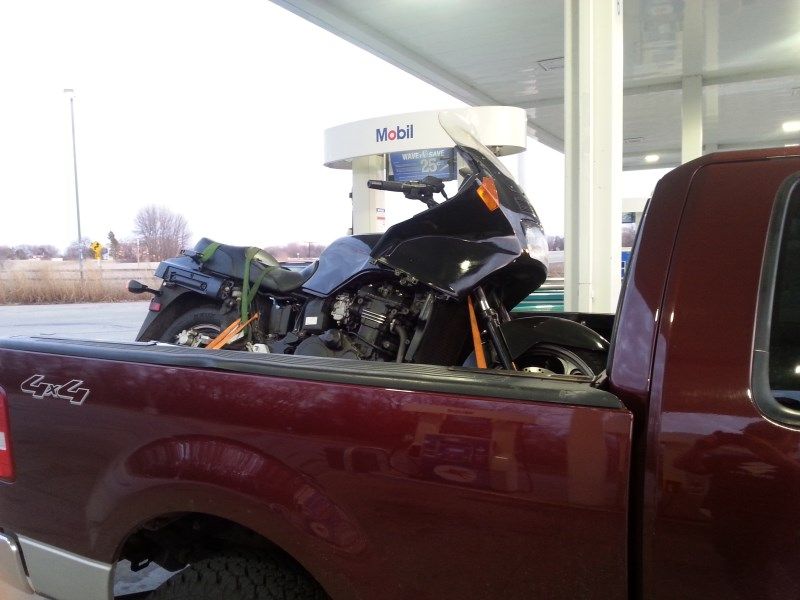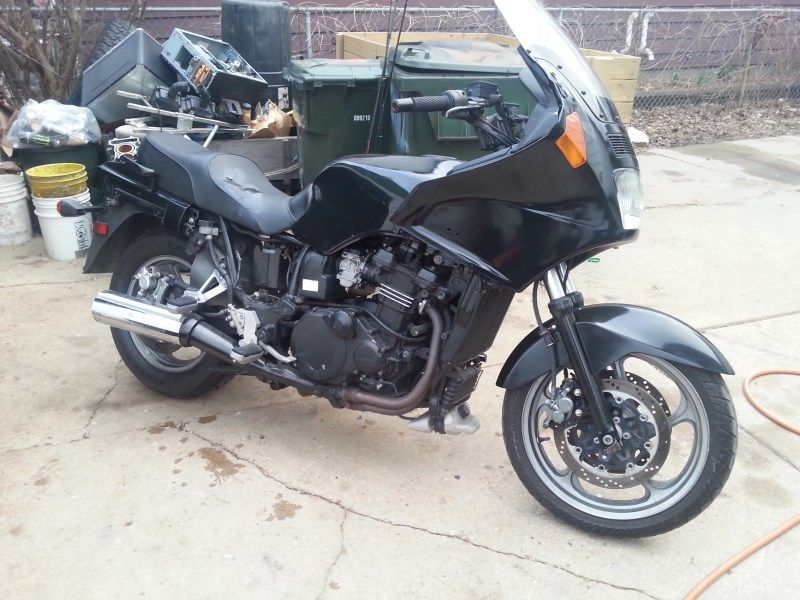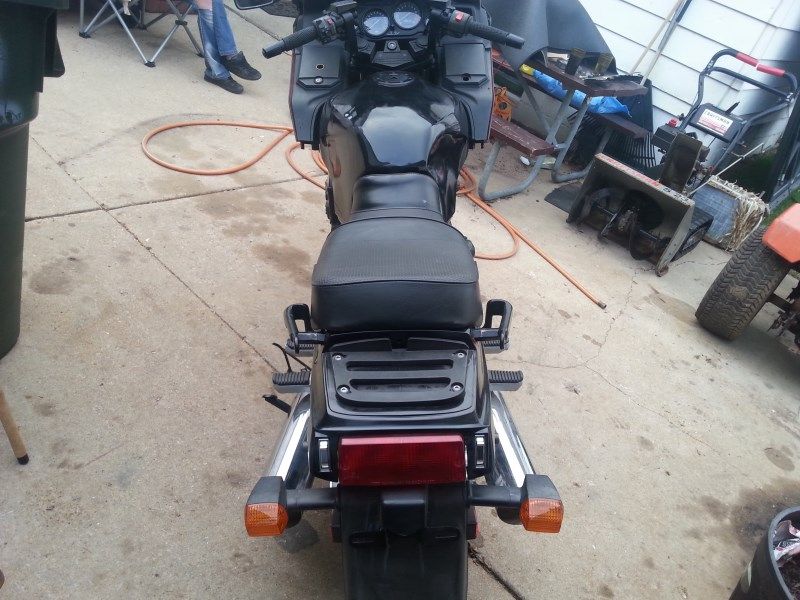 She won't be winning any beauty contests or any 1st place stats but its going to be one awesome ride for road trips.
Plans now are to get all the missing fairings and get it back to a base "Stock" bike. From there I will be sending the carbs to a guy in Florida who is a master with these concours bikes and he'll be rebuilding and modding them with overflow tubes (Concours have a bad hydrolocking problem). Then the usual EGR delete, wiring mods to reduce electrical waste, and such. Got a line on a set of EBC waved rotors for the front, will be running stainless lines and a external res master off of a 636. Clutch line will be SS as well and will be running a ZX-7r external res clutch master as well. LOVE the look of external reservoirs. Also going to pursue after a set of supertrapp mufflers from a 86 Ninja 1000r that should fit onto the connie since the bikes are the overall same base engine. Opening up the airbox some and rejetting should add some good power to this beast. Make it a bit of a sleeper, since these things are sport based good enough that you can drag knee with these. There is some other Concours farkle I'll be adding, lowered footpegs for my 6'3 self, taller windscreen... once again I'm friggin tall, and eventually a handlebar conversion to eliminate the clipon bars. Full LED conversion, add some smaller profile accessory/fog lights, backrest for the fiancee, and a ton of other little bits. A custom TocTuning seat may be in the future too.
I ended up trading the CBR900rr W.B.R.W back to Ratfighter for his DRZ400S so I once again have a dualsport to play around on. I hope to soon have another CBR900 but thats on the future project list. Still have $8k in medical bills from my wreck to pay off so going to focus on the debt first before buying more bikes.
Thats all for not, have a good one folks!