Discussion Starter
·
#1
·
Well this weekend was my first race weekend. Opening round of the MRA at pikes peak international raceway. I was entered in novice GTO with my 999 that I've been working on getting ready for nearly a year.
Things were going well, I did 4 sessions on friday practice and one session saturday morning before the race. I got my lap times down to about 1.08 and the record for the class is 1.00. Not bad for a new guy at a new track.
When the race started I passed a few people in the first couple corners and over the next few laps passed a few more. Turn 1 at PPIR is really fast, coming off the front straight down the banking into a long corner that goes back out onto the back straight. This corner is bad ass because it's really fast, it changes camber abruptly at the bottom, and it leads into a long sweeper right out into the back straight. I was getting good at carrying a lot of speed through there and I was having fun doing it. However I forgot to factor that it was probably 20 degrees hotter that afternoon for the race, and I wasn't running slicks. Towards the end of the race I turned in off the straight, down the banking and tried to get the bike upright and hard on the brakes before leaning it over again into the next corner, but the front got squishy and I tried to run wide onto the overrun area but it was too late and I was going too fast at that point since the tires wouldn't grip. The bike washed out from under me at probably something like 100mph and I went down on my left side, tumbled a few times, smashed my helmet and my left shoulder into the pavement at least twice before coming to a stop. It happened so fast I couldn't really tell what happened after the bike went down. I know I tumbled at really high speed. My leathers are shot, broken stitching everywhere, burned through at the elbow. My brand new gloves burned through a finger but they are kevlar lined so I just got a blister. The straps on my right boot are gone mostly (kinda pissed about that, I could have easily had a boot come off). My helmet has a big smash on the left side and the face shield hit the pavement probably twice. I'm really lucky because I forgot my helmet chin strap when I left pits for the warmup lap, I half ass fastened it when I got on the grid. I regret that decision so much, I could have died yesterday. I have a bruise on my nose from impacting the front of my helmet.
I got taken off the track in an ambulance and they brought my bike back, it's a mess. The bike slid all the way from the bottom of the corner to the top of the banking and hit the wall. It hit the back of the bike, smashing my $$ termi exhaust and because it was in gear it sheared at least the dogs on those gears in the transmission if not some teeth.
Luckily I am okay just really bruised up and my left shouder and chest hurt a ton, I can barely use my left arm right now and I can only take shallow breaths. However financially I think I won't be able to race anymore this year because not only do I have to completely tear down my bike and fix the transmission along with the other broken stuff I have to replace all of my gear. I'm also wondering if I should be doing this at all because my ambition appears to exceed my talent. I will probably rebuild the Ducati but I think maybe I should try and sell the gsxr for an R3, 250 or something like that until I get some more experience. I don't really want to ride on the street anymore anyway, it's way too much fun dicing with other bikes up close, turning into a corner, getting your line set up and passing somebody on turn exit that's so close you could reach out and touch them. Nothing on the street even comes close for me.
I think I'll put that helmet on display or something, I seriously owe my life to that helmet and I am very happy I picked it. I love you NEXX XR2.
Pre crash photos: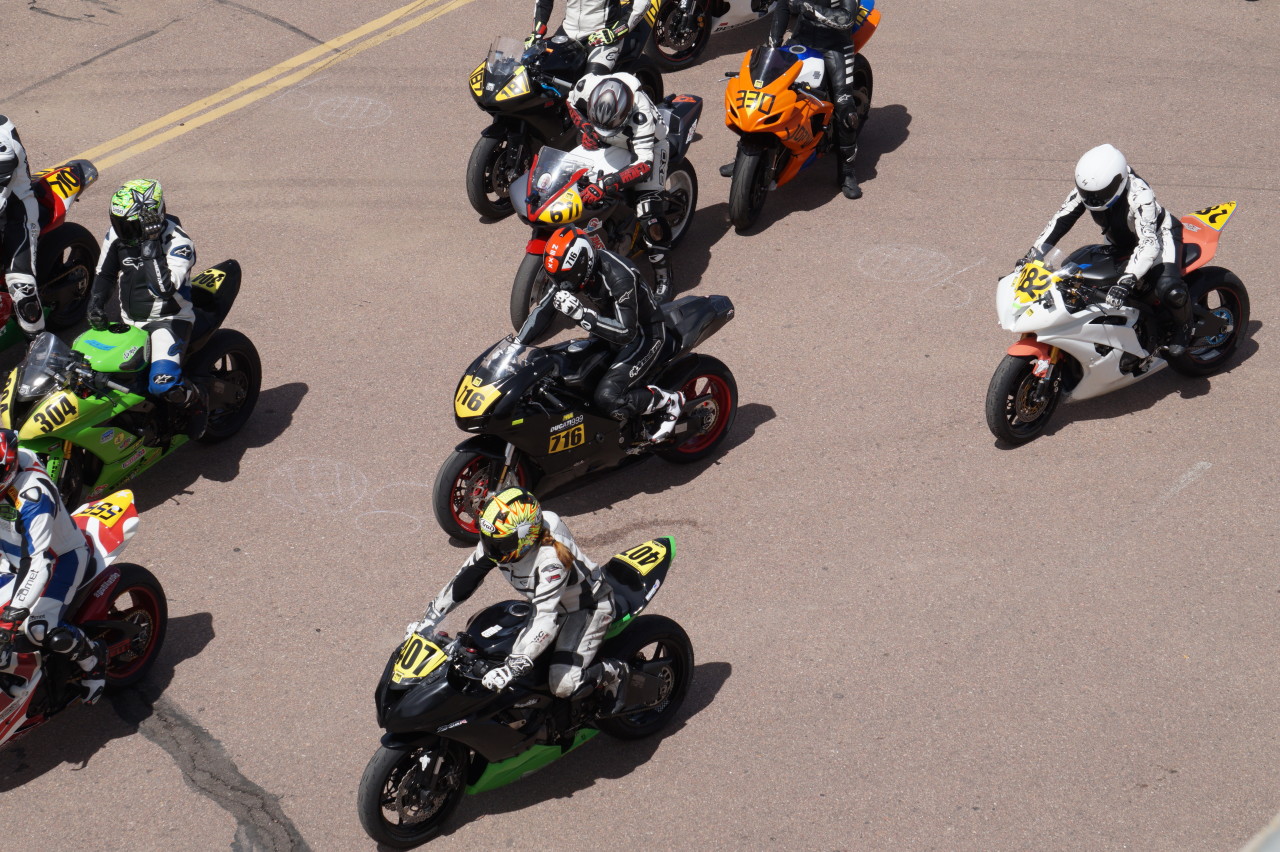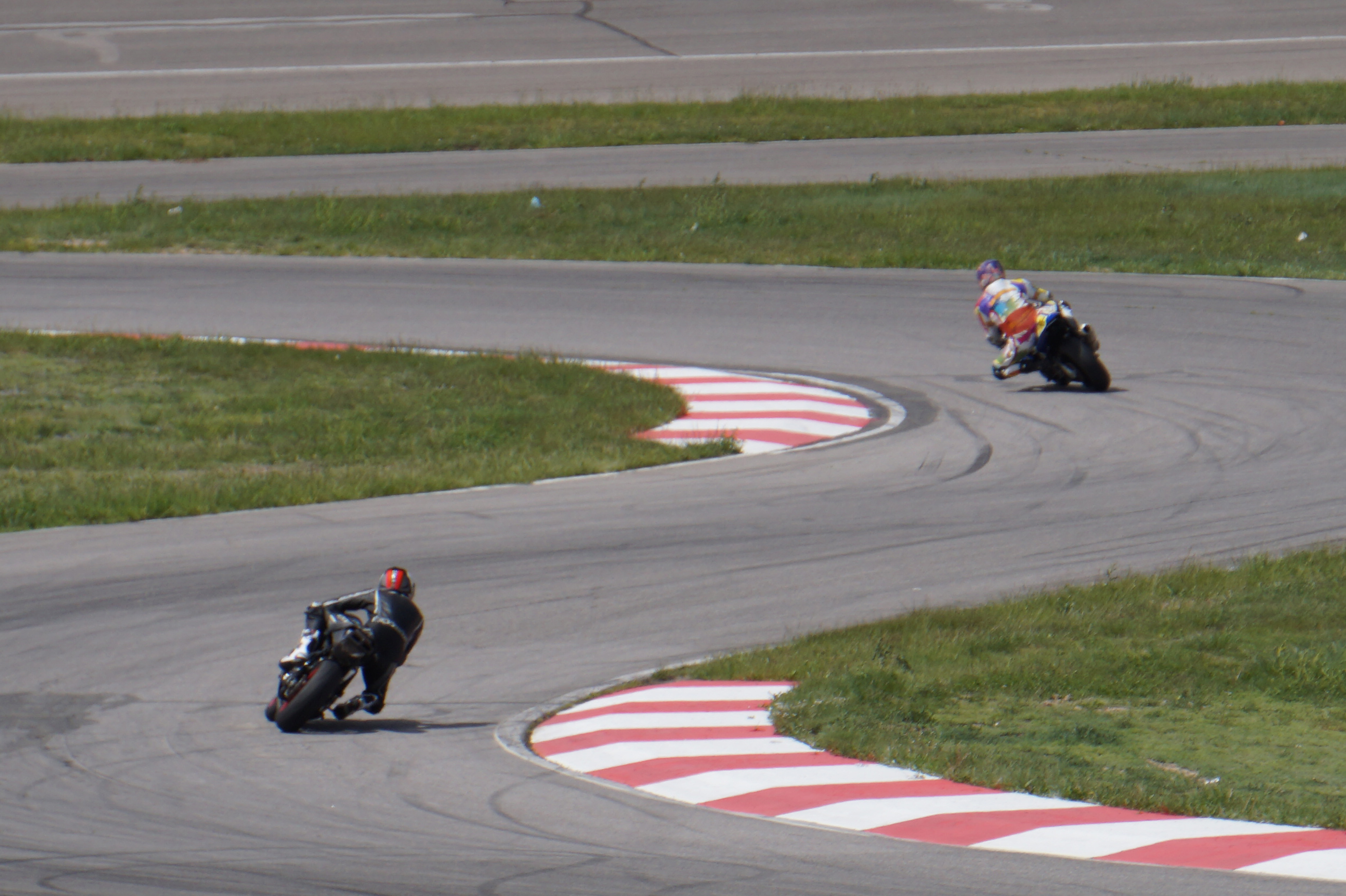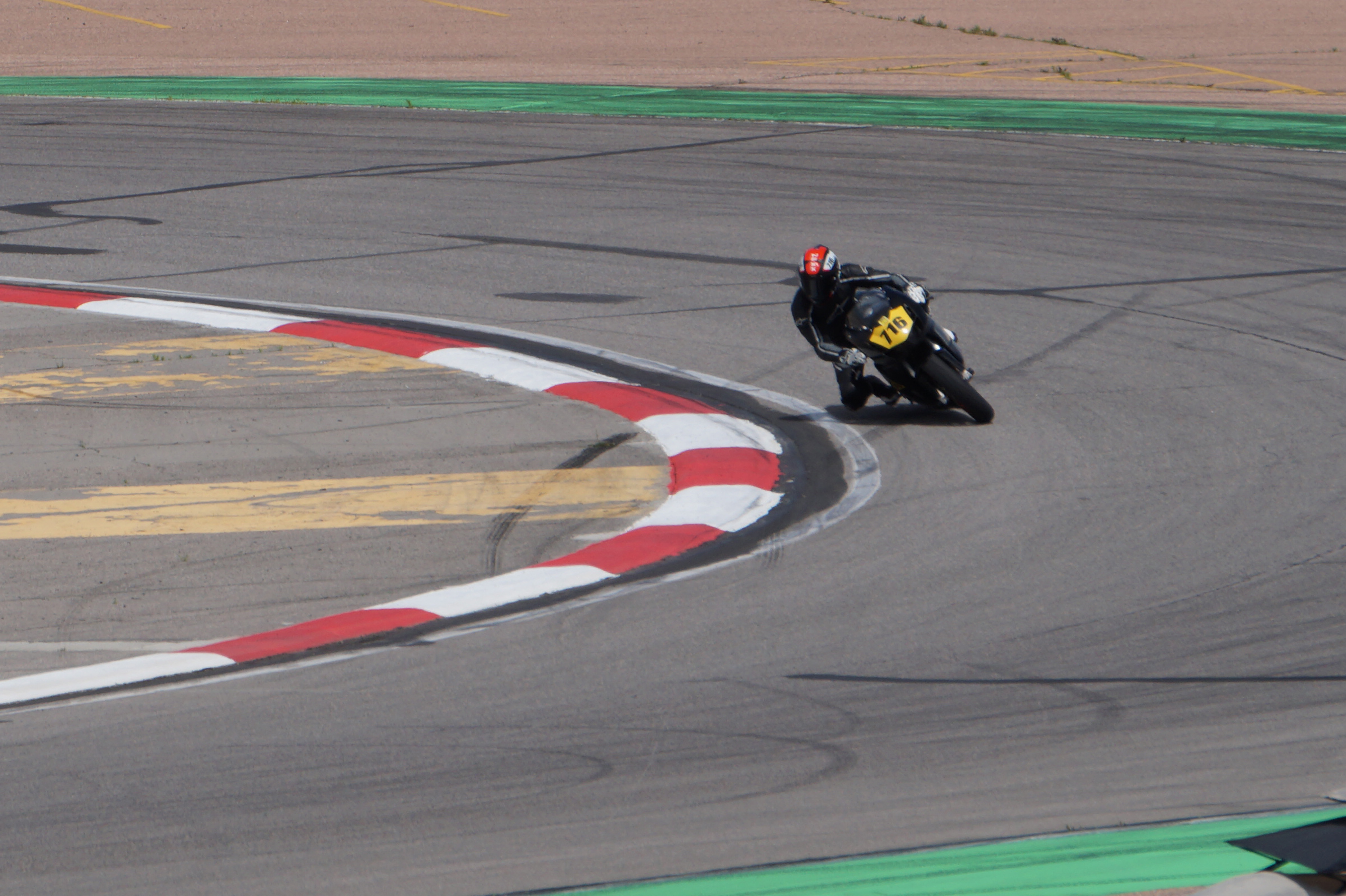 The bike now: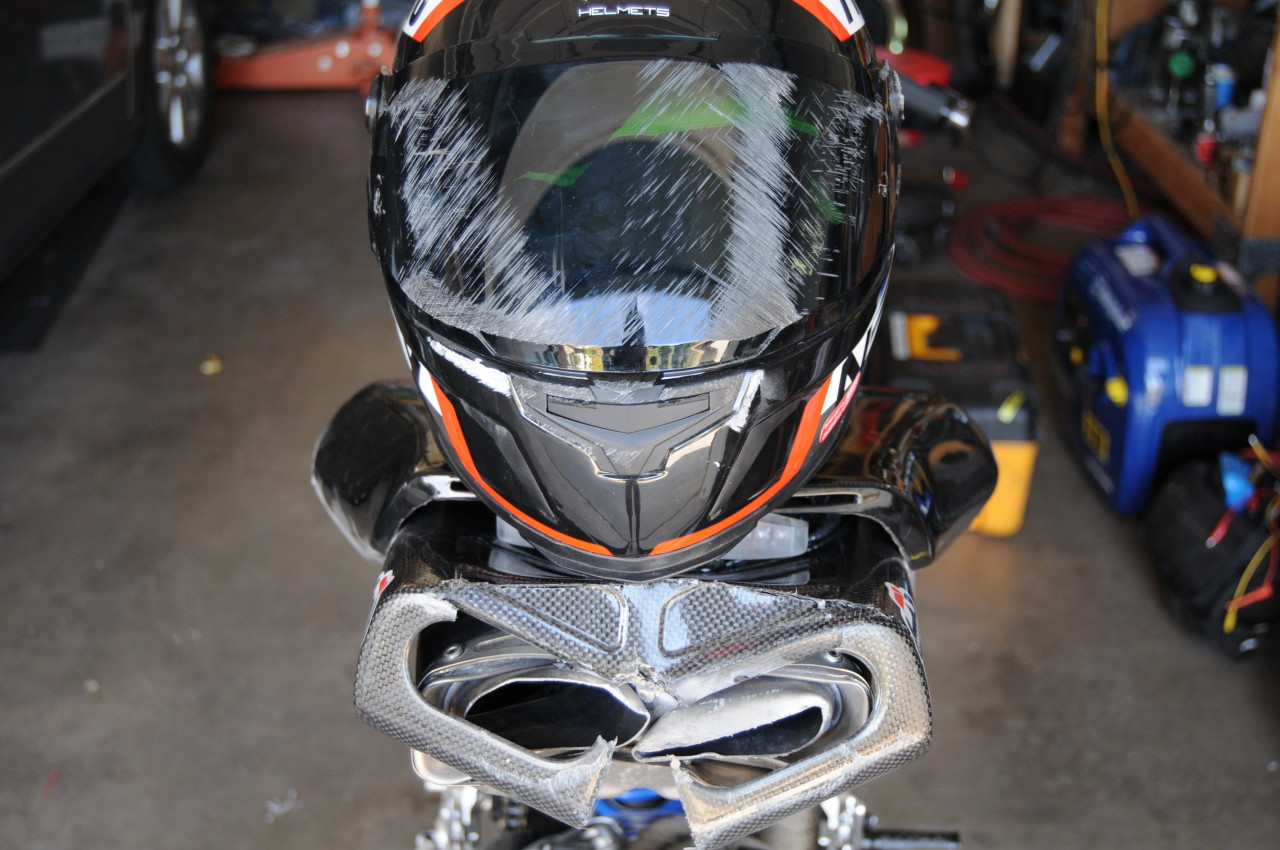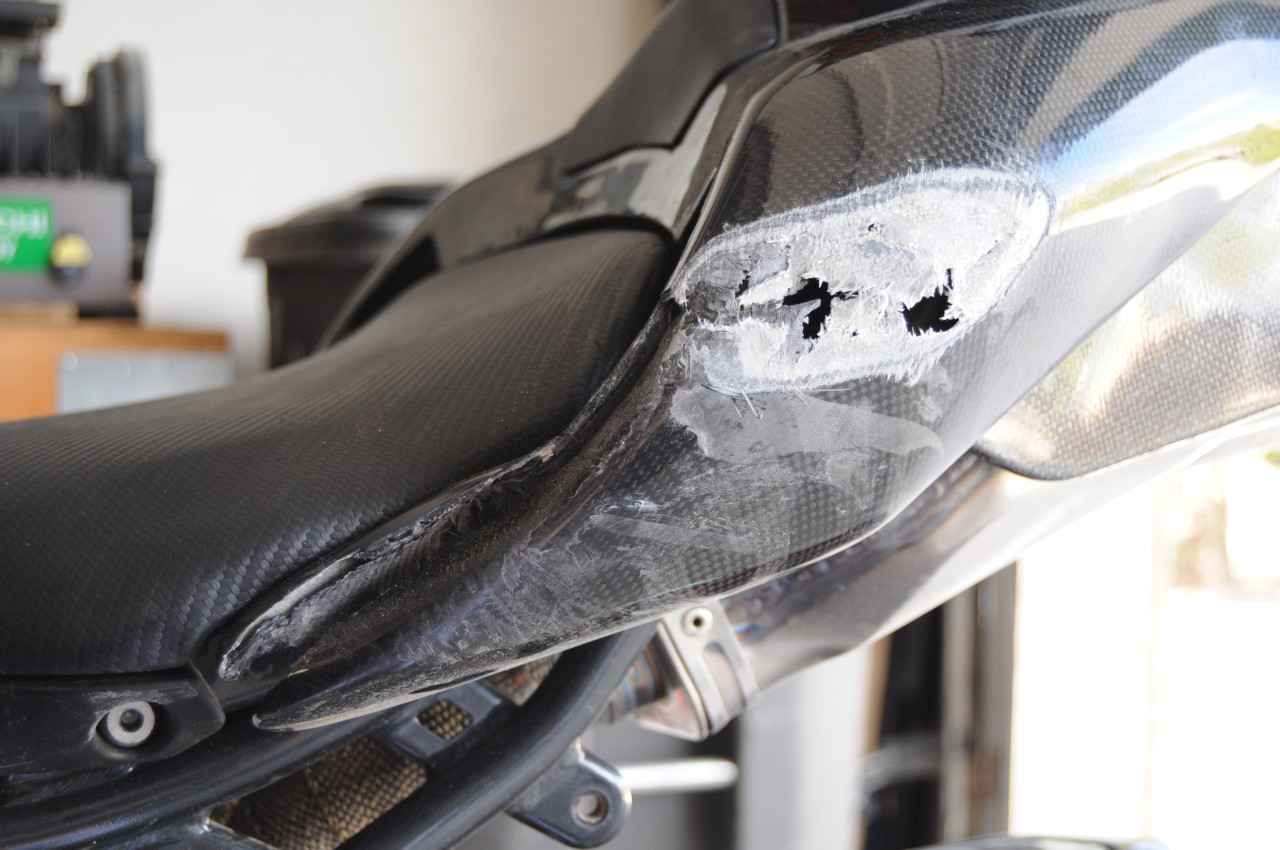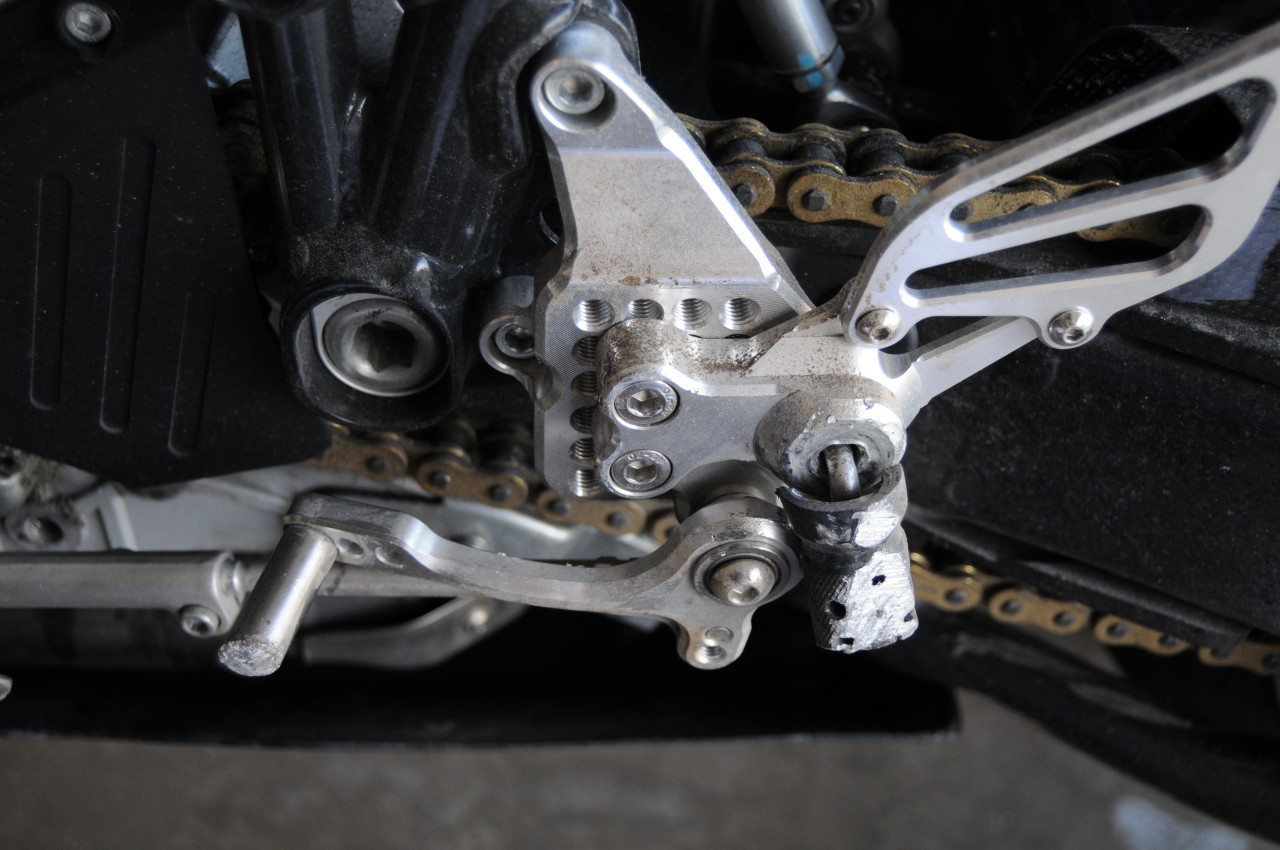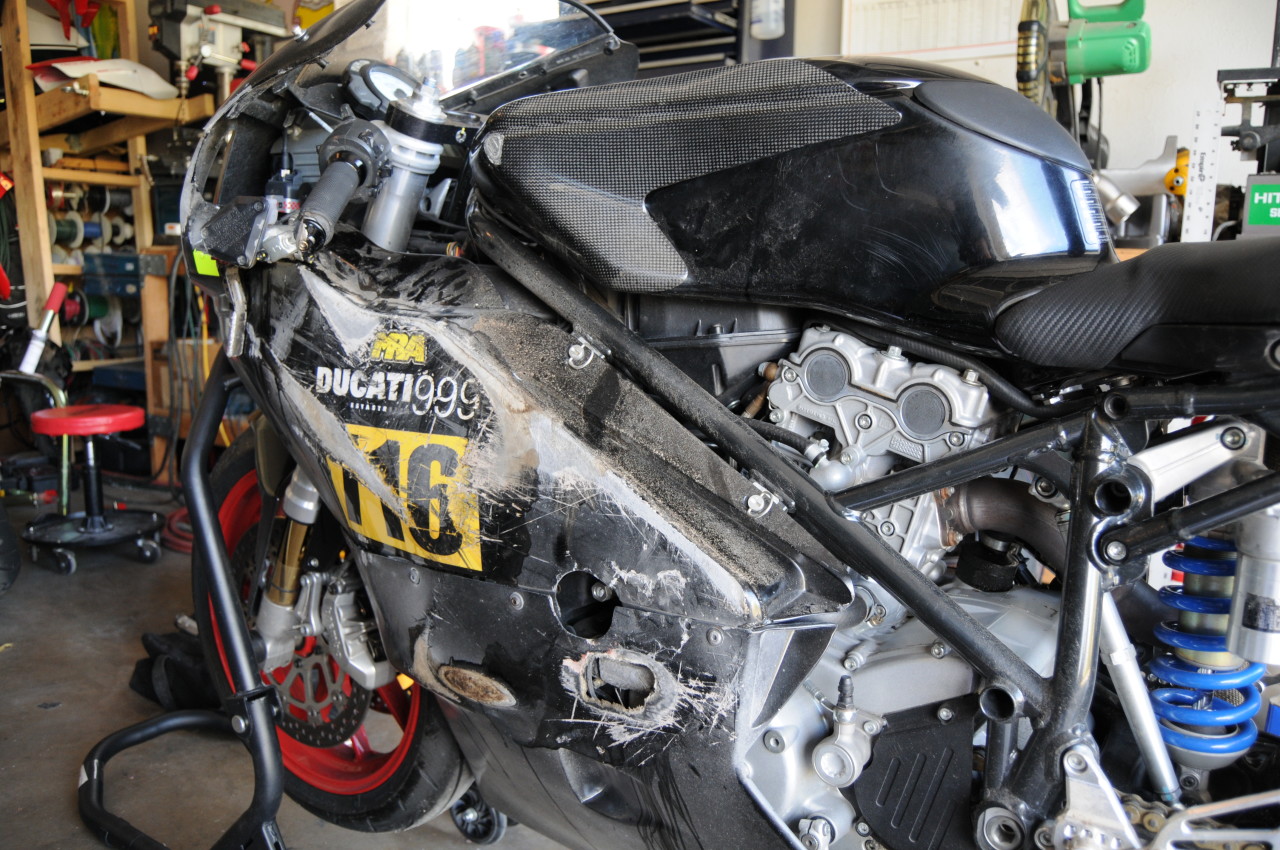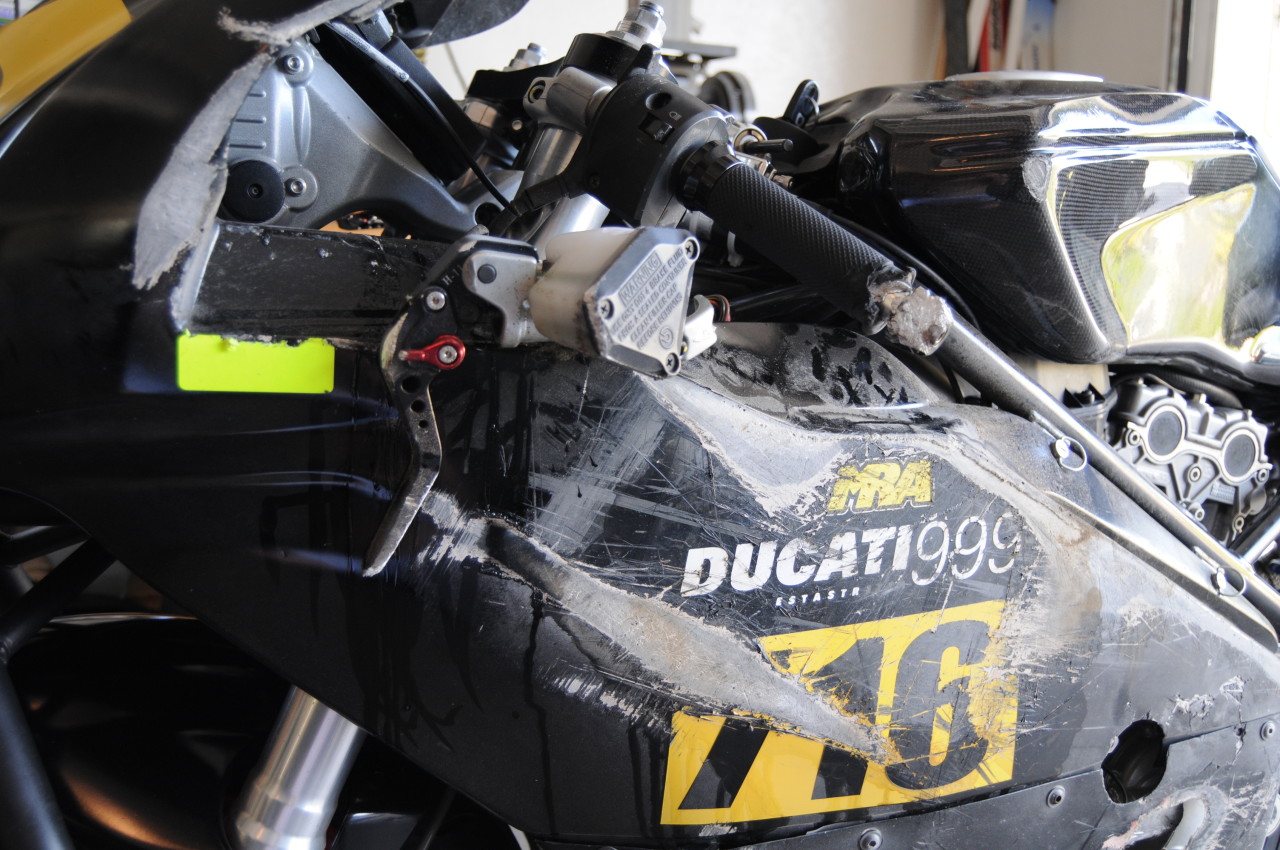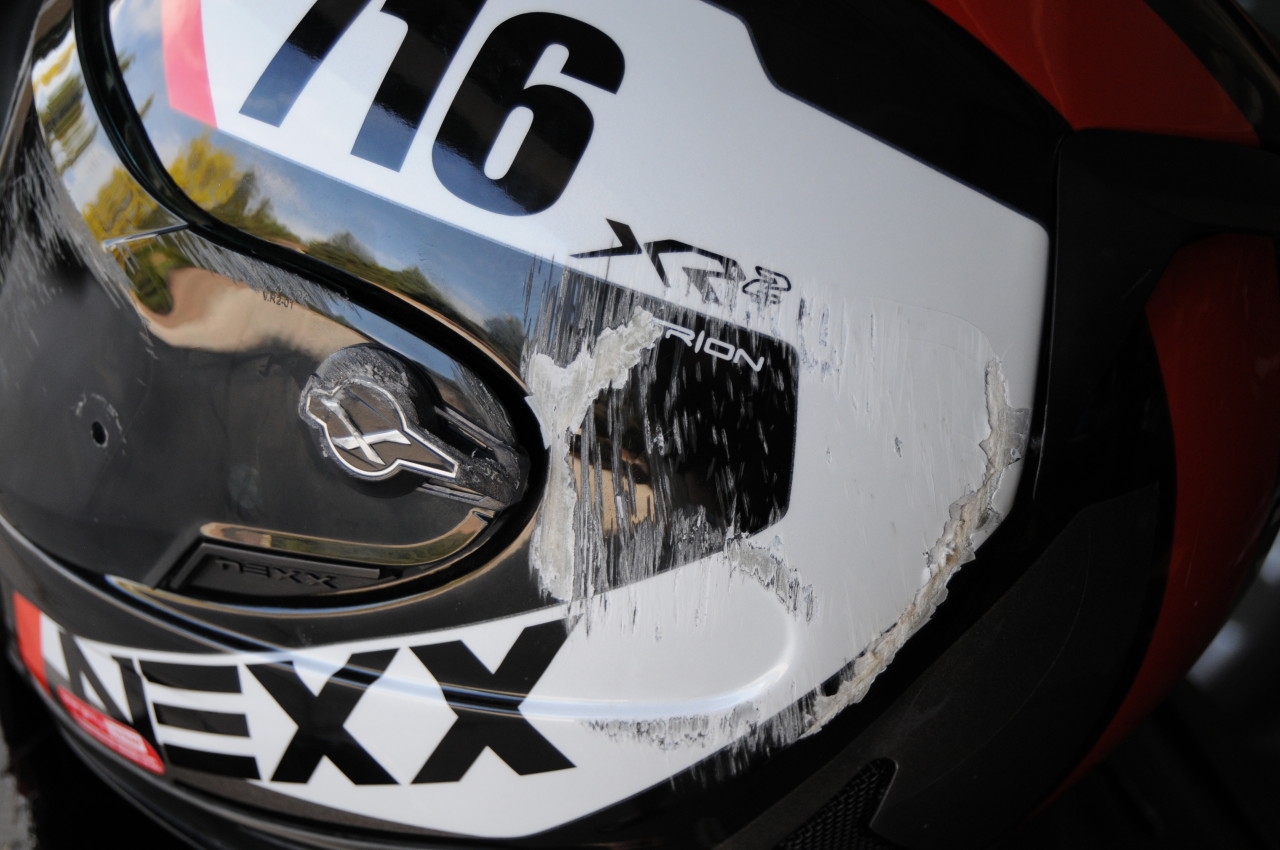 Still some paint on the tire from impacting the wall. My kids peeled a bunch of it off already.