Discussion Starter
·
#1
·
I apologize in advance for the long write up..
You may remember that i bought a Cagiva Planet....few things have happened...
Basically i went for a ride to Elan Valley in wales, about 55 miles away from me. Had a good ride there and was hammering it home until i heard a series of noises that sounded like pebbles in a washing machine. I was 45 miles from home when i heard it too.
I let the bike cool down and had a cig to calm my nerves as i was worried it wouldnt make it back. Funny thing is, the mate i was riding with.....his rs125 lost most of its power at the same time so it was a bit of a panic to be fair.
with both bikes cooled down, i started mine....bag of nails :/ we headed home doing under 50mph ( all he could manage - no power ) but i started to realise that if i stayed at that speed my engine would give out so we dropped to 30mph for 20 ish miles.
My fuel light came on just before i hit kington so we pulled in for some juice. Restarted the bike and it was worse than before. I managed to limp her home with a sunken heart.
A few days later i started to remove the top end, i was expecting the worse case scenario but it actually turned out to be not that bad.
Here's what i found.
1) Wrong piston installed.
2) piston ring locater pins missing.
3) 1 gudgeon pin cur clip missing.
4) gudgeon pin itself is too short (pin can move side to side in the piston),
5) Piston wall has a huge crack on the exhaust side.
6) top end bearing buggered.
BUT the b**tard of them all and the one thing i was hoping to be fine.....
7) Crank to con rod bearing (big end bearing) = toast.
Thats a full rebuild then chaps. On a plus side, the head and cylinder are immaculate, spank!
Price List: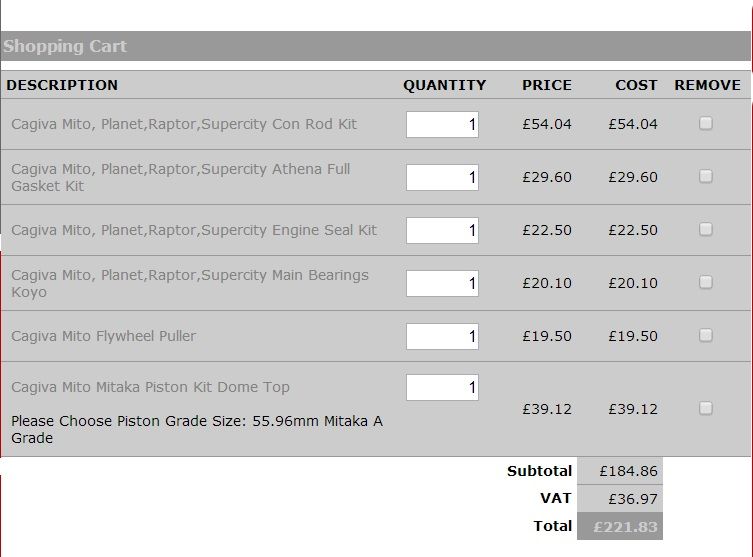 I spotted a crank on ebay for £76.50 posted. Has the 'made in japan' con rod kit made by Long. According to PJME, its the best con rod kit you can buy for the mito....race apparently and its £94.03 on its own so a bargain!
One thing to note is that on all the mating surfaces on the top end, they were doused in silicone last owner bodged a top end rebuild imo, installed an incorrect piston, incorrect gudgeon pin, left half a base gasket fitted and thought silicone would be fine for the other side.
I was furious, even if i hadn't have given it the ride of its life, it would have happened shortly anyway, was just a matter of time.
I tuned the engine so i know it was spot on and i only ever use quality oils so i know it wasnt from poor maintenance but it always felt a little down on power since i have owned it once past 60....ish
mph compared to other mito's i have owned/ridden.
Full bottom end rebuild and a new piston kit on the cards. Will also do a full bike strip/clean/polish...the usual thing i do whenever i get an excuse
With the bike basically fully stripped i have decided to change the look of the planet....Searched bay and come across an evo fuel tank, rear subframe, rear seat unit, tail light in amoungst a full fairing listing on egay. i pm'd him my offer and he took it. £115 posted....cant be bad eh?
Oh And thanks tomate from another forum, I maybe turning it into a supermono with a xt660x single...pm'd me vids on FB the bugger did :rev:
Started with this: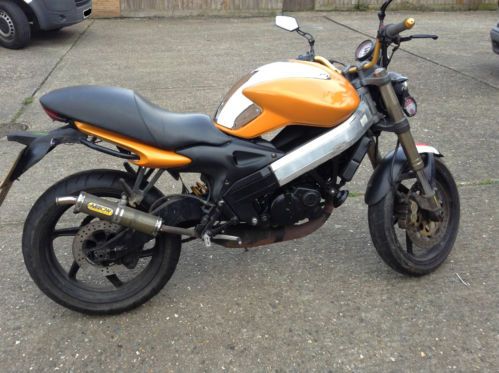 Progress so far: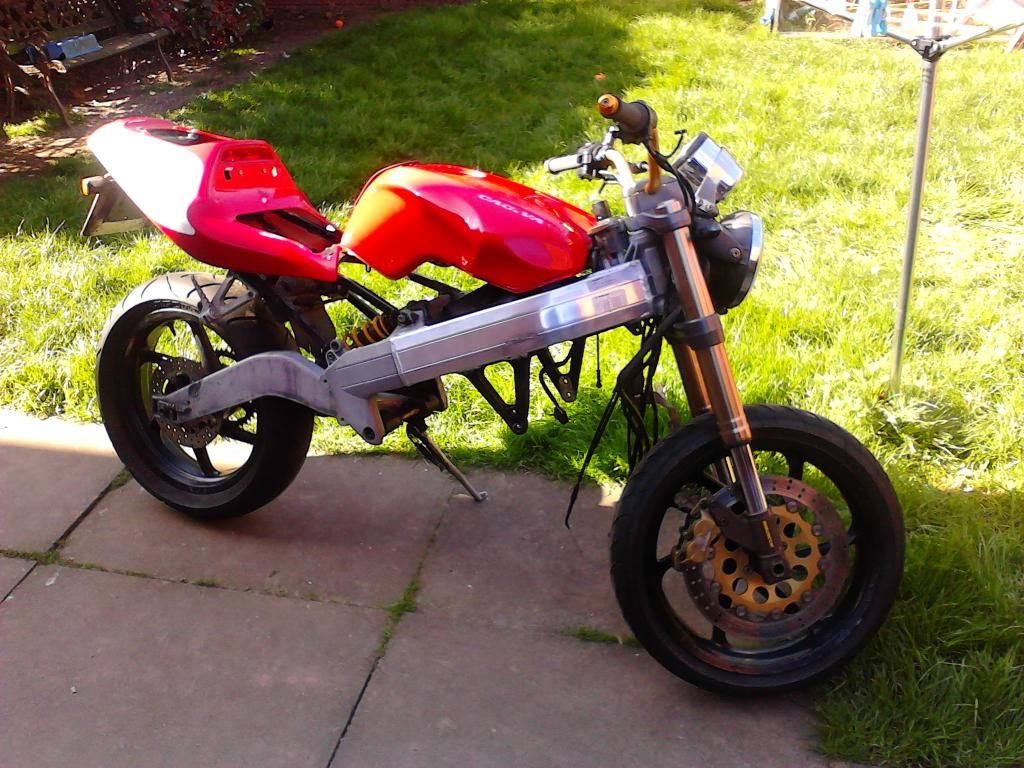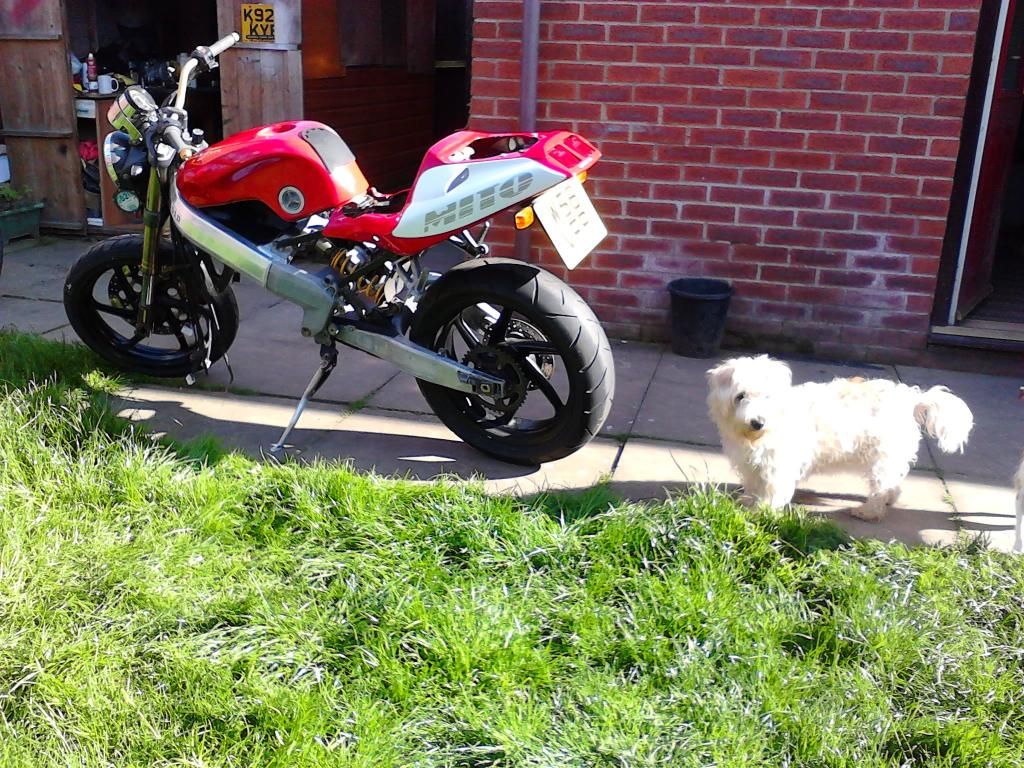 I need to change the renthals currently on there because they have to much rise, i need mx bars me thinks.
I still need to get the infill panels that go between the tank and frame, maybe looking at a full front fairing, sp525 track because i may want to build a daylight racer - undecided.
If i decide to supermono it, i will buy another frame, swinger etc and have the planet fightered and also have the supermono daylight racer.