Discussion Starter
·
#1
·
So, the fiance is away on her Bachelorette party week thingy. Left this morning at 07:00 and isn'tdue back until early Friday. Knowing that, it seems like I'll have lots of free time too get stuff done around the house. I've got three bathrooms that need tiling . A couple walls that need patching and paint and a bunch of old baseboards to put back up. Aside from that, I gotta clean the garage . So of course I'm not doing any of that. I'm going to attempt to strip and repaint 1/2 the body work on Mrs. Sev ' s sv650.
I guess for those that haven't seen some of my older pposts I'll do a quick run down. Two years ago the missus and i planned a bike trip for Aug. Week long tour through the mountains and other places. A month nbefore that... her friend bbacked into her bike in the parking lot. Her 2010 ex250 got pushed back ways for 6 feet and the front end was shattered. Had to go through insurance who wouldn't let me do the work so to the shop it goes. They play the standard fucky fuck game and iknow we won't get it back in time. So I hit the local ads.
Found a 2001 sv650 for sale for $1900. Ex race bike we all kinda know what that means. She was in pretty rough shape with some questionable work done . And the owner had hacked it back together... Basically it was a basket case but with good bones. Off the top of my head.
Front brakes leaking
Wrong clip on
Throttle cables routed wrong
No rad family
No horn
No chain guard or sprocket cover
Shitty paint
Brake fluid pooched
Clutch cable ruined
No rear turn signals
No under tray
No side panels
The good - upgraded suspension front and rear, aftermarket exhaust all the way back. Nice race rubber, runs good and sounds good.
Took it for a test ride, every time I turned the handlebars to the left the engine red lined. Brakes didn'treally work, but otherwise was good. Because he had the wrong clip on he had to mount the throttle all the way out to not hit the bodywork. So every time the handlebars turned the cables were pulled taunt and the engine red lined.
I pulled back in to his garage looked him right in the eye and said, you can't sell this like this, you will kill someone . Got a whole, "what do you mean?" So I showed him all the problems I had already found and explained thebike was not even close to safe for the road. He asked me what I thought Iit was worth and I said, "I'll give you $1000 tonight." He pretended not to hear me and we pushed it into his garage. He asked me again and I explained that I would have to take 2 days off work just to get it back on the road. But I could scrape together $1000 and get it out of his garage tonight. He said okay and we went and picked up my ramp.
This is what she looked like: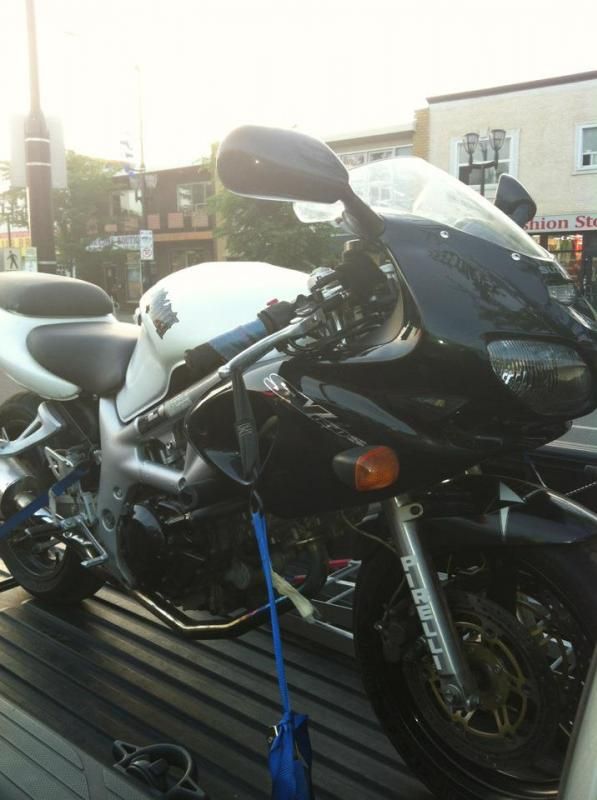 I promptly named her Gorgon because she's ugly enough too turn you to stone. The wife being somewhat more emotional called her Mumbles because of the exhaust note. The FMF pipe sounds very nice.
Spent the next two days taking care of sundry items. Horn, throttle cable routing, clip ons and clutch cable replaced with parts from svracingparts, thanks Blair. New horn, fan, etc etc and we were on the road.
Handlebars buzzed too much, filled them with lead wire meant for making your own fishing weights. Passenger peg mounts were cutoff . Found a new subfamilyfor cheap, so I replaced the whole assembly, pulled the ugly decals off for the most part and here we are. She rode it and loved it, so we sold her 250 when she got it back from the shop and she bought the sv650 off me.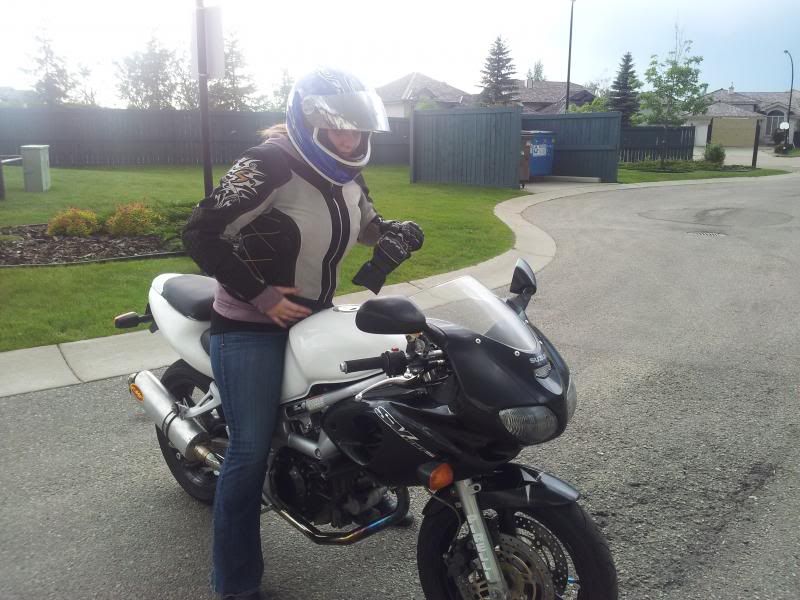 Wife has ridden it on and off for the last two years, had aan ignition coil and a battery fail last year so her confidence in the bike was not high... but this year it has been running solidly and the wife decided to keep it.
So, I have an ugly sv650 with a fucking Shittywhite paint job with factory black fairings . Something must be done. I've been trying to convince the wife for the last month that we should work on it together pull the bodywork sand it down and paint it. Maybe tmw. Maybe tmw.
So... with her being gone the next 4 days I know it won't be ridden I figured why not get it done, it'll be a nice surprise for when she gets back. The kicker? Between now and then I have to work 3 x 12 hour shifts. 2 night shifts and one day shift . That means all the work needs to happen tuesday/Wednesday. The good news? Weather is in the high 20s all week with no forecast precipitation.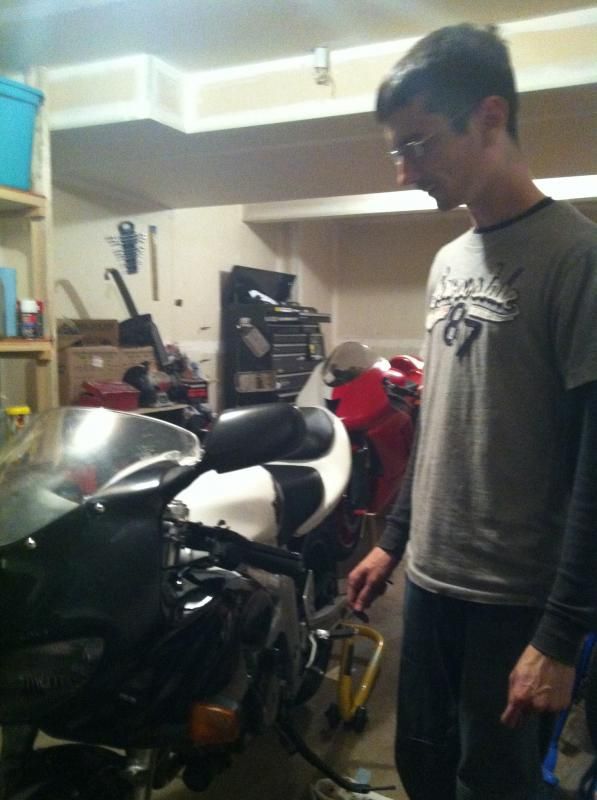 I'm going to hit post now and continue updates on my next break so I don'tlose all my writing (I may or may not be writing this from work on my cell phone)