Discussion Starter
·
#1
·
so... some of you may remember this build a while ago
Well I sold this project long ago for 2,800 USD. This was my first real bike build and I was kicking myself in the ass for not finishing it. At the time I was broke. Had nothing to my name but this bike. Fast forward about two years. I buy a jeep on cl for 800 bucks. Runs okay, had some front end issues and high mileage. Like 190k or something about there. Turns out I added the guy that bought my old bike on Facebook and completely forgot. He saw the jeep and turns out he likes to play in the mud. So discussion of a trade came up, and I did it. He dropped off the bike and took the jeep. I'll tell yah what the bike looked a lot different than when it did when I let he go.... Turns out he had a lady friend that weighed like 80 pounds and mad a god awful rear seat pillon and seat. IMO its hiddeous. Also turns out he blew the built 1157 I had in it and swapped in a 1052... no big deal i have an 1157 sitting in the garage ready to go. this is what the poor thing looks like now..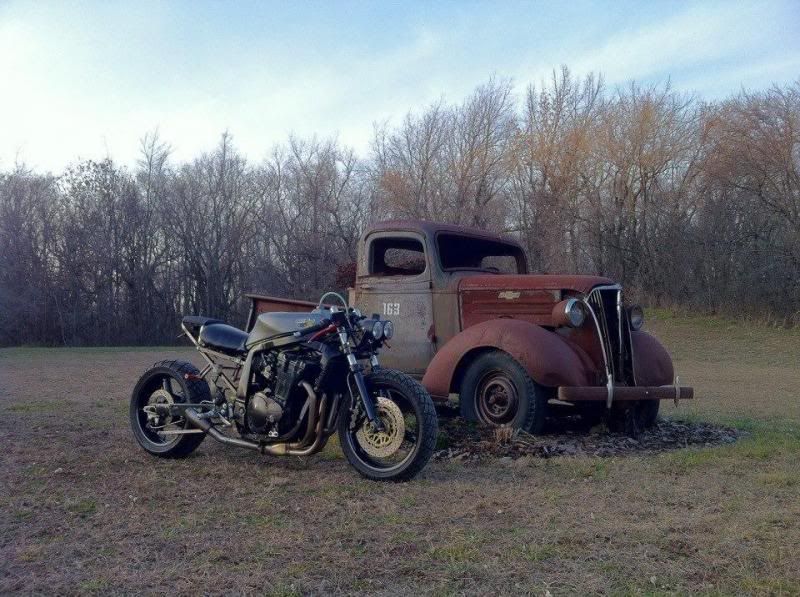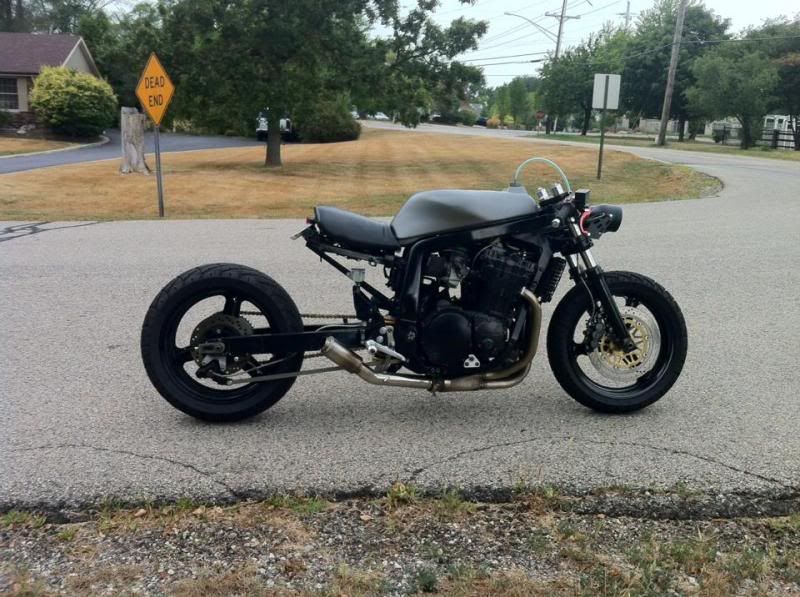 Now here is where I need some input everybody.... watch this video
http://youtu.be/B2bBoxA0B2A
Now if you haven't figured out..... I am going to redo the subframe and the paint and boost the FUCK out of this thing, along with a head spacer and a port,polish,dome, and valve job
What i am trying to figure out is this... carbureted forced induction or efi with forced induction??? In the video the guy is using according to what is listed.
k2 gsxr 1000 throttle bodies
36 lbs busa injector kit
fuel pump and homemade regulator.
k2 gsxr gauges
power commander 3 usb for k2 gsxr 1000
thats all fine and dandy
but what the fuck!!!!
it looks like he also used the gsxr K2 harness since he has the stock gsxr gauges and is running tbi on this. which is cool. but how the fuck is he handling his ignition????
the 99 bandit and 02 gsxr share the same pickup coil with the exception of a different plug.... okayyyy but the bandit ignition rotor is four points with one different that the rest to signify TDC but the k2 gsxr one has 8 points. all exactly the same.... how the fuck does the k2 gsxr know what cylinder it is supposed to fire at if all of the pins are exactly the same. does it have a cam position sensor also???? or another sensor for crank position???? i am assuming that the way he did it would have been running a stock k2 engine computer with a k2 harnes with the power commander and the k2 gauges and just fashioned the k2 ignition rotor onto an adapter to work for the bandit. but all points are the same how does the computer know what exact position the motor is in if they are all the same????
this question is confusing me enough that i almost want to stick to carberated solely for this reason. who do i have to talk to. i seem to remember someone mentioning motohoro as an expert with carbed and boosted banditos. and i did speak to them briefly. what do i have to do to boost this thing?? and i am cool doing carbed.. but so much more room for advancement with the efi.... anybody else have any idea about how this guy accomplished this???? is there a crank or cam position sensor on the k2 gsxr i am forgettiong about. im not sure...
P.S. glad to be back. i got money this time. this bike is getting done. planning on grudge racing this year. i have missed this community. you will all be tired of me and my ranting and bullshit soon enough.......
Fil