Discussion Starter
•
#1
•
I've been lurking around this joint for awhile stealing errrrr, gathering ideas for my beater as it's in the process of transformation. I'm welcome to all ideas/input as some may see better from a different perspective. On with the story.....and pics as I know how you pic junkies get without your fix!!!
I got this shitter from my brother after he low-sided it while riding the Dragon. It sat for a while as he "tried" saving money for rotors/forks/etc. He offered it to me for the low, low price of $1K and I told him that I'd be at the bank the next day getting his money!!! FUCKING SUCKER!!!
I frankensteined the bike back together and flat blacked all of the fairings and rocked it this way for about 1-1.5 years.
Then I got the itch to change it up a lil but really didn't have the money at the time. I got a LSL upper tripple and dirty bar for the long rides that I frequented as my shoulders and back would end up fucking killing me by the end of the ride. I know that totally contradicts what I just said as far as the money situation but this was before I even thought about trying to make some risers/source a bar so I lazily purchased this combination. I got some braided lines with it if that's any consolation??? I stripped the front and side fairings, hacked the front fairing supports off and threw some Advance Auto brand driving lights on the front to keep Johnny Law off my shit! It's not very pretty but the view my seat was pretty good and the intake growled like a mo-fo with the ram air off of it!!!
Don't worry about that broken brake lever....it saves weight!
Holy rotors Batman!!!
I had an oil leak from the VCG which I had been "fixing" with brake clean every time I looked the bike over so I figured I should bite the bullet and change that lil fucker out which necessitated dropping the motor. While I was in there I figured why not change some things up to the way I would like them as in any other undertaken project.
Didn't have a 24mm allen socket for the rear engine mount to the frame so I took a nut/bolt from work and fabbed this lil money-saver up.
VCG fixed.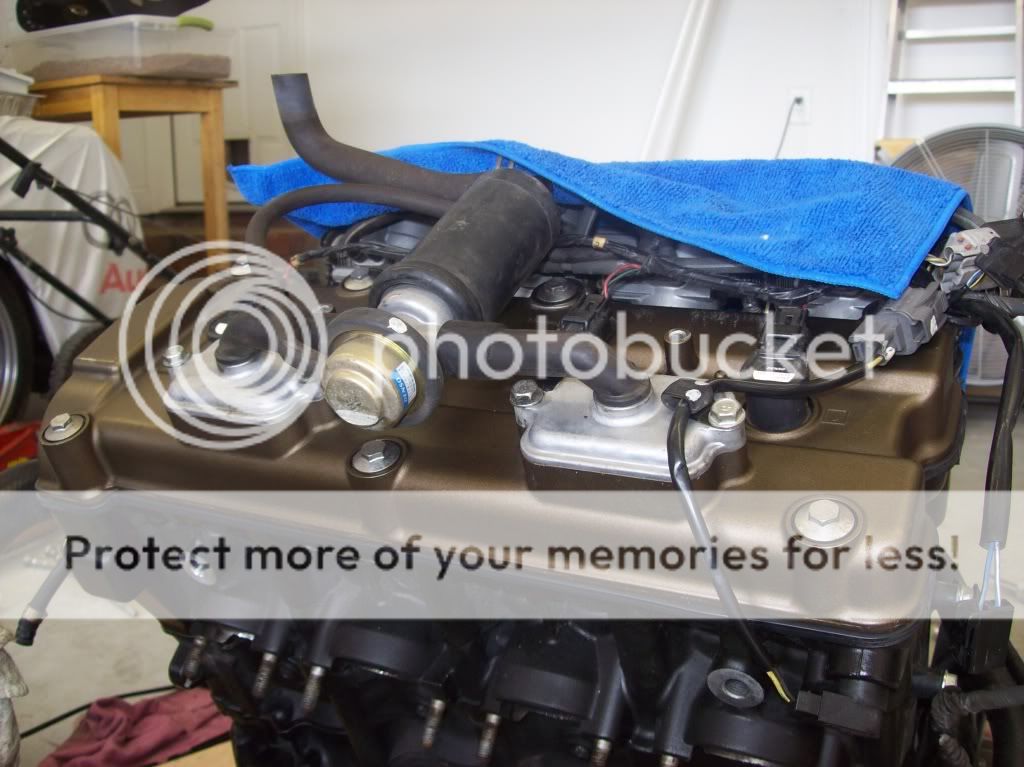 Cut-off and ground down the factory front fairing bracket and steering stem lock as the ignition switch has been moved. Started cutting the air intake boot mounts off and filling/smoothing for paint...reference above picture for before shot as I'm lazy and didn't really taken awesome step-by-step pics.....suck it!!! :fu:
And the final product...not perfect but again, suck it!!!:fu:
I really wanted to be able to make a rear subframe that was removable so that I was able to ride 2 up with my girl but by the time I moved everything around (rectifier/power commander/misc connectors) to make it work as a bobber which I really wanted in the first place it would have turned out pretty shitty. So I decided to make it strictly a bobber which is going to be tricky as far as keeping it clean and small because of said electronics and not being able to hide them under the seat since that's the bottom portion of my gas tank.
Proposed chop. (Had to extend a lil further for my the rear seat mount as seen below)
Just love these pics...
Teasers without the tank installed.
I've got more to post with pics, I promise, but I've run out of pic space in this post and I'm at my favorite spot (Ham's Brewhouse) so I'm getting a lil schwasted and tired of typing. I'll try for a expedited post but don't count on them thangs...wah wah wahhhhh!