Discussion Starter
·
#1
·
Long time forum user, but first post to CF. I'll try to make it a good one.
Picked up a F2 back in October. It's my first street bike, but far from my first project. Other fun projects of mine include a 1991 Turbo Miata "Mazdarati" and a 2009 Cobalt SS Turbo Sedan "SuperSlut".
This is what Onyx looked like when I picked him up. I did have all the original plastics, but they were so wrecked it wasnt even worth picturing so what you see is after removing half of it. As far as I can tell the PO cut a hole in the seat, thought he was a pro stunter from doing so, and lost it mid-wheelie causing a substantial amount of cosmetic damage to the bike. All the plastics were junk, headlight didnt work, starter switch was broke and bypassed, black overspray on everything around the tail, rear blinkers were hanging by wires, foot brake was bent, levers where bent/rashed, bars were bent, tank was dented, and that was just breaking the surface. That said, mechanically it ran like a top and the forks and frame were straight, so it was game on to pick it up cheap.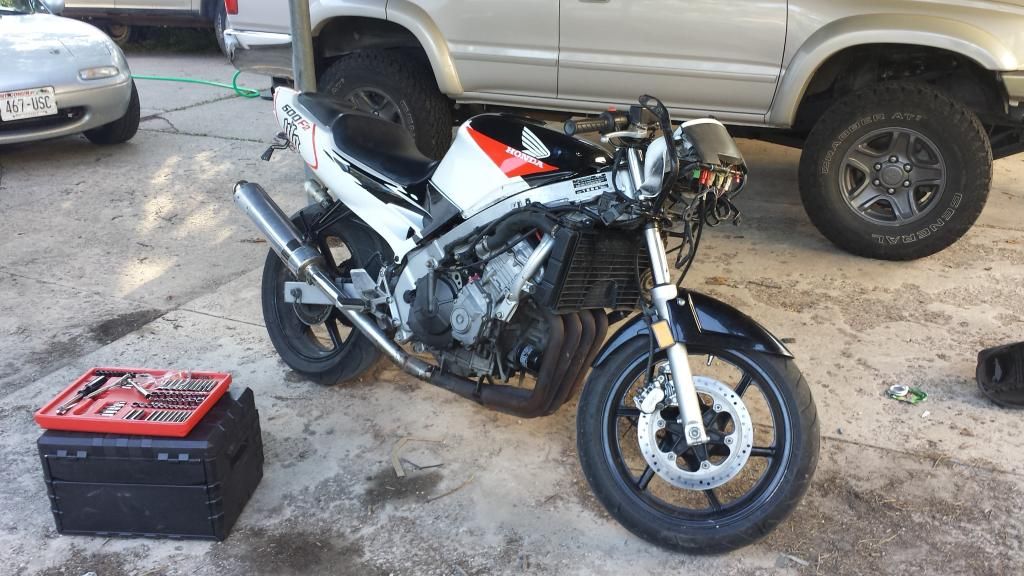 Time for the rescue mission! Started tearing him down to see what I had to work with and what I needed to order.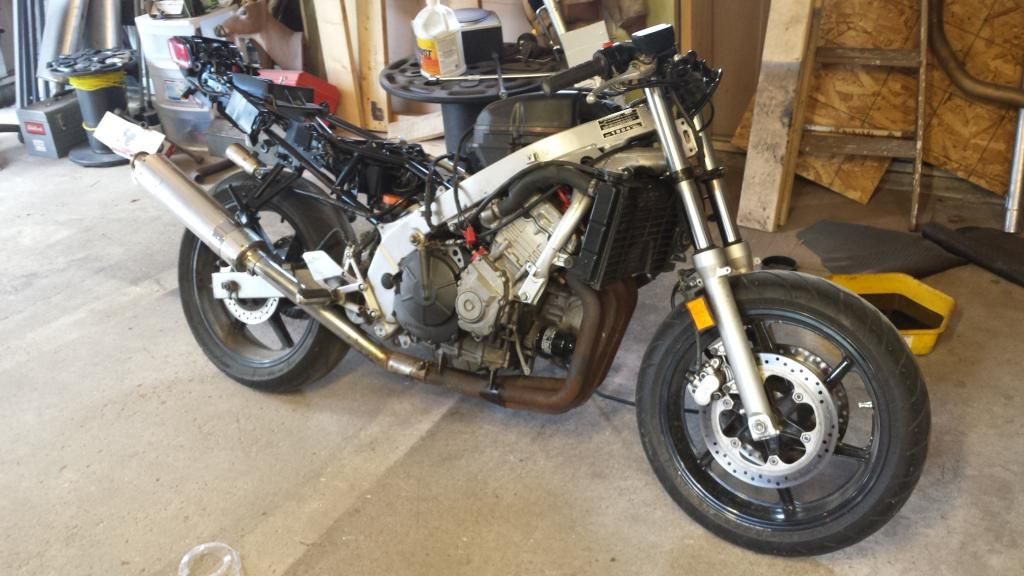 Didnt take long before it was complete chaos in my entrance room of the house!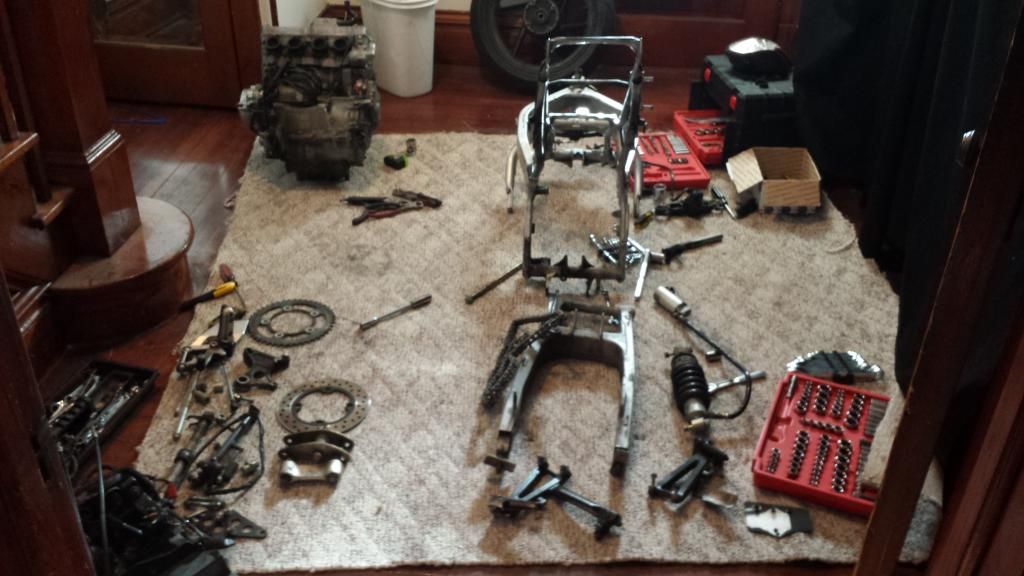 Found a new love for mothers polish!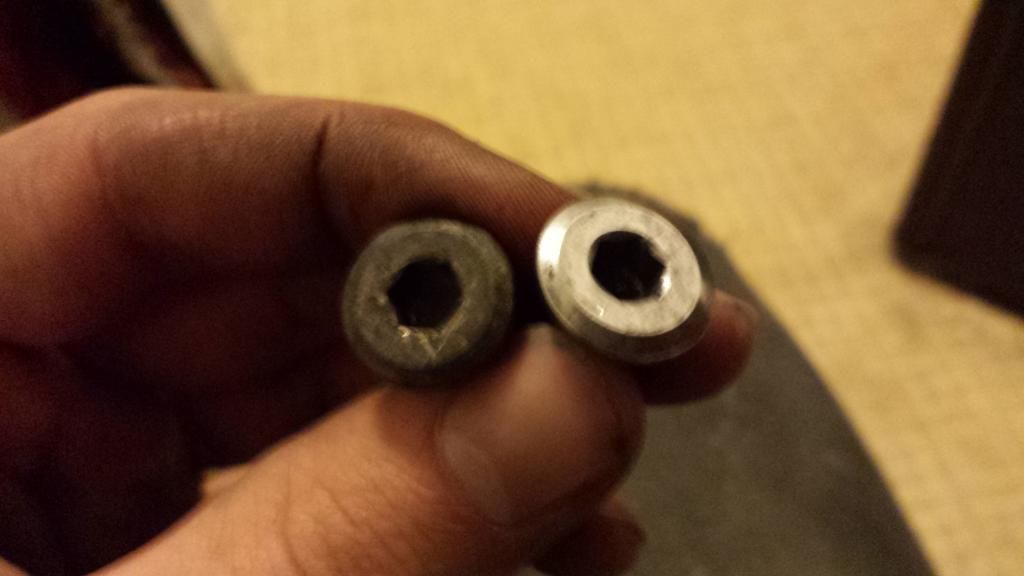 Brought the frame down in the basement for a good degreasing
Had an overjoyous time dealing with this bundle of wiring. That said, it's nothing compared to the wire tuck I did on the mazdarati.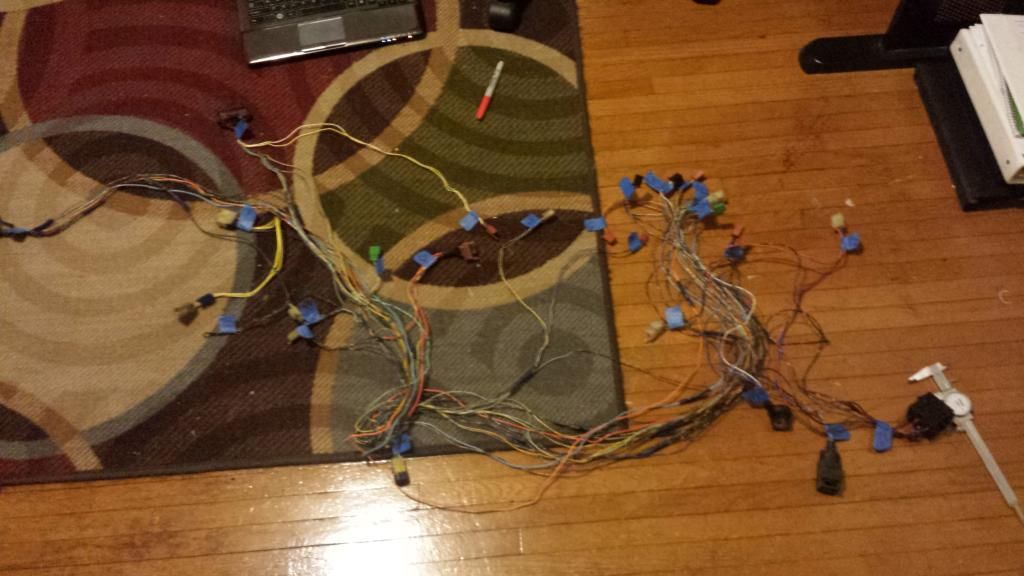 Milled the loop off the triple. You'll see why later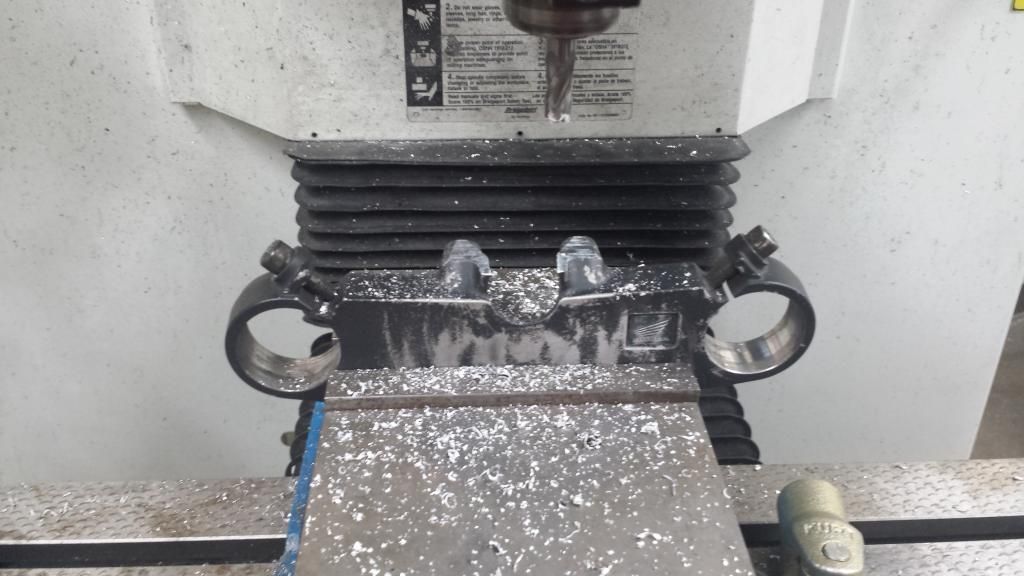 And so the painting began! Tried to be a little different than the typical "black everything" that I always see. I chose an Aged Bronze for the frame color with Metallic Gold accents and Matte Black on everything else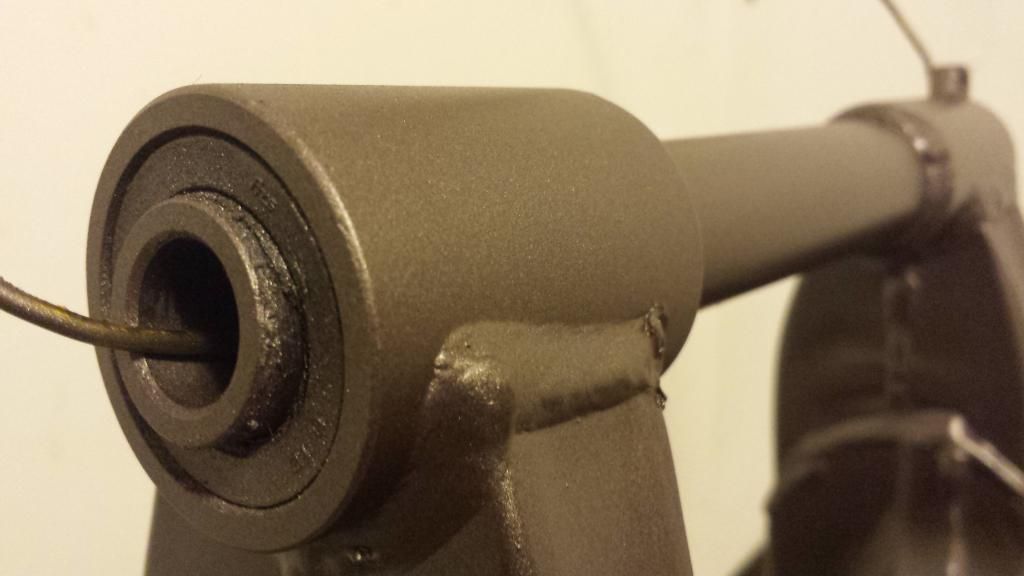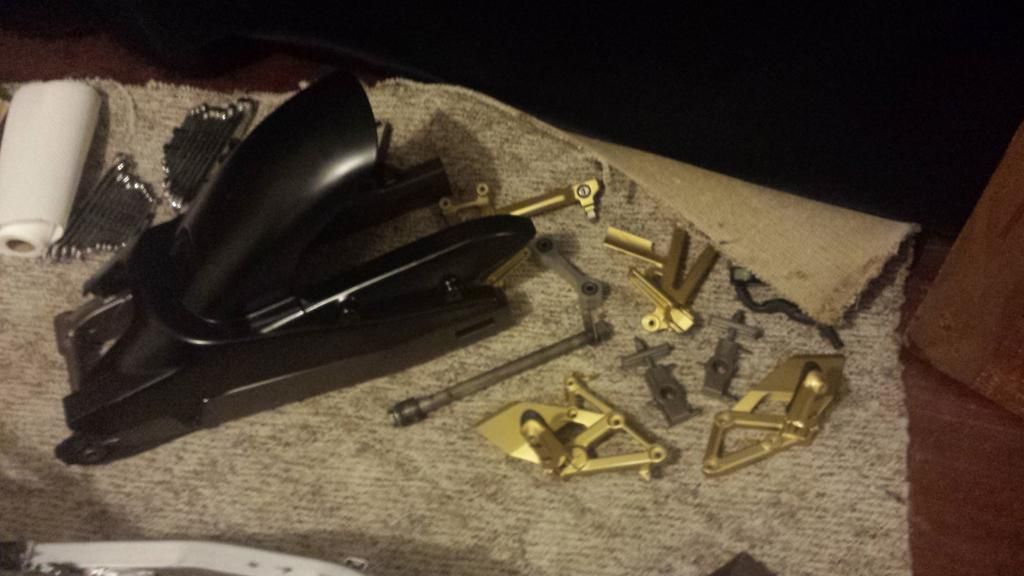 Ground off all the excessive tabs and brackets from the frame, spot filled, smoothed, primered, and painted it. Beer always helps fast forward the process :rock: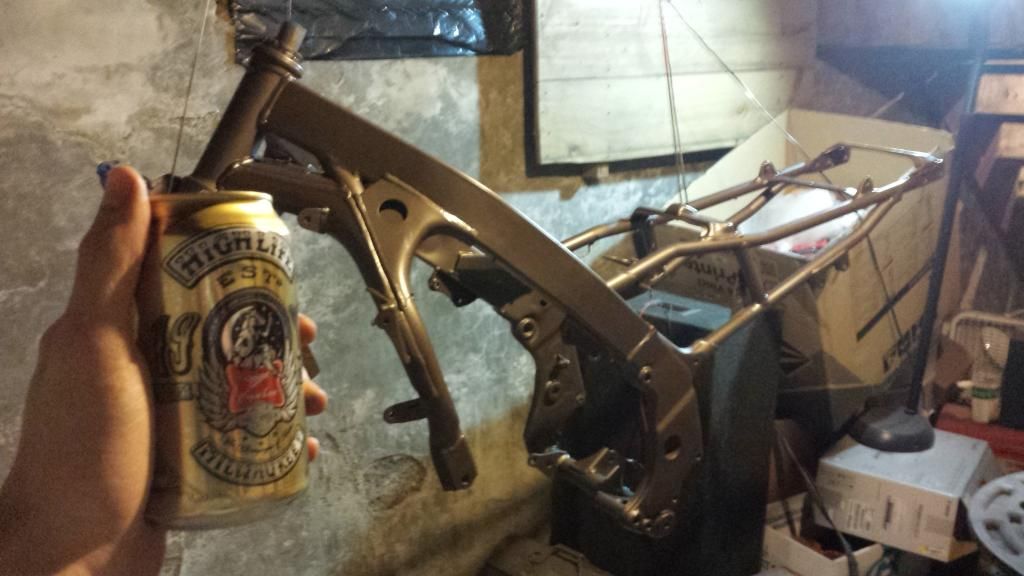 after paint, I had a pretty nice roller! Notice that nice clean looking tail with the big ugly seat lol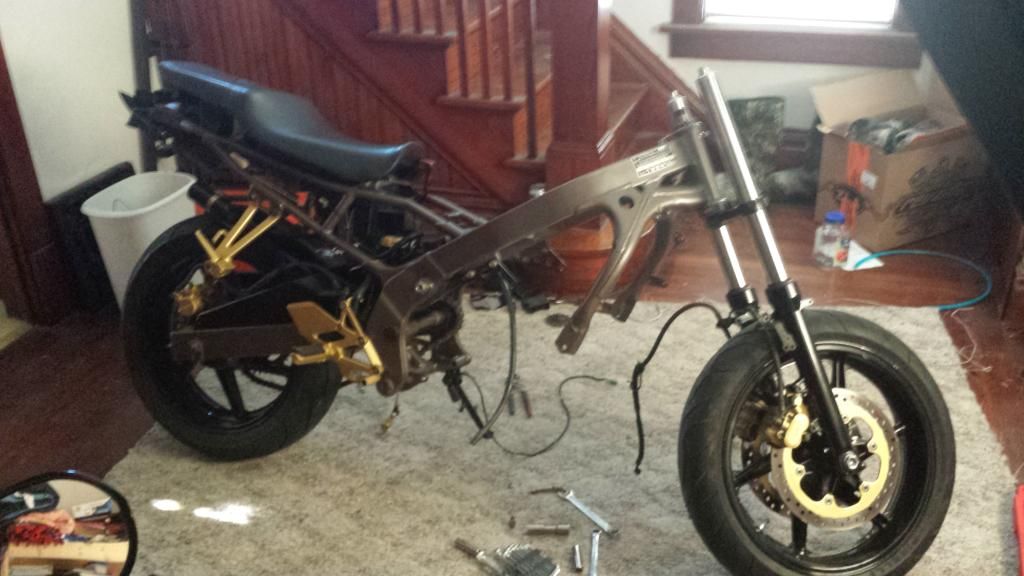 Relocated my voltage regulator, spark control unit, and fuse block to the already modified and shortened rear tray under the passenger section of the seat. Put the voltage regulator on the bottom side to give it more airflow to keep cooler. Figured ease of access to get at fuses and important electrical would be nice by having it under the seat.
Got the motor in with the help of a few friends, installed new clip on bars, new levers, etc.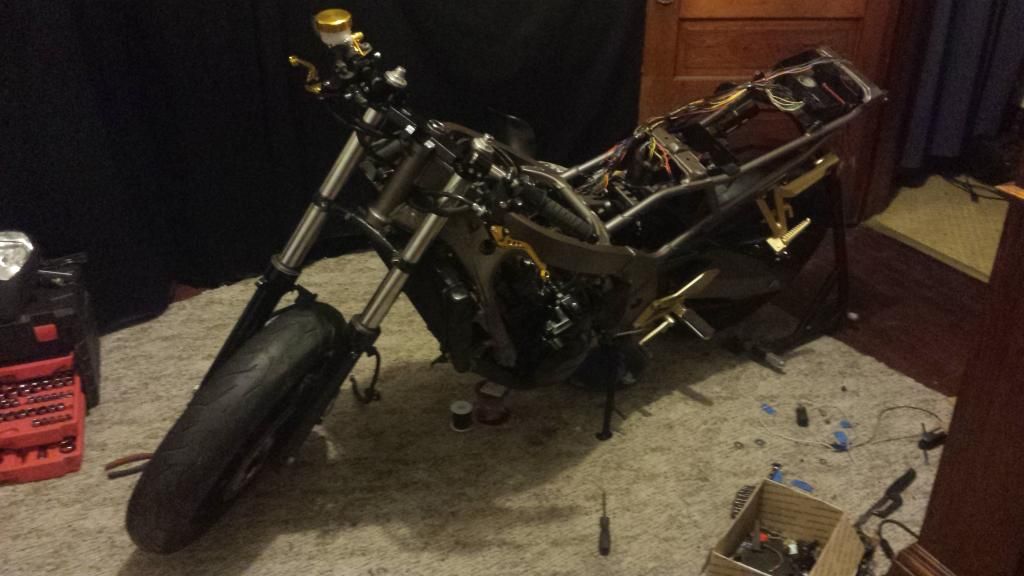 remember when I milled the ignition loop off the triple? this is why. Koso DB-02R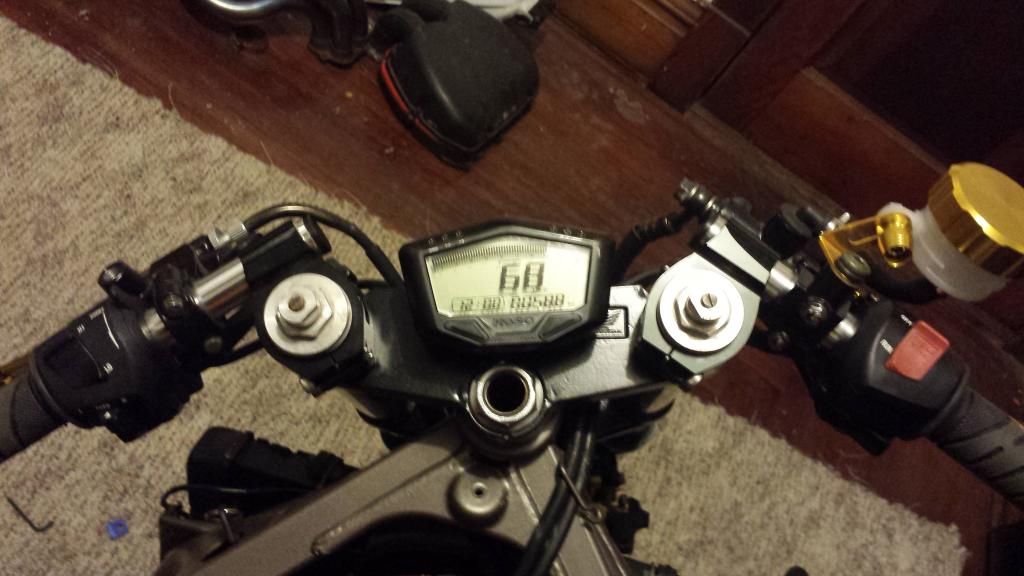 you may be curious how I mounted it. Well, I 3D printed a bracket that used the existing threaded holes from the ignition. that way I can still use the stock Koso bar clamps. Pretty ingenious if I do say so myself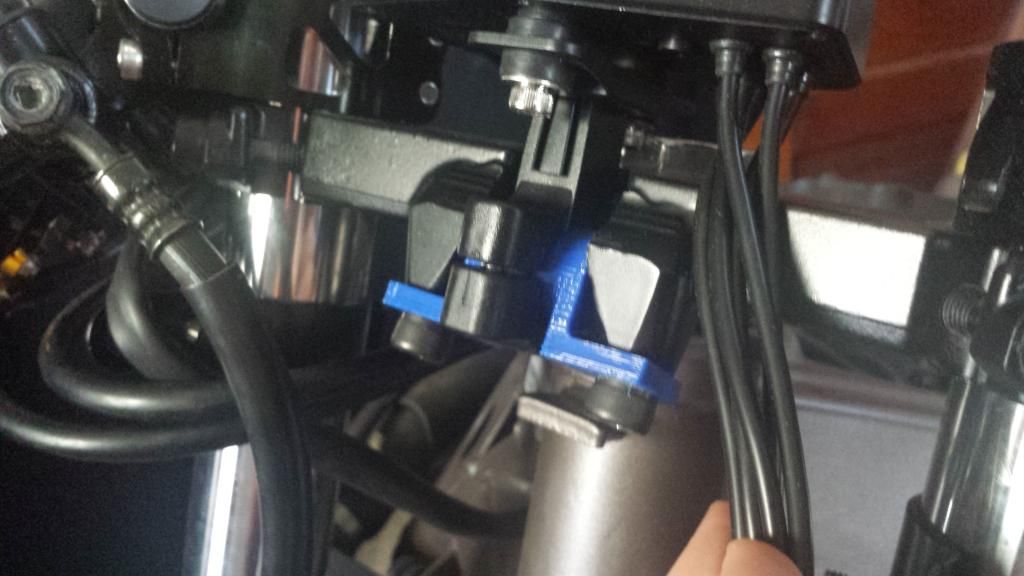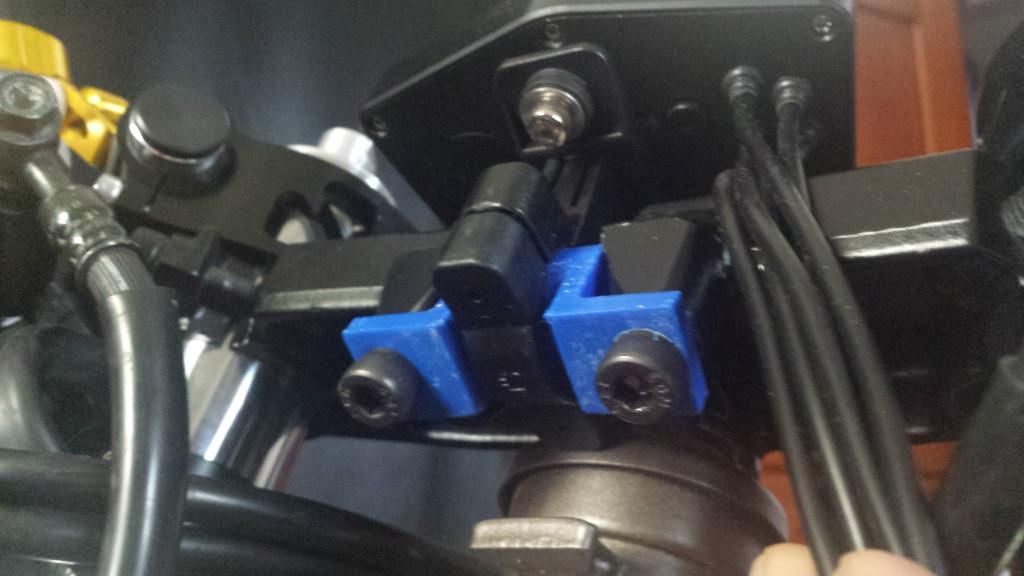 sitting pretty in the house while its below zero outside!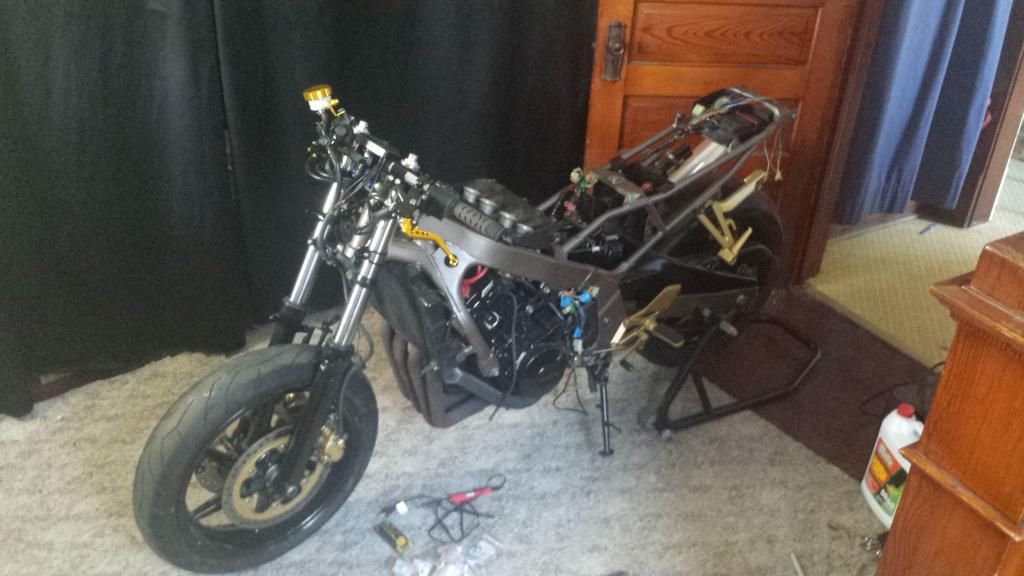 when out of nowhere.. a headlight with custom made budget brackets appears! Cant argue with a $40 headlight mounting setup!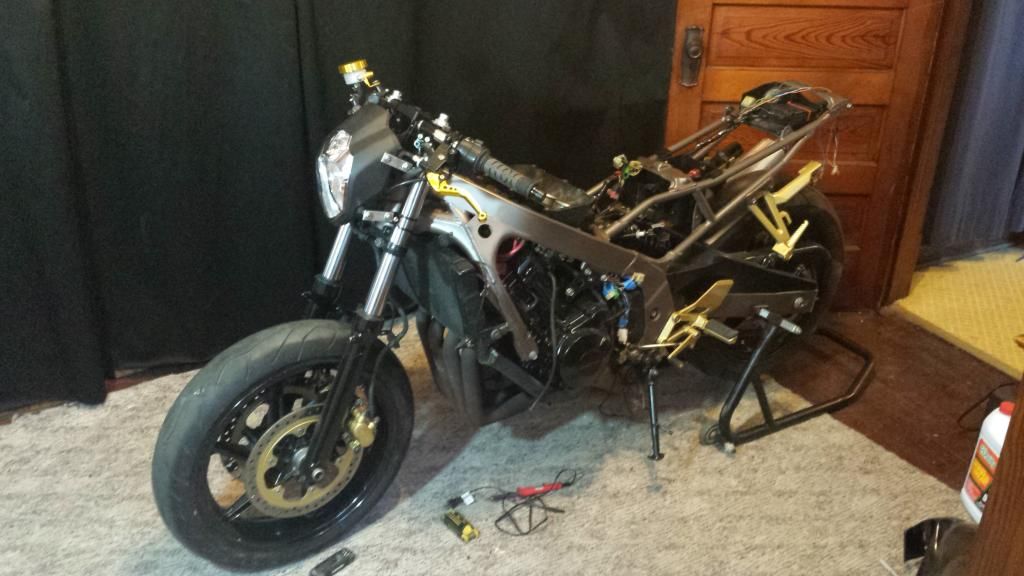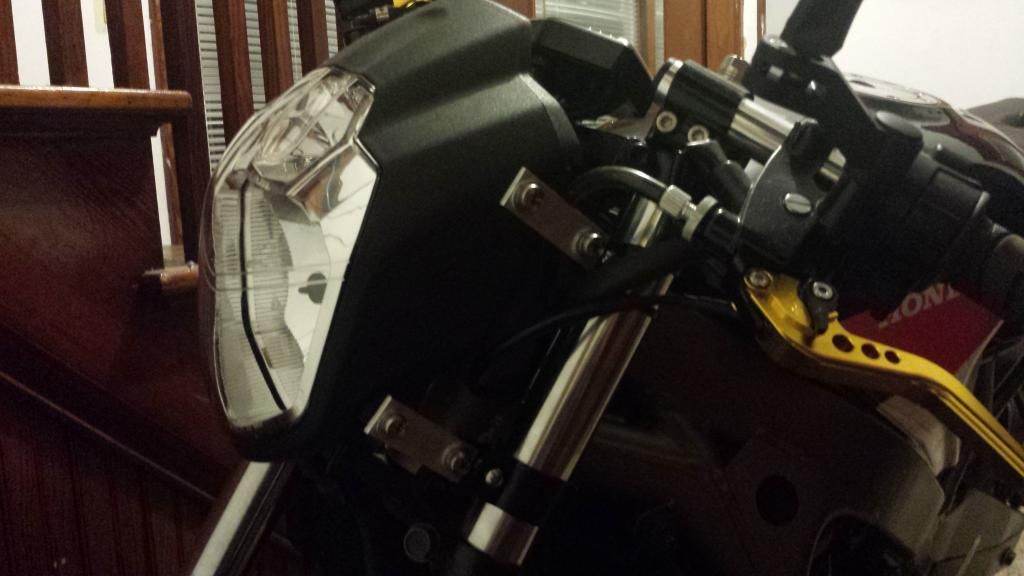 got some fancy universal mirrors to fit on my universal levers that fit on my universal bars lol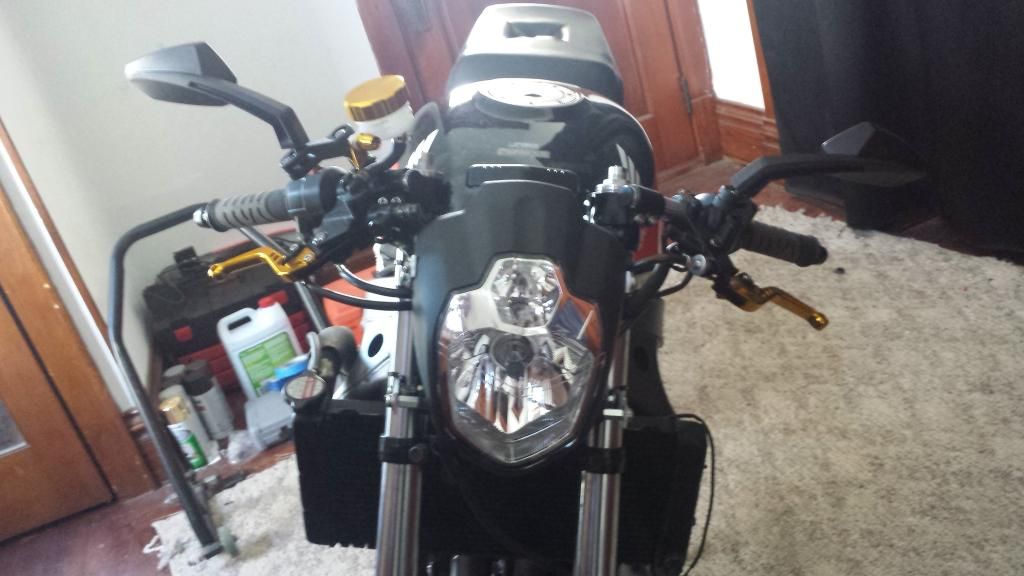 Fast forward through the mess of electrical work with extending wires, soldering, and heat shrinking a million things and look at what we have here. Sequential LED brake/turn signal light. Still need to get the running light wired into the MT03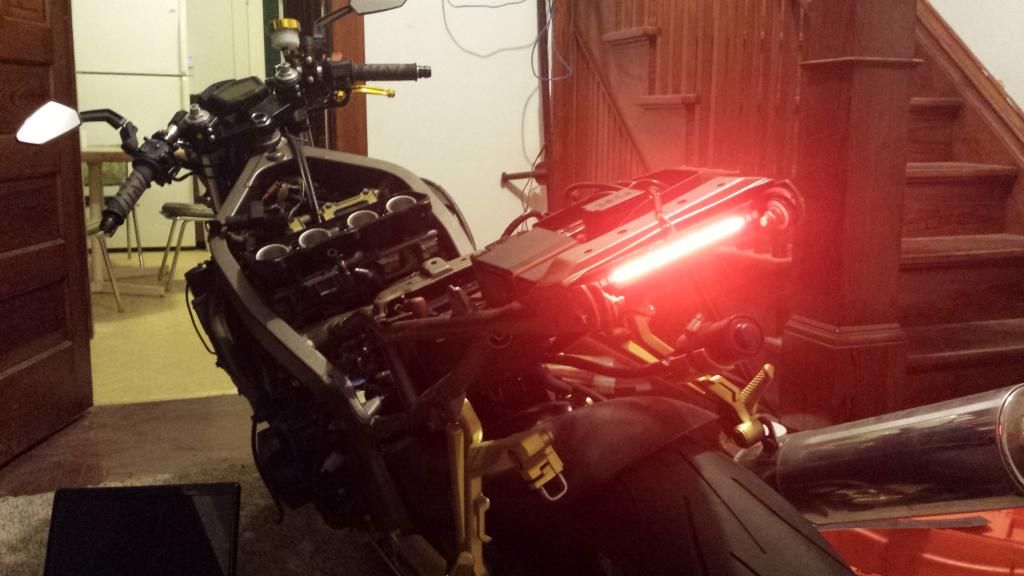 and here she is, just finished with "stage 1" of the build process and ready for my first full riding season!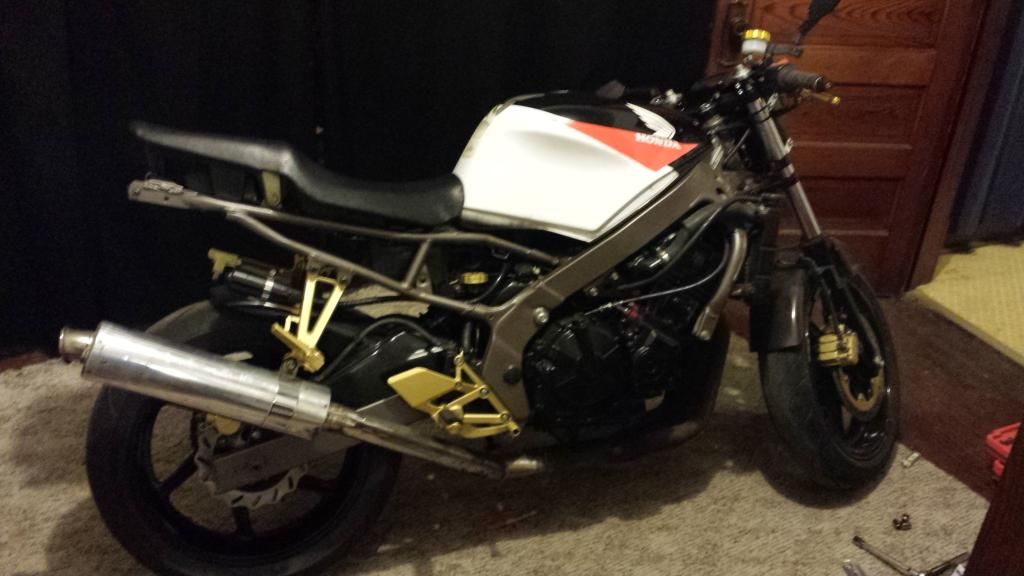 Plans for the summer will include getting the tank professionally repaired and repainted matte black by a good friend of mine once I have a chance to drop it off. Then I want to buy some stainless steel braided brake lines. I'll be making a shorty out of the current D&D slip-on it has as well because it looks ridiculous being the size of texas on the back of the bike.
Next winter Onyx will be under the knife for a 06-07 R6 tail swap, so i'm trying to keep tail modifications to a minimum. During that winter I also have some Titanium things waiting to be installed... I'll keep you posted on these though, I want to get my first season of riding in!!!