Discussion Starter
·
#1
·
alright, after many years and a few bikes posted on here just to show off, i never really started a build thread to log my work, so this will serve as my attempt at just that.
quick disclaimer: the first few posts are just copied form my posts over on the member project sub board.
originally posted (and started) feb 8, even though the earliest pic i took with a date was the 10th...scout's honor?: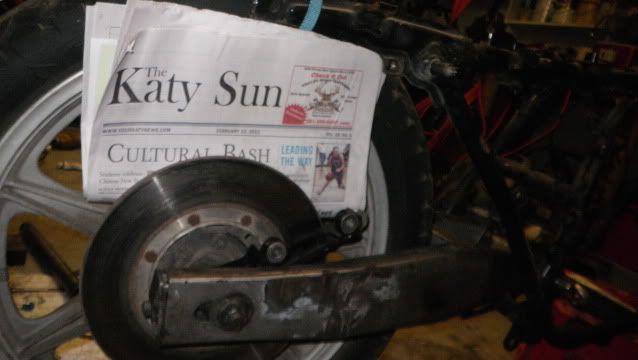 the story:
way back sometime in the very early 80's when i was about 5 years old, my uncle (and life long neighbor) got a '77 RD400 (in trade i think? i know he didn't buy it new)
For years that was what i thought a 'street bike' was (he had quite a few dirt bikes and scooters we putted around on as kids) so as i got older and really got the motorcycle fever and a bike of my own, that old RD400 still sat in his open-air shed under a cloth cover until 2006 when he finally decided after seeing some of my work that i could maybe make a little magic with his old yamaha.
I don't think it had even been started since maybe 1990 at the very latest, but i loved that old bike, and i towed it with me back to texas from what was beginning to look like it's final resting place in georgia. it sat in my own garge, then my in-laws garage from '06 til now (we moved around, had kids, and other moto-projects came and went) finally it found it's way back into my garge which is where the story really begins.
after a few years of me planning and head-scratching and searching various forums, i finally began to form a plan for the old two-stroke.
it was already missing alot of it's original parts, so a concors-resto was kind of out of the question (and i wanted a bike to ride, not an antique!) which led me to deciding modern brakes and suspension, as well as some updating to the motor (as much as possible anyways!) and a serious diet regime would be in good taste for a back road and occasional track-scratcher.
the work:
i guess i'll start from the rear to the front, since most of what i already have on hand is towards the rear...
out back the bike will be getting an FZR600 progressive linkage swingarm paired up with an '08-'09 R6 fully adjustable shock, and new rubber on the old 18" RD rim (i knew from the start i wanted skinnies on this one) besides mocking up and welding the upper and lower shock and linkage mounts to the frame, i need to work out a 'normal' sized rear-brake setup. by that i mean, basically a smaller rotor probably about a 240mm, with a modern caliper/master. also, the bike will be getting a 520 chain/sprocket setup.
on the frame, in addition to welding shock mounts, i'll be cutting off all the unnecessary tabs and brackets, as well as re-building the subframe to something much lighter and skinnier.
i've still got to work out a seat setup either from what's left of the original seat, or something home-made (pan and foam, covered by someone else, upholstery was never my forte') so that i get a better transition from the tank to the tail i intend to use.
on the motor, basic re-freshing is in order, like clean/rebuild the carbs, leakdown test the cylinders, block off the oil pump (this will be premix only) and ditch the points in favor of CDI.
i'll likely reuse the DG pipes it had on it with some modification to give them the appropriate attitude/look.
up front, i'm still searching and debating on front-ends. i'm torn between massive 45mm 98-02 GSXR600 'traditional' forks, and any ol' USD CBRGSXR-whatever
so for now, my time is short, and i'll continue later, but not without a quick pic of the basic profile i'm going for: