·
Build It Ride It Live It
Discussion Starter
·
#1
·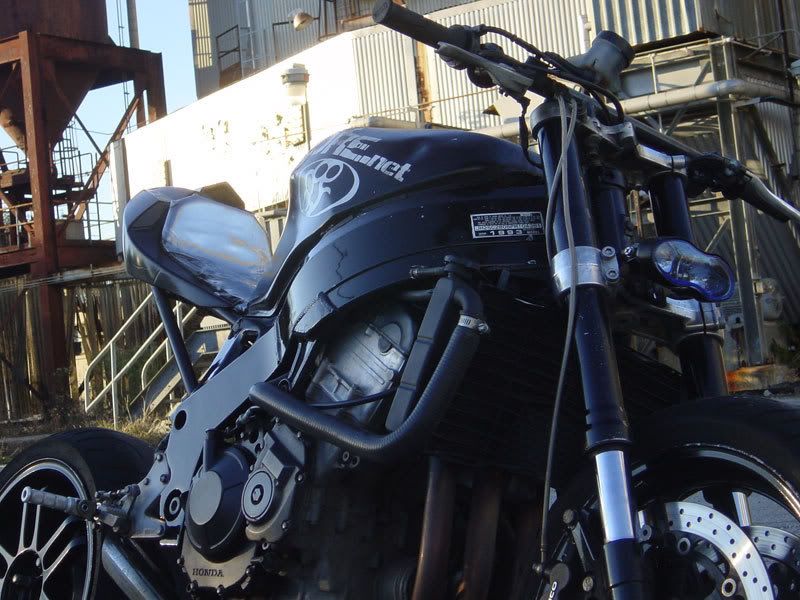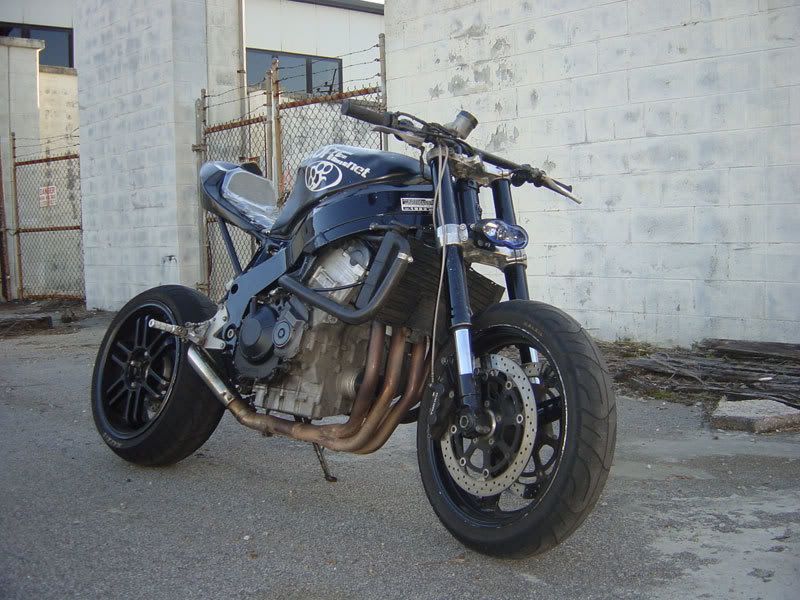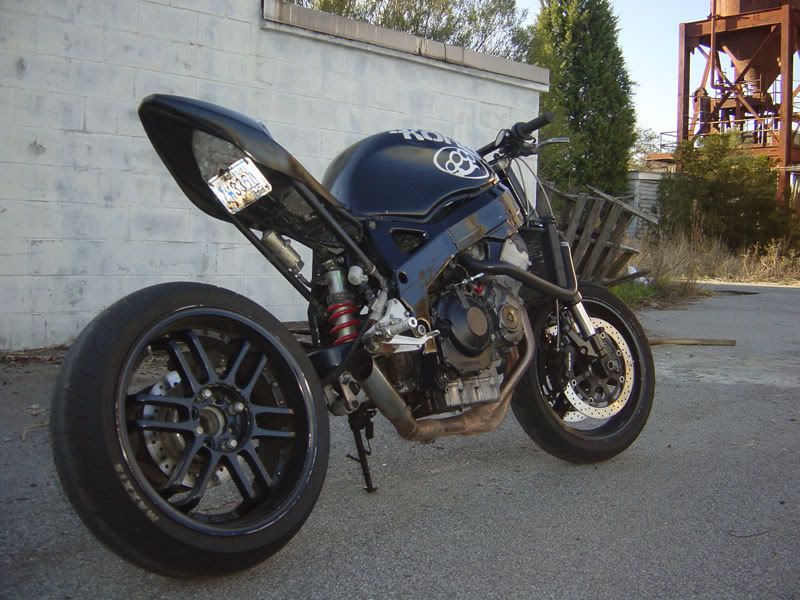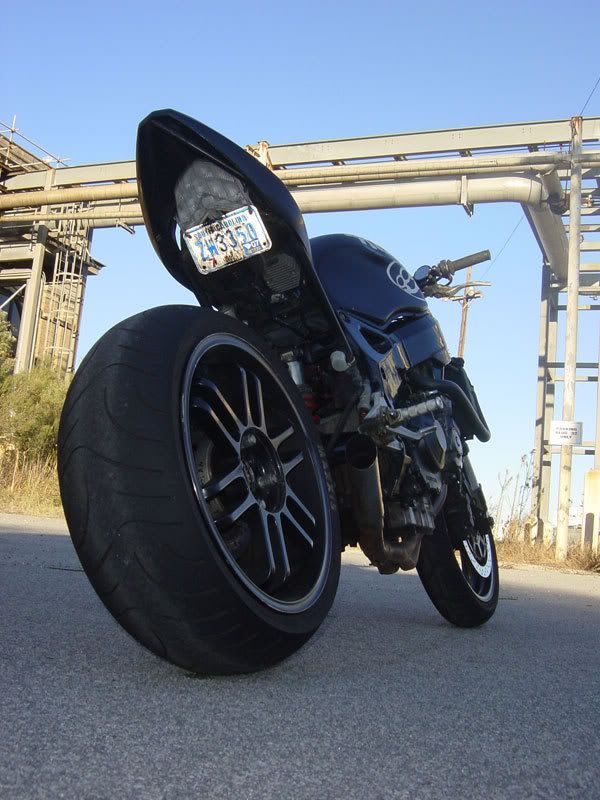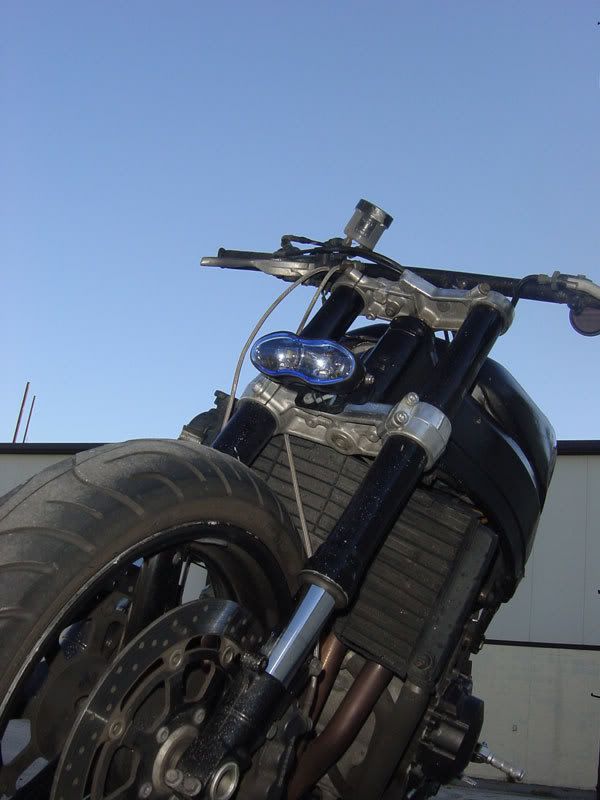 SPECS:
1993 Honda CBR900RR
Engine: 893cc CBR900RR. Pod Filters, Stage 7 Jet kit, Yoshimura header, 2" baffled tip, adj. cam chain tensioner, Two Bros. Adjustable ignition advance.
Frame: 1993 CBR900RR, Remachined neck to accept Suzuki bearing, Shaved fairing mounts, custom adj. height solo subframe.
Front End: TL1000R forks, clamps, Wheel. Key mount shaved. 954 master cylinder, Tokico 6 pot calipers, braided lines, , Busa 320mm rotors. Custom steel flat bars with integrated 3" risers.
Rear End: VFR750 singlesided swingarm, 17x7" car rim, 200/55-17 Maxxis Supermax tire, TLR rear caliper, 900RR shock, flipped shock linkage, custom spacers and brackets.
Bodywork: CBR900RR gas tank, Vortex gas cap, modified pocketbike tail section, disco chrome seat.
Electrics: Stock loom modified to run Ignition, head and tail light only. Battery in frame, components mounted under seat. Euro spec headlight, ZX10R taillight. Relocated key and start switch.
Paint & Powder coat: Frame, forks, wheels painted by BLUE @
www.bluekustoms.com
Powder coat by Mark's
http://www.markspowdercoating.com/
Engineering: Battery box, rear caliper mount, handel bars, subframe, rear suspension links, rear wheel adapter, frame mods. All work by owner.
Thanks: First off, Mom for putting up with my addiction to these things and all the noise that goes along with it. Blue @
www.bluekustoms.com
For hook'n a brotha up on the paint and being good friend. The crew at Cycle World and Salvage for the hookup on parts and the shop space to work on it. My girlfriend Michele for being there for me, especially when this thing acts up, and also for her killer photo skills. And anyone that held a wrench while I built this project.
THE STORY
I picked up this bike as a front end wreck 3 years ago. Durring the weekend of hurricane Ivan I striped the bike down to the essential items and tossed the rest in the bin. The forks were tacoed, bodywork trashed and the wheels bent beyond repair. I remachined the steering neck and slid in the TLR front end. Also durring that soggy weekend I made the adjustable subframe and flat bars. The bike was pretty basic for about a year as it serves as a daily rider. I did some little cleanup stuff here and there on my days off. Eventually I got tired of it being another trashed stunt bike and stripped it back to the frame and got serious, I had my buddy Blue spray everything Gloss Black. Soon after I got a hold of the VFR swingarm and came up with the idea of fitting a car rim. After spending a week measuring and calculating I started sourcing parts. Another buddy of mine had a pair of car rims hang around his place that just happened to be what I was looking for. Everything went together pretty smoothly and still rides and handels just as well as any factory bike. The motor has a mild tune. Enough to keep the power right were I like it. For a street bike it's perfect. Plenty of power all through the revs and a big chunck of it right in the middle. It's still my daily ride so I wanted to keep it semi reliable. With over 80,000 miles it's done a damb good job. I coulbn't ask for a better bike. It's a constantly evolving project. I've changed the overall look and performance of this bike at least 3 times. It's been my life. I've had plenty of ups and downs along the way. mechanicly, accidentaly, leagaly, but it's always there waiting for me to throw a leg over and crank the key.​