I'm gunna give this one a shot. I'm going to replace my tach with a series of LED's that will run around the top of my speedo. It will require building a circuit to translate the voltage on the tach input to the LED's and packaging them nicely in a bar that will wrap around the speedo. then the speedo and it's new lights will be packaged into a fiberglass housing that will mount into my tank cover. While i'm at it, i might throw in a second set of lights to monitor the temp. The main purpose is to take the huge three gauge cluster older sportbikes have and clean it up. I dont quite want to go digital with the speed 'casue there's something special about watching the needle rise. I'll probably reface it though with some brushed aluminium or something.
Flame me if this doesn't count. I figure if the assembly doesn't count, simply the tach light bar should. Kinda depends on how picky you want to get I guess.
I've been working with circuit diagrams to get this thing planned out. I'll crank out some simple design sketches for those of us that are picture hungry asap.
rock on
################################################## UPDATE ##################################################
here's that sketch I promised: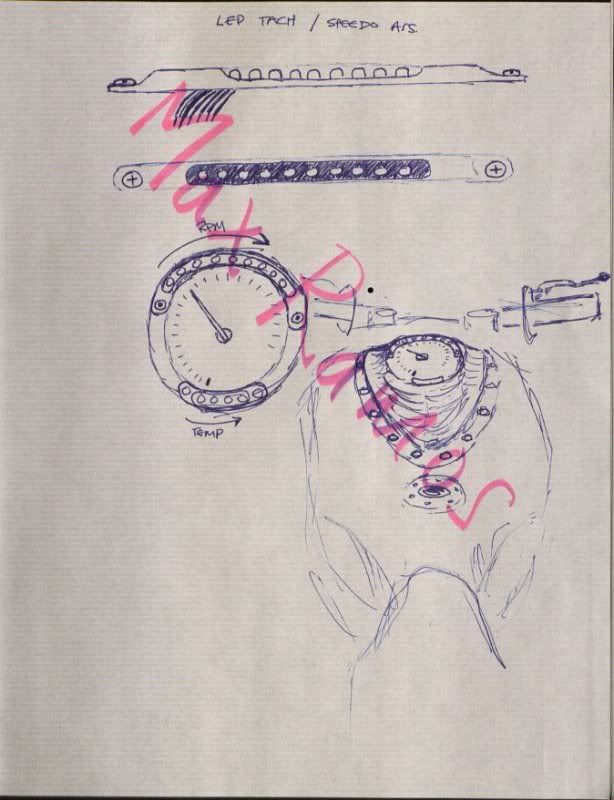 AFAIK, the tach doesn't operate from a varied voltage-it counts the pulses sent to the coil(s) or counts the rate that a crank position sensor ticks, etc.

What will you use to count/trigger the LEDs?
Well, the tach already has a counting circuit that outputs a variable voltage to the tach needle. Right now it reads ~0V on 0RPM and ~3.5V on 13,000RPM. I was only planning on modifying the output range of this circuit and not really messing with it's counter. I could program my own FPGA to do it and have this all on one board but i'm not for a few reasons.
(1) if it aint broke, dont fix it. I'm not going to be getting any better performance from one I design.
(2) i want to keep the design modular so that if one component fails i dont need to replace the whole thing.
(3) i can later build more units with a potentiometer that would allow me to share this with other people. you'd simply have to connect two wires and adjust the pot to dial in your rev limiter
Currently working on nailing down my new circuit on a breadboard..