Discussion Starter
·
#1
·
So here is a build thread for my 2006 Buell Ulysses. I bought this bike February 2015 and have made a "few" changes since new, including a frame-off cases-split rebuild
. To be fair, the bike now has over 74,000 miles on it, though few of the current parts have seen them.
Here is what it looked like when I first bought it.
Two thing I immediately didn't care for- lack of power, and the orange color, once I swapped off the color-matched seat for a more reasonably cut seat (low seat). I addressed both quickly, since I worked at NRHS V-Twin Performance at the time. I hopped up the motor with Stage II headwork (my own porting) and ported manifold, NRHS 1250 kit with 10* dome pistons, and NRHS CAT3 cams. After doing some tuning, this brought the performance up from 76 RWHP to 100.5 RWHP. Later I actually made some changes to the heads to squeeze out another 3 HP to 103.51 RWHP.
With a switch to Hero Blue plastics and a VHT painted header and muffler, it turned into this.
As the months passed, I did some more paintwork and aesthetic changes, as well as lowered suspension, to give it a more aggressive and smooth look.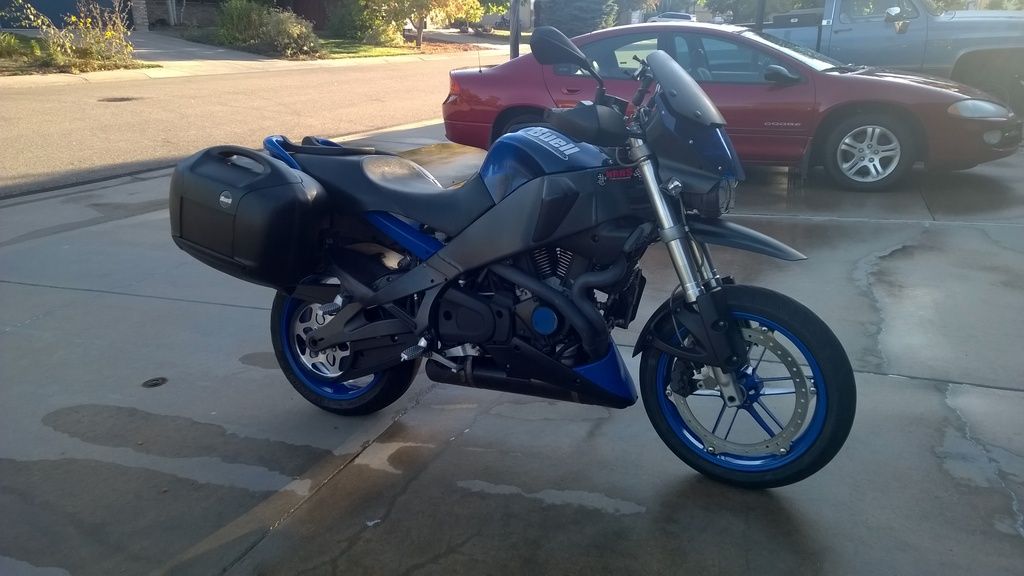 Before leaving Fort Collins, I decided to sell my motorwork to go with a more aggressive setup. I did stage 2.5 headwork on different heads, added an NRHS 1250 kit with XB9 style pistons (high dome), and NRHS CAT4 cams, which I had to make my own timing marks for XB use, as they are only stocked with Sportster timing marks.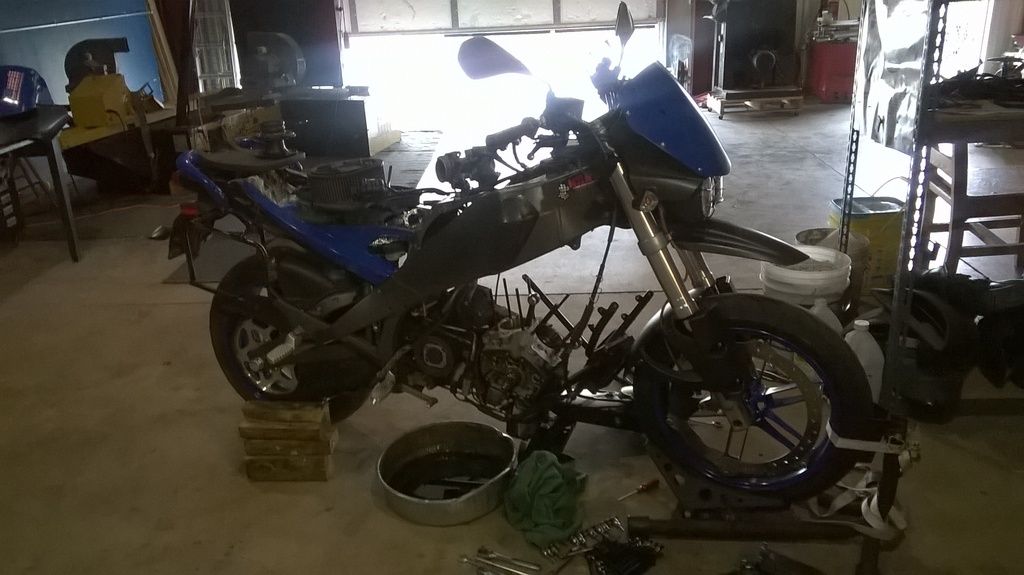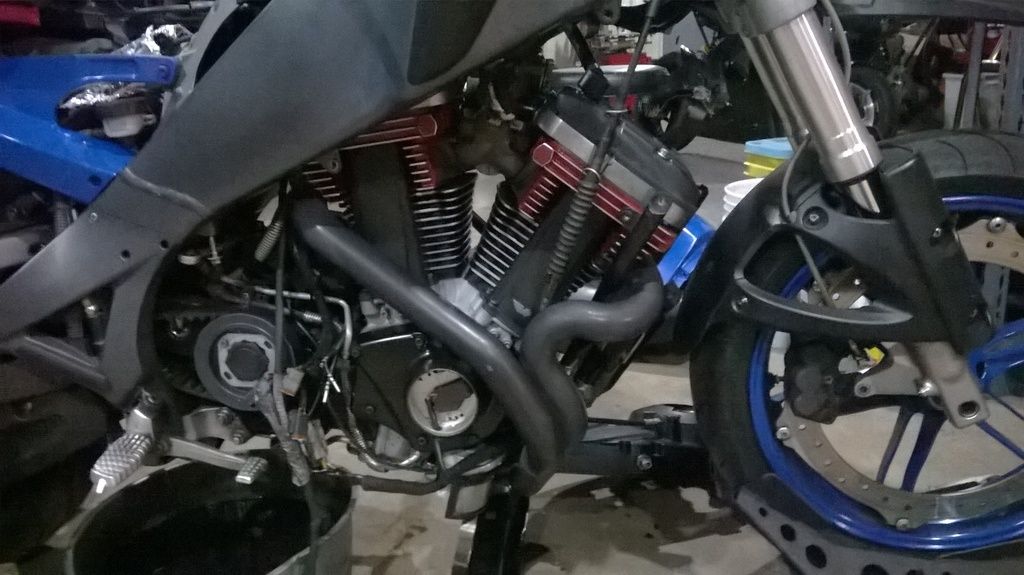 I can't seem to find a pic of the bike complete at that time. But shortly after moving from Fort Collins to Fountain, I decided to get weird with it. I found a KTM Duke II fairing and had to have it, so I got that and a Flexiglass fairing.
I rode like this for a couple months before I decided that to really make the fairing work, I was going to have to do a full tear down to really change things.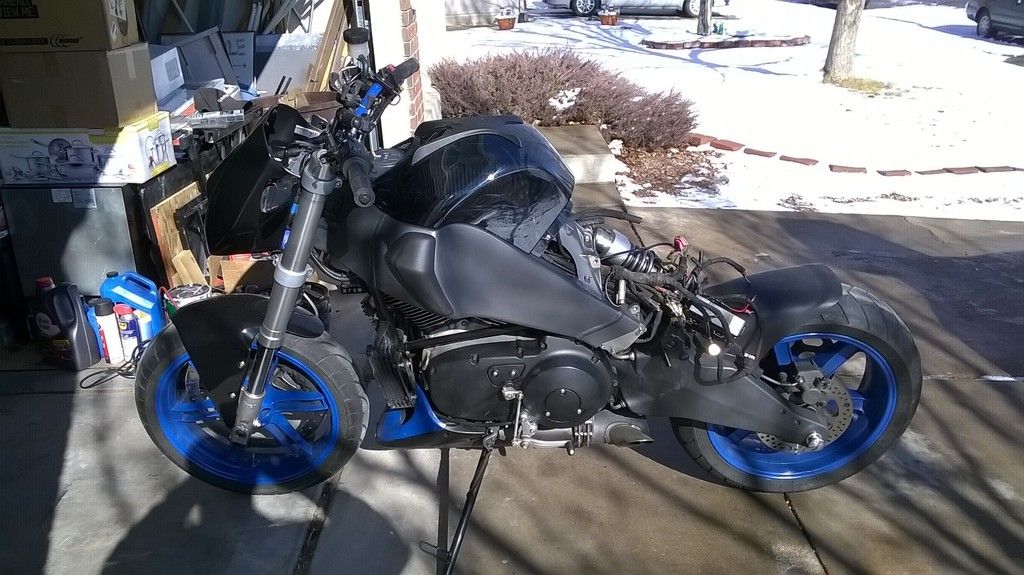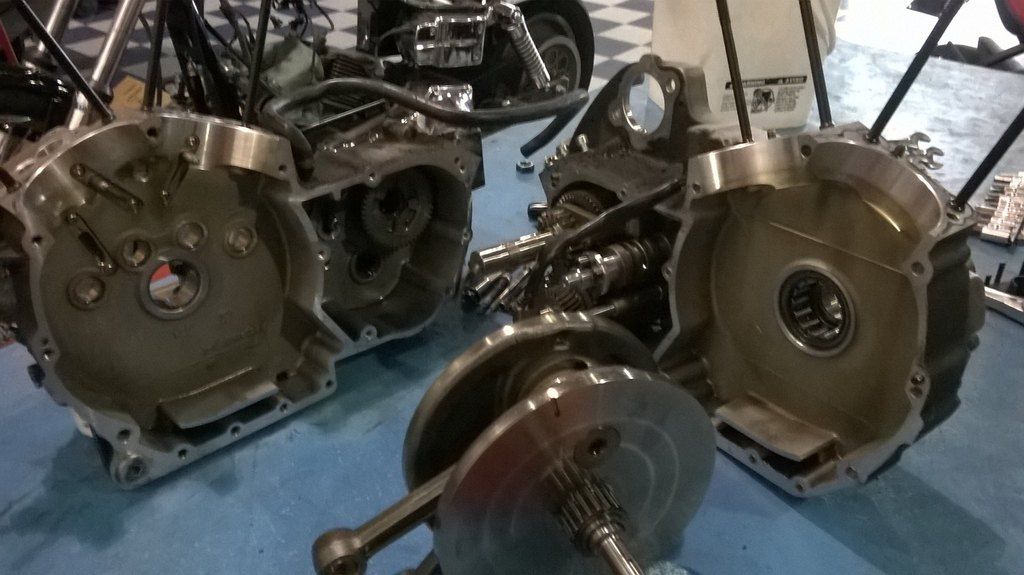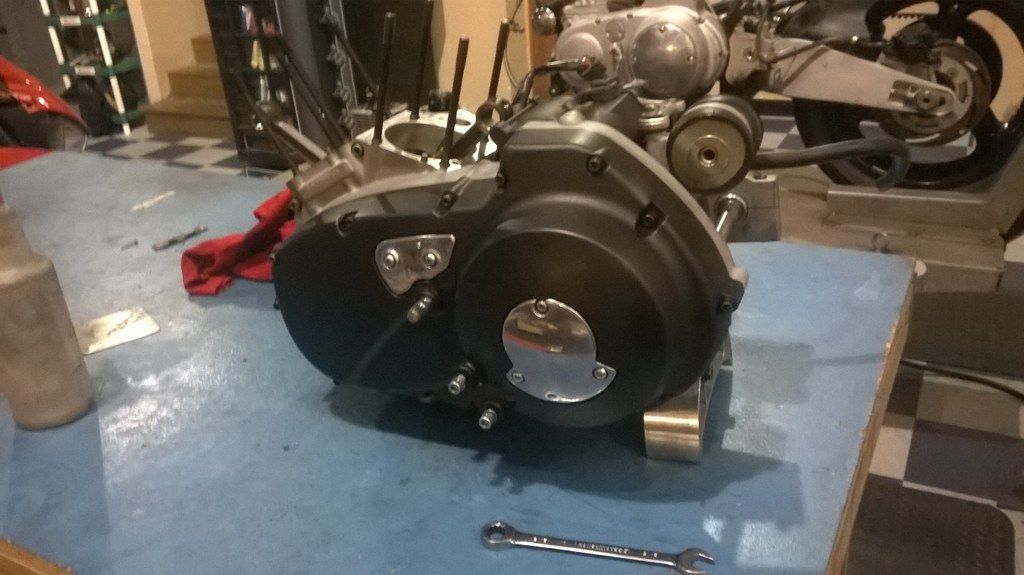 My cases split was pretty anticlimactic. I only split them out of necessity to replace the transmission output shaft bearing, and replaced the output shaft seal and crank seal while I was in there, as well as fresh 3 bond case sealant instead of silicone. around this time I also decided to sell the motor work yet again, but this time to fund other parts of the build, and thus went with a more mild approach on the next top end. Unfortunately I never finished breaking in the red motor work so I don't know the performace specs. This time I went with stock .551 cams, XB9 pistons in stock cylinders, ported heads and manifold. Lots of compression, so power should still be around 100 RWHP.
It's getting late and details are getting blurry at this point. After about 9 months and a lot of pondering, deliberation, and parts swapping, this is how it looks currently. "Just a bit" different.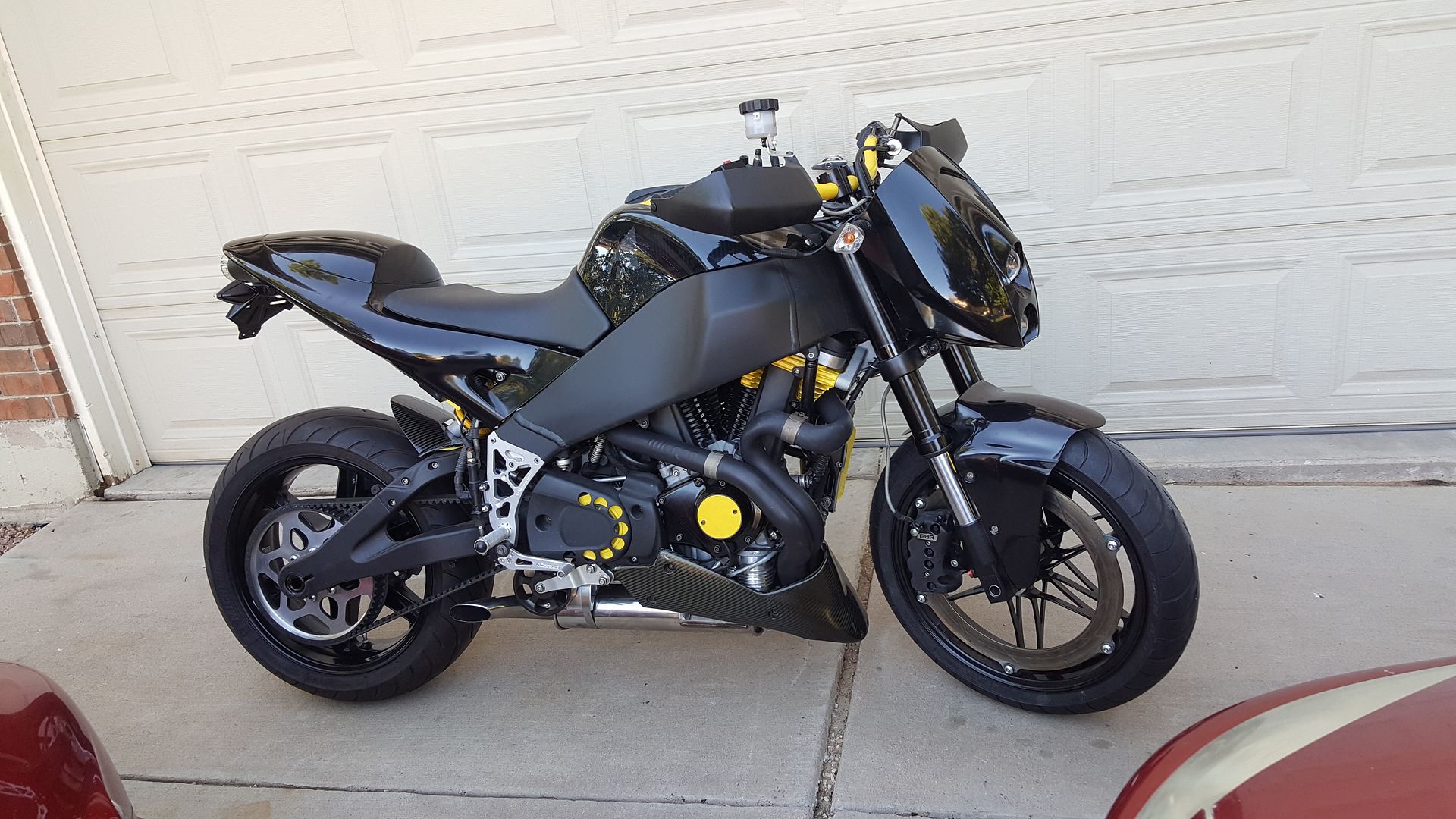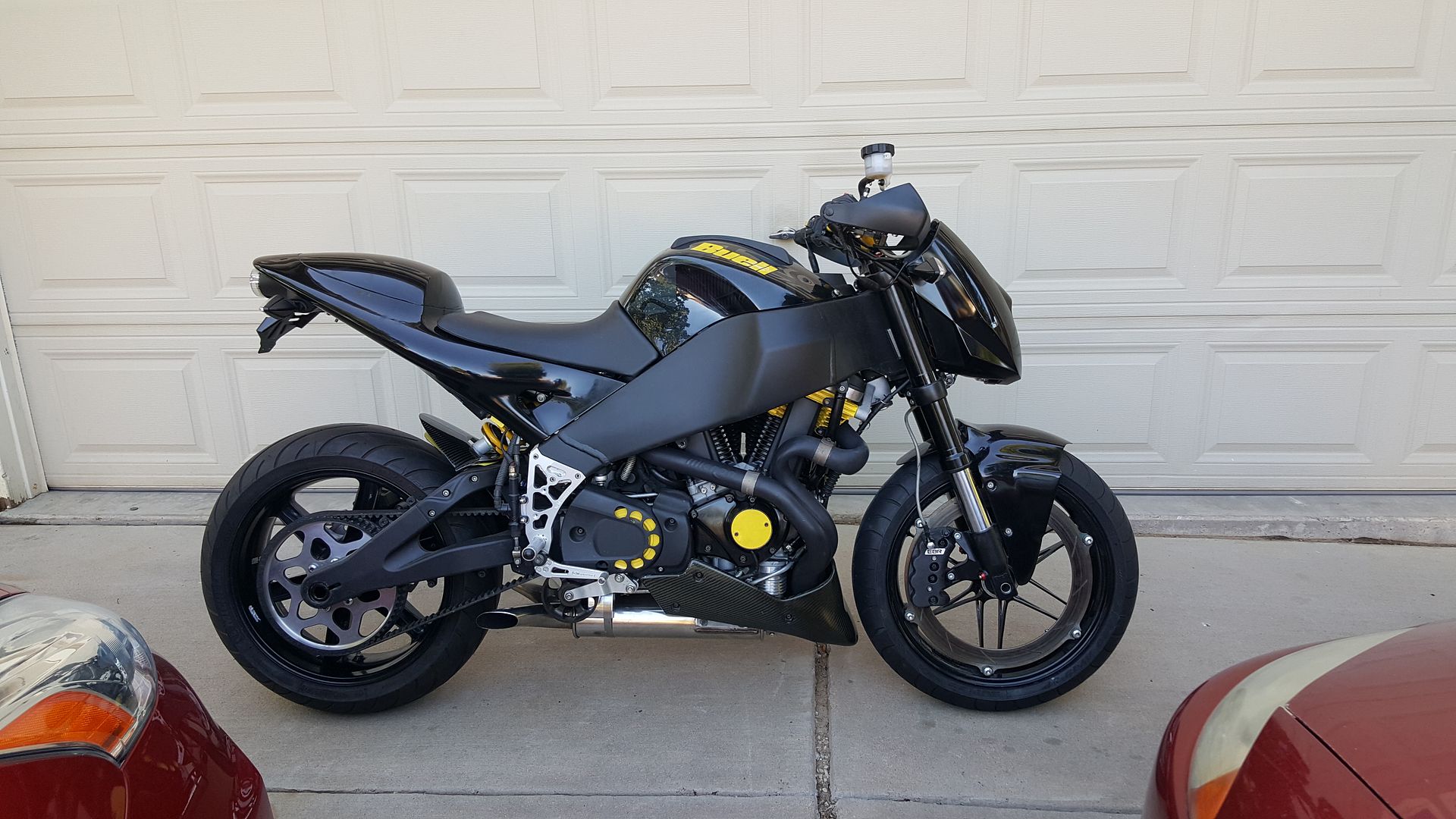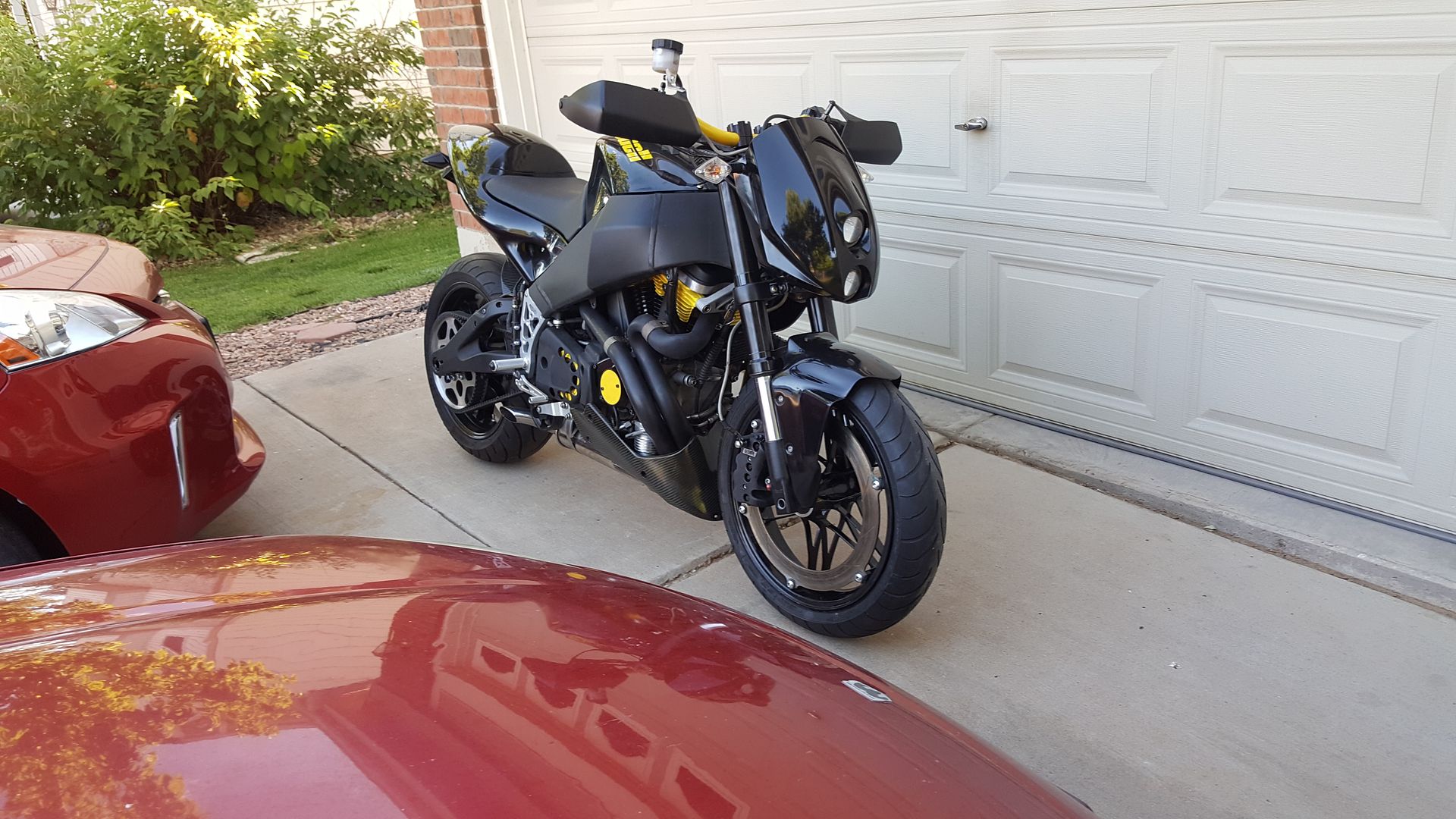 Let's see how many changes I can remember to list
-painted frame and swingarm
-new bearings and seals throughout
-Buell 3 bearing rear wheel and axle
-highlight cut rear pulley
-EBR front wheel, rotor, and caliper, made axle tophat spacers to fit the wheel
-Flexi-Glass race front fairing with scoops, no longer the scoopless one pictured earlier
-Buell 1125 CR front forks
-painted triple trees, top tree milled flat and drilled for Rooke Risers
-KTM Duke II headlight fairing
-OSX One fatbar, painted
-AME heated grips
-Nissin radial brake MC and ASV levers
-Kick Ash airbox cover with 2010 Uly decals
-Firebolt tail with frame and subframe modified to fit it
-2010 LED taillight
-EBR 1190RX turn signals (same as 2010 Buell)
-custom rear shock with external preload and yellow spring
-Lightning Long kickstand
-modified Lightning carbon hugger and cut stock hugger underneath
-Woodcraft rearsets
-polished clutch and chain inspection covers
-new front and rear isolators and tie rods
-Micron full system exhaust (spent 2 years looking for one)
-carbon fiber chin spoiler
-ASB open airbox kit and K&N filter
-bodywork and all other paintwork by me
-XB9 pistons
-ported heads with oversize intake valves (1.840" vs stock 1.810")
-ported manifold
-S&S hydraulic lifters
-Energy One clutch pack
I'm sure I'm missing some stuff. Other upgrades in the works
-09 motor build (black case, beefier crank and oiling system, DDFI3 conversion, etc, not sure on performance changes yet)
-black anodize the Woodcrafts
-custom cnc cut and powdercoated front and rear pulleys
-Galespeed billet radial brake MC, clutch perch, and levers
-Galespeed rear billet MC
-billet hidden rear caliper brackt with 2 piston Brembo
-Spiegler yellow stainless brake lines
-two tone leather seat
Hope you enjoy my build