Discussion Starter
·
#1
·
Hey all,
As I promised in the beginner's section, the start of 2012 marks the start of a 4-month build on my '95 Honda VFR. I bought the bike 2 years ago, all was well until I lowsided on some gravel last June (the day before I MC'd my sister's wedding). It was still rideable after that, just some scratches for me and the bike.
Then, one misty day in October, I skipped breakfast. I blame this for what happened next. I caught a break in traffic and thought it would be a good idea to zig up an onramp at the same speeds I would under dry, warm conditions. Obviously that didn't end well. I had a lot of time to reflect on my stupidity as I slid from about 50 mph to a stop (fortunately not meeting any curbs or solid objects along the way).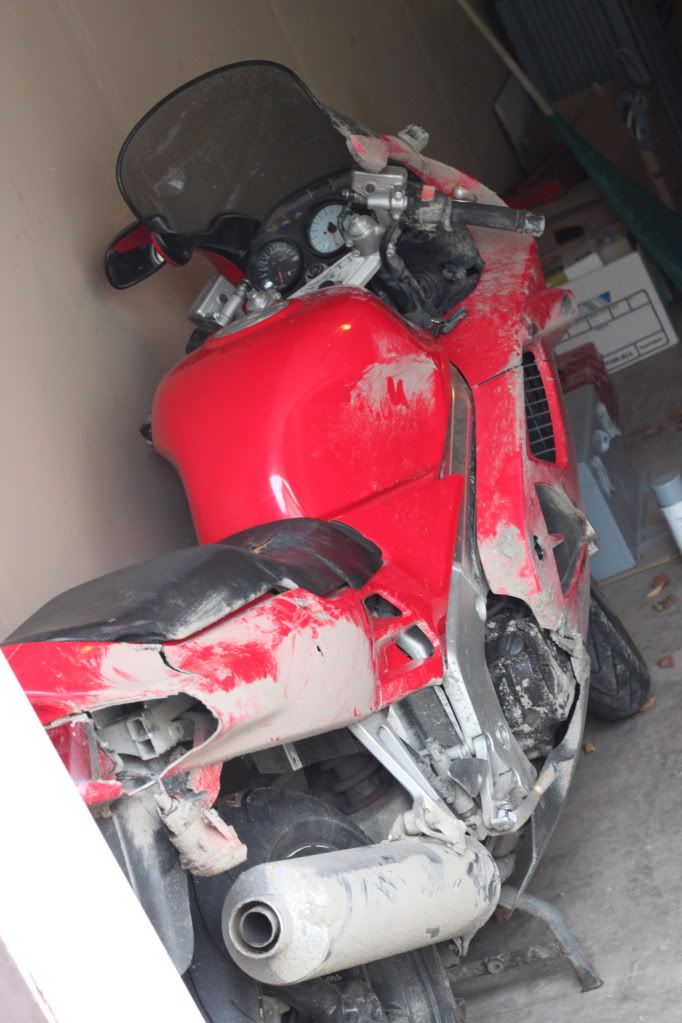 But enough with the past, where do we go from here? To be honest, I only have a few vague ideas at this point. Here are a few ideas, plans, and constraints.
-"new" rear shock from a CBR 929 to replace the high-mileage stock unit
- 8-spoke wheel from 3rd gen VFR (if the wrecked bike shows up online again, missed it the first time around).
- cafe-style bubble screen (I want to keep all the stock gauges)
-classic round headlight (the cafe bubble has a cutout for a rectangular... I'm not a fan)
-Japanese lettering for "Honda" or "VFR"
-potential paint job: black with gold trim (a tribute to my dad's Norton Commando)
-white lettering for tire sidewalls
-belly pan to hide the less-than-pretty routing of the V-4 headers.
-whether or not to keep the passenger seat and pegs... I'm up for discussion. Convince me one way or another.
-low cost. This is key, I'm a student with negative income.
Overall, the bike has to stay reasonably practical and comfortable, I'm doing a 5000km trip with a few buddies starting in May. Which brings me to the name of the project, "April Whine". April is when I hope to have it completed to the point of being able to take it on the trip, and the whine comes from those sweet, sweet gear-driven cams. April Wine is also a Canadian rock band from waaaay back in the day, but I don't know how well-known they are around here.
Anyways, I'll be posting pictures as often as possible, and if you guys have feedback or ideas, I'm all ears.
Cheers for now!