·
squids.. sqids everywhere
Discussion Starter
·
#1
·
*DISCUSSION & BUILD THREAD*
Feel free to comment an post in this thread. Not going to do a discussion thread for this build.
I guess like all other threads I have started, this will be a way for me to keep track of my build.
So, first things first....
This is my new toy. She fits in nice with the other bikes in the shed.
Since I bought it brand new, I am waiting a bit to start one wheelin. Some one said to break it in how I gonna ride it and a buddy says take it easy for the first 500 miles. So... With 50 miles on the clock, I did the quick and free airbox mod. Noticed a bit more grunt out of her afterwards. Top speed went from 61 tucked to 65 super tucked.
I have a sub cage, engine cage, and axle pegs/sliders ordered through kevtek. They will look identical to this except there will be a foot plate welded across the 12 bar. Where his is white, mine will be black. Where his is red, mine will be yellow and I will have the same white puck sliders.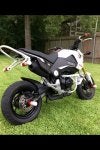 I have also ordered new handle bars, grips, an blister pads. All protaper.
Sent from Motorcycle.com Free App