·
Rollin hard in Wiscompton
Discussion Starter
·
#1
·
Yes....I went there. I know I haven't finished any of my 3 projects yet (but give me credit, I at least still have the truck lol), but this one I will. I promise that it will not be hacked apart or otherwise fucked with until it's running, and then only when I can complete whatever I am doing the same day/weekend.
With that being said, once it's running, there's actually not a whole lot I'm actually going to do to this thing. I'm not gonna lie, I
am
already contemplating some parts swaps, I wouldn't be me if I didn't. But for the most part, this will be a pretty simple build. It will primarily be cosmetic, but there will be some other changes as we go along.
Now, starting pictures, courtesy of Mr Ratfighter himself!
It's dirty, it's ugly, but goddamit it's a bike! There is also a video to accompany this of back when it was running. I'll leave it to Ben if he wants to post it. But this bike is definitely a beast.
Now, what do I plan to do with it? Most people that know me closer know I've been looking for a cruiser for a while. I wanted a Goldwing or a Magna, but said I'd settle for a big Shadow, Virago, or Intruder. Well I certainly got what I asked for. I've ridden a 700 Intruder, I expect this thing will run similarly.
Why do I want a cruiser? The answer starts with the Sabre I was building. As I continually rotated through ideas and parts figuring out what I wanted to do, I realized that I was far more comfortable sitting in a more laid back position. I trusted myself to lean the bike further over that way, I felt more in control I guess. Some people can get on a sport bike and drag knee all day long, I cant. I have a phobia (for lack of a better term) of structure. I don't trust structures. I have a hard time climbing ladders, it makes me nervous to climb the bleachers at the Wilmot Raceway, and after breaking my leg as a kid when a rock sent me sideways when I went around a corner dragging pedal, I have a hard time trusting bike tires. I can watch the guy behind me go flying past on a monkey bike dragging knee, I'm hard pressed to follow. But when I had the Sabre setup so I could sit back more, like on a cruiser, I found I could trust it more.
So that settled it. I like leaned back bikes more than sporty styled bikes. Plus my hip is too fucked up to ride a sportbike anyway. Now that I've rambled on incessantly about random shit nobody knew before, time to introduce the goal of this bike.
When I was younger and my dad hadn't completely converted into a Grade A piece of shit, he used to take me on rides on his XS1100. I helped him convert it from a naked standard into a touring bike. It had the complete Vetter package. We had the Windjammer fairing, though I can't remember if it was an SS/4 or a 5, we also had the hardbags and even the trunk. To hold the trunk we used the rack off a Suzuki, and we also had a hitch from some model of BMW, with which we towed a tiny trailer using a Sears esCARGO car top carrier to hold supplies and luggage for long trips (like going from our home near Lake Michigan to gramma's on the far side of Minnysoda). I remember helping install everything, and the bike was certainly comfortable. I'm sure it would have been better with a Bowen seat from TocTuning. Said bike is no longer in existence, but the memories are still there. I like cruising on a comfortable bike. I also like low and slung. To that end, I've found that I like baggers. And by bagger I don't mean the giant chrome washing machine fresh off the Hardley Ableto showroom floor.
I like bikes like this:
and this
and this
But omg I hate Harley's. Why? Because almost every Harley owner I come across thinks that to be a biker you have to buy a Harley, and it must me SO FUCKING LOUD MY HELMET VIBRATES FROM A HALFMILE DOWN THE FUCKING ROAD!!! and everything they own must say Harley, and they all act like owning something other than a Harley makes you a lesser human being, and blah blah blah. Yet half of these pussies wont so much as open the garage door if it even looks like it might rain. When I had the Sabre running, I rode that fucking thing to work until halfway through December when I finally saw ice on the road halfway to work. Rain? Bitch please, free bike wash.
So I like baggers. I also like these:
and these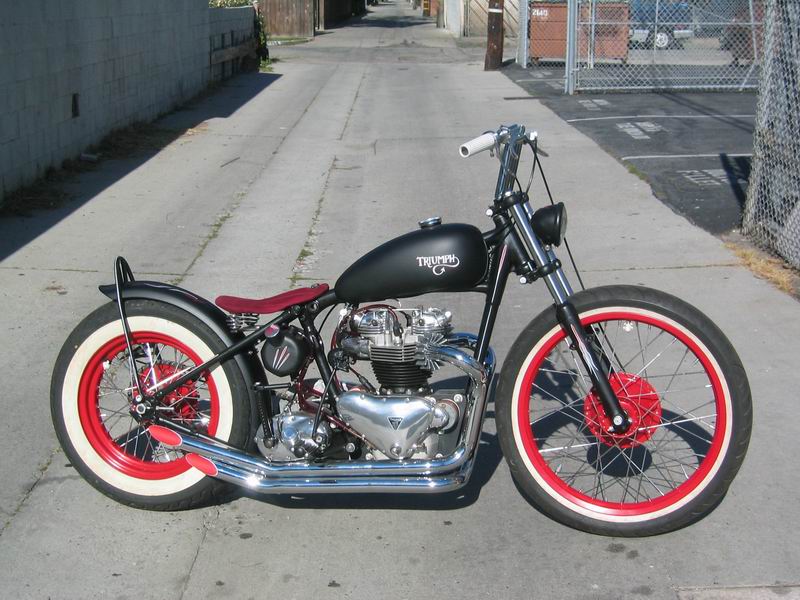 So then end result is going to be something of a cross between them. I came across a Vetter Rooster in the barn of the local bike repair/part out guy. It got my attention because it's such a small fairing, yet still has a radio and speakers. As much as I love riding, I go nuts without music after a while, so long rides have got to have tunes. So one day while searching for Vetter Rooster's on ebay to see what they look like intact, I found a bike that had one on it. This bike has become a permanent thorn in my grey matter, I just haven't been able to let it go. I have to build something like it.
Here's the bike.
The saddlebags are ugly as fuck, I hate red, and while I hate Harley, I do think that any kind of bike like this looks better with a Vtwin (I'm not gonna lie. I'd happily accept the keys and title to a Victory High Ball as well).
So now the cat is out of the bag. I'm being given the chance to get back on a bike, and on top of that, I'm being given the chance to make my dream bike. I cannot thank the people responsible (Ratfighter and TimzGarage) enough.
The first thing that's going to happen obviously is I'm going to throw some fresh rubber on it, put it back together, and make it run. I'm going to clean it up, finish anything that's not done, fix anything that's broken, replace anything that's bad, etc etc.
After that, I'm going to start tracking down the parts I want. I already know it's going to start with the Vetter Rooster. Last time I was at the barn down the road, the guy had a pair of the Roosters. I'm going to buy both, fix and use the better one, and save the other just in case. I don't yet know what bags I want, as I'm not yet sure what I want the back of the bike to look like. I do know I want the bike to look slung and a little longer. Ryan S (member here and owner of the World Famous Bargain Barn) has massive piles of parts to look through, and undoubtedly I am going to end up outfitting a decent chunk of the bike from his inventory.
I'm going to have TocTuning build the seat for me later. The bike will remain 2up, as I want to take my gf on rides with me. And I suppose my mom might want a ride once in a while too. God knows the last time she was on a bike.
Lighting will be LED and HID. I'm going to convert a round headlight with a bi-xenon projector for the front, and until I have the bags and fender sorted, I'm not sure yet what I'll do for the rear. I just know it'll be LED lighting.
I'm not sure yet what colors the bike will be. There is a strong possibility that it will be black, green, and white, my shop colors. Powdercoat will be handled by GreenMachines, he does excellent work and even lets me come help him out once in a while!.
Things like brake upgrades are a given, there might be a wheel swap in the future, we'll just have to see what happens later on.
So anyway, first step is to get it home and get it running. I can't fucking wait!!