Discussion Starter
·
#1
·
Hey all!
I am copying my thread from another forum, so they are edited and in order by date.
This is my latest build; a 1982 Honda CB900C. Hopefully all pics and links work but let me know if you noticed something's out of whack. This bike will be for sale sometime in the near future, but I may just enjoy it a while still. I repair and customize bikes as a hobby. I hope you enjoy my timeline as much as I'm enjoying the build itself.
I changed it's direction a few times, but you'll see that. You will also see in some photos a red CB750F that I have next up to work on too. Fun, fun - Enjoy the ride!
Nov 10, 2014 at 1:05pm
Well, matter of fact speaking. My '82 CB900 is now on the transport trailer and on the way. Yey!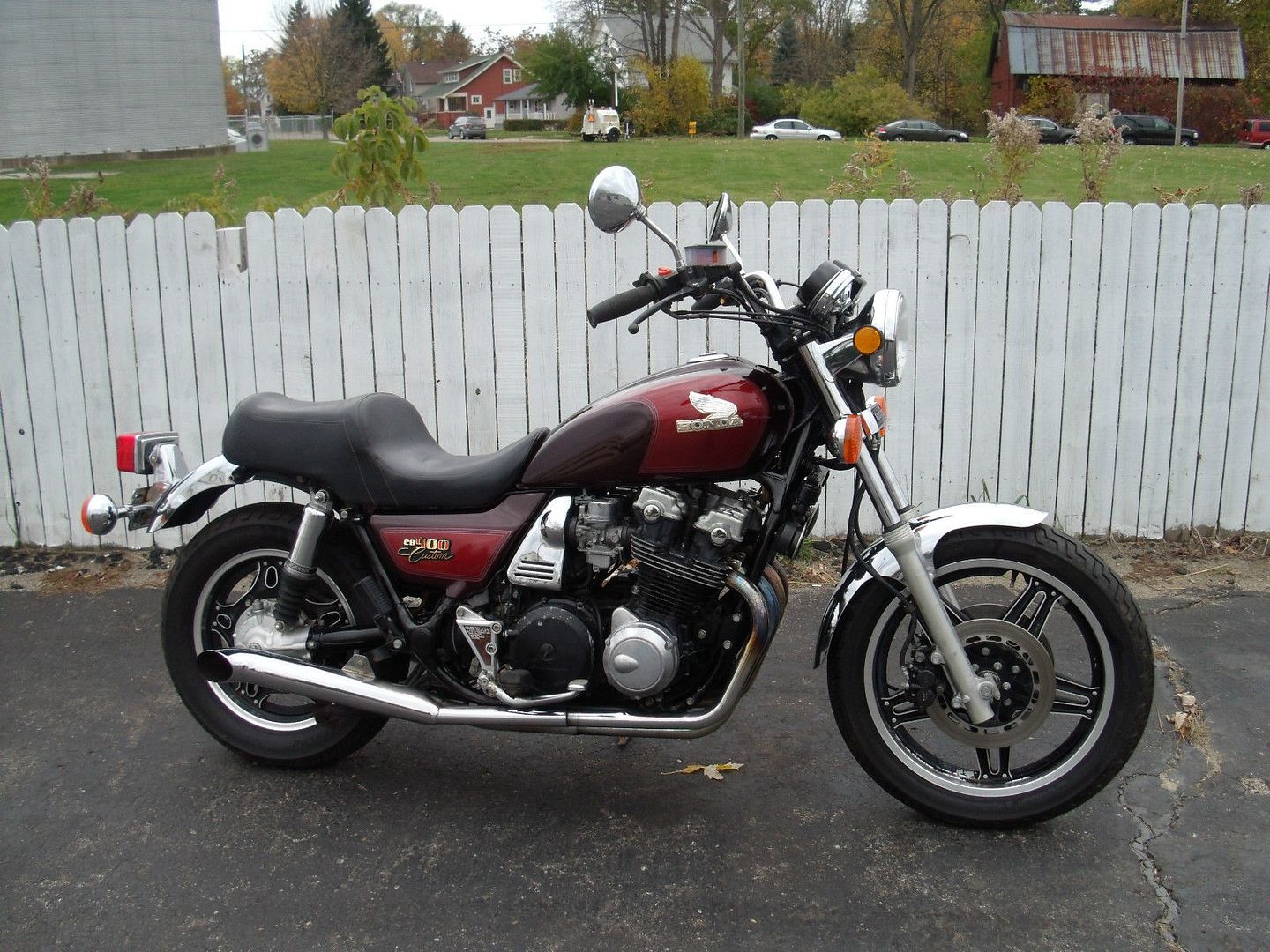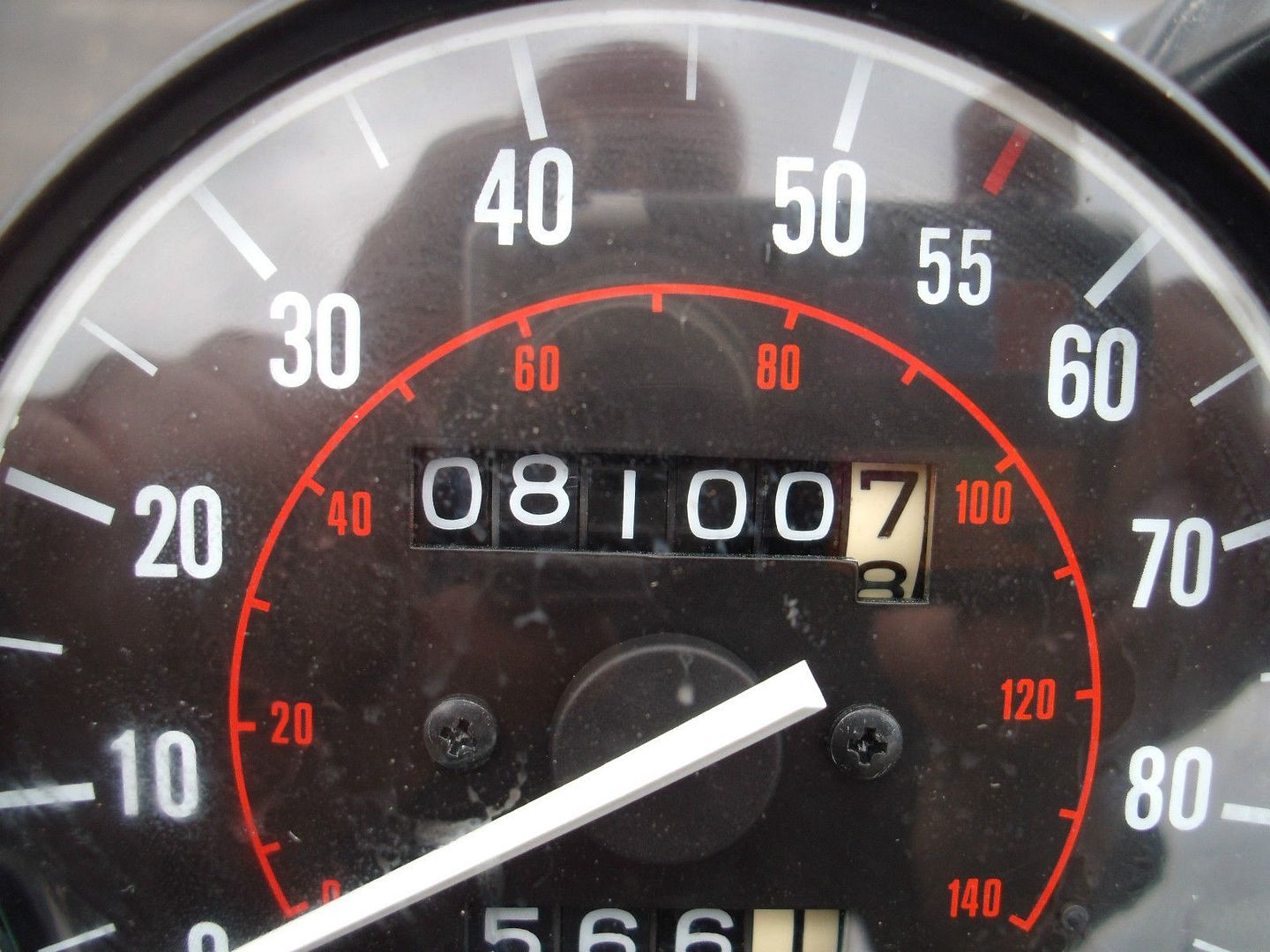 It runs, and apparently runs well according to their listing. Carbs were rebuilt by dealer selling it on Ebay. No dealer fee! Good reputation too - 1533 positive reviews (100%) ... so I believe it. This was their description: "Honda CB900 Custom 1982 in good running riding condition. The pin striping on the tank is a little bubbly. Has very minor tearing on the seat. All under the edges. The engine paint isn't perfect. Has after market exhaust on it. We rebuilt the carbs, new plugs, new choke cable and oil change. Runs great." Additional description, "We have a very nice Honda cb900 custom ready to go.Motorcycle runs and looks good.Rebuilt carbs,plugs,choke cable and oil change.Tires and brakes are in good condition.Ready to ride.Motorcycle is fast.Has low and hi range."
Only 8K miles, I couldn't resist; it was second on my list after the CB750 fell through. Hoping for the best.
Speaking of dealer fees, I almost snagged another CB750 on Ebay from another dealer prior to this one, but in the "fine print" in the listing they stated that a $499 "prep" fee was to be included on top of the winning bid/buy now price. Stupid. Sorry, just stupid. I won't pay that kind of fee. Not on a new car, and definitely not on a used $1000 motorcycle, that's for sure. It's a ridiculous profit booster. That second CB750 could have been a good deal, but then THAT fee AND shipping? No thank you.
Nov 13, 2014 at 11:23am
Got a call from Jimmy (Roadrunner Transport) this morning. He said he should be here around 1:30 or so. And of all the days, I'm alone at the office and will have to shoot out for about an hour when he's near. Such is life.
Also, just to note, he said most every time he stopped for fuel that people would comment on the bike. He asked if it was some sort of rare classic and noted that a few stated that to him as well. Hopefully I got a good one, haha! Dammit, now I may have to not modify it and just restore. Jeez.
Nov 13, 2014 at 4:13pm
And SHE'S HERE!
Little shout out to Jimmy and Debi, owners and operators of Road Runner Transport! Great people, great communication and great care. If you need shipping, contact them first - (517) 589-9126, cell (517) 607-1567,
[email protected]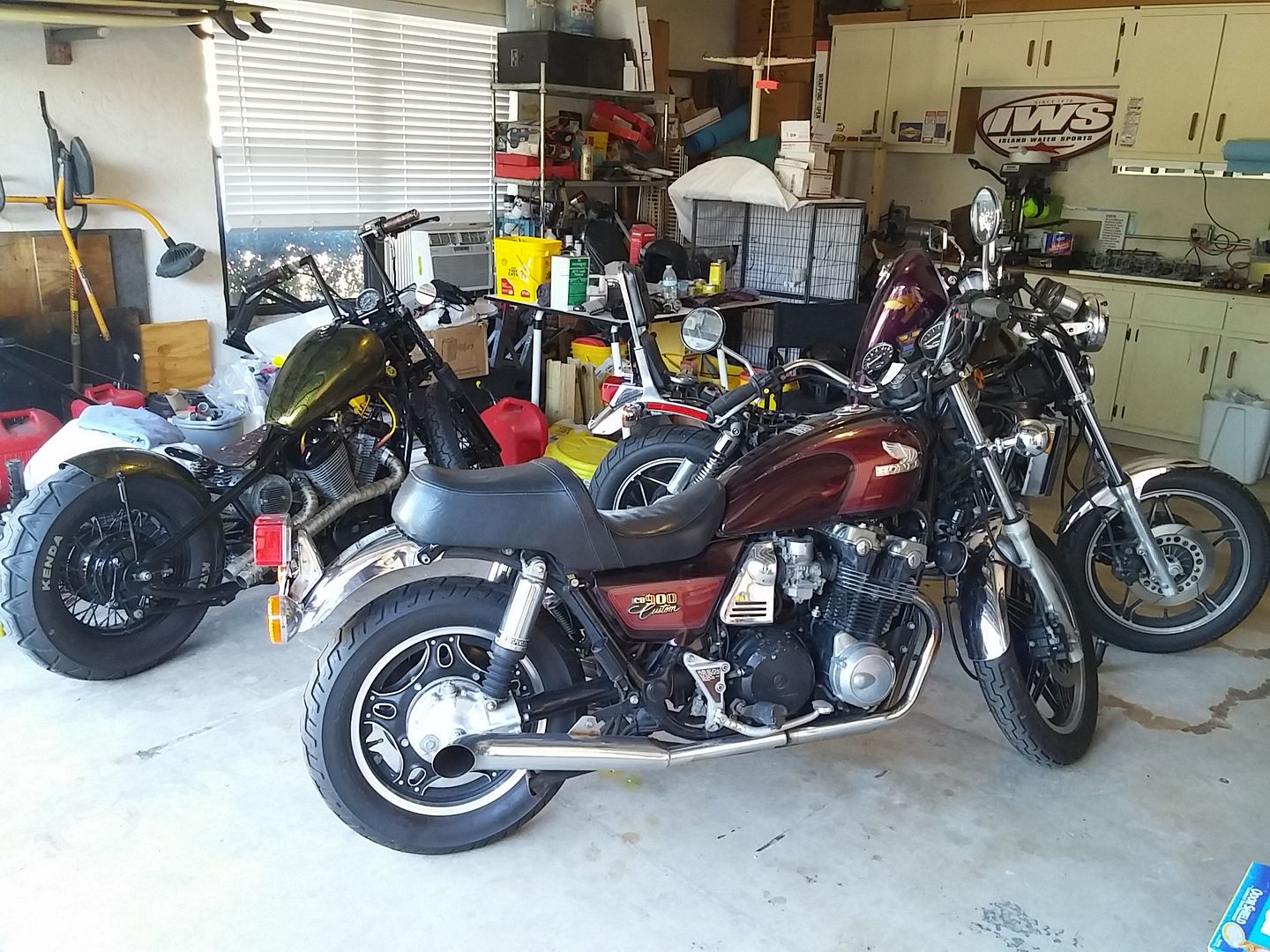 Nov 15, 2014 at 10:22am
All I can say is WOW! She fired right up on the first start this morning! What a sound! Those are aftermarket slip-ons, not the factory mufflers (which I would have preferred style-wise), but man do they give this a "sport-bike" sound. After a complete check-thru and walk-around, I took her down the block. 1/4 throttle thrust me back, reminiscent of my GSX-1000. Hey, these CB900's did about 12 flat in the 1/4 mile right from the showroom floor. I'll get a video up later, but I just feel like I got a complete and utter steal (minus shipping of course).
I do have to adjust the carbs ever so slightly as they were tuned for that northern cooler/thinner air.
Nov 15, 2014 at 8:47pm
Not the best video (w/sound), but gives an idea to how beautiful the sound is. Going to dial in the carbs a bit since it was a northern bike. How often too do you see a 32 year old bike with the factory warning/spec stickers on the tank and rear fender? She is a sweet little rocket.
http://youtu.be/SOR-xqoTqeU?list=UUfLikhtI29tlQ4LSvgoXLbA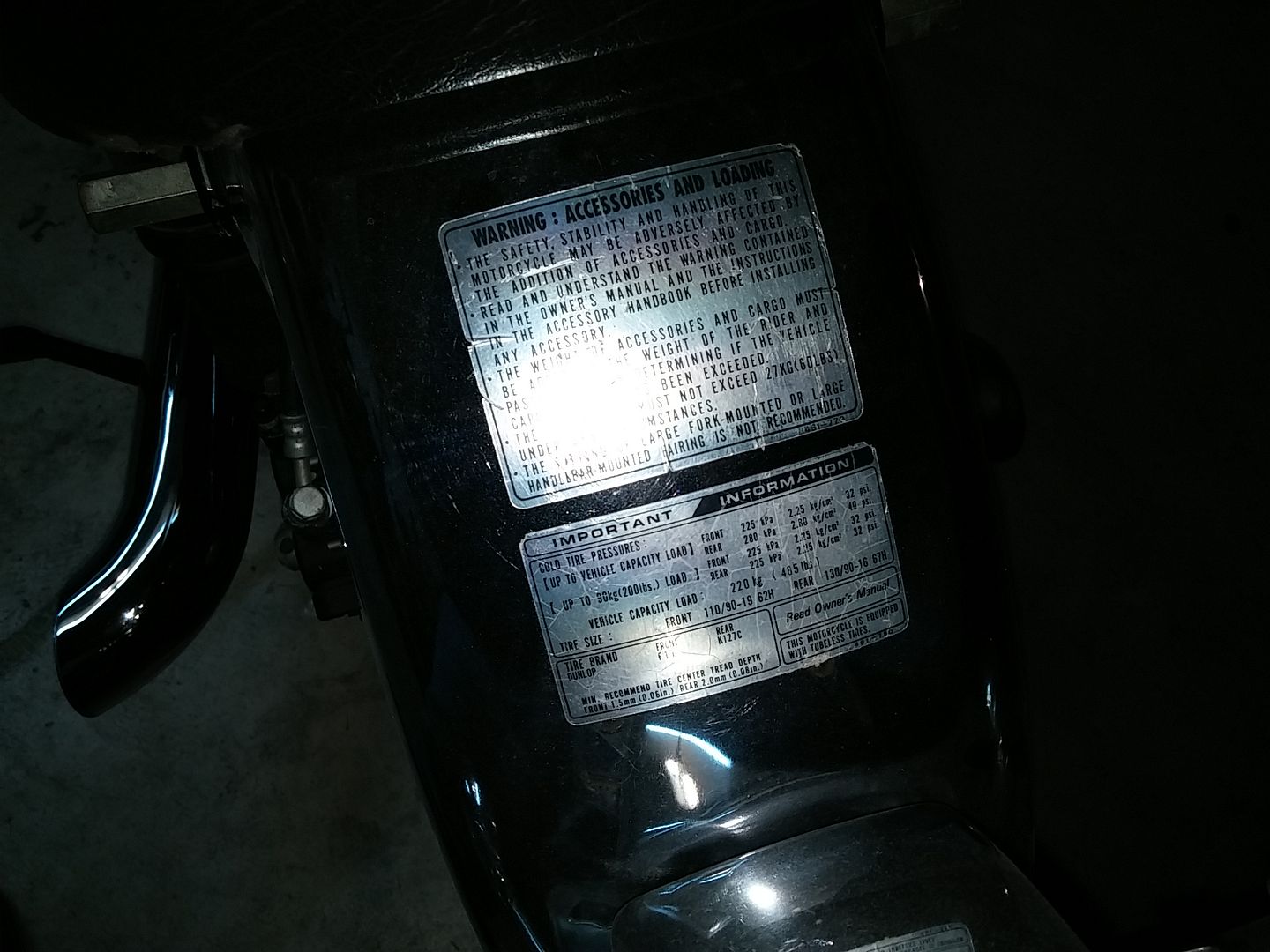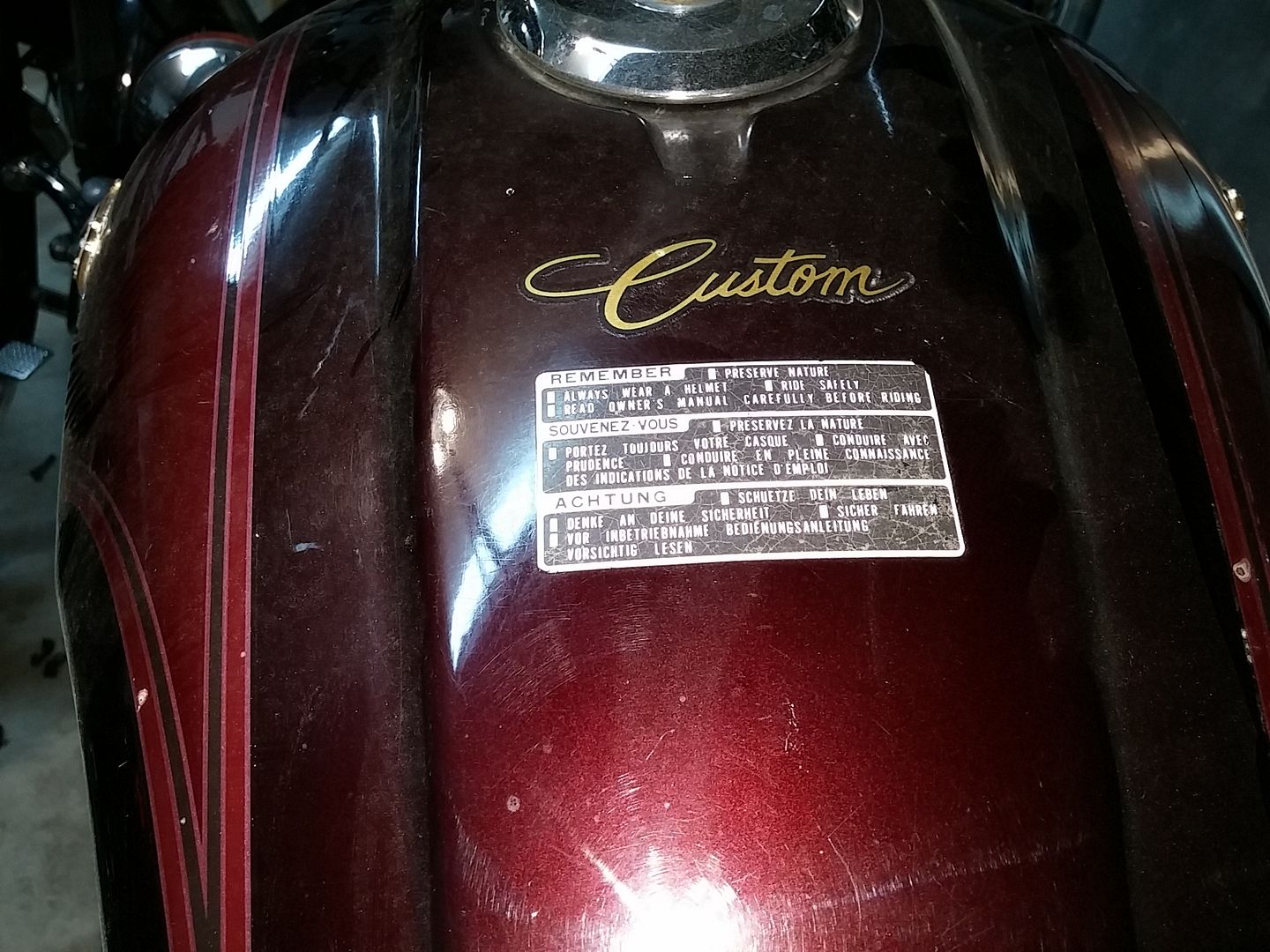 Dec 29, 2014 at 9:38am
One thing I could not stand is the look of these two-into-one Mac pipes. Not aesthetically pleasing, and the 90deg turnouts are a bit much. And to boot, they sound just nasty (to me) ... like farting in a tin can. So I picked up a set of stockers (not easy to find, nevertheless at a decent price). But I did it. OEM on this bike just looks good. Weird that I'd say that, haha. But the sound is sweet & low; mellow but with growl. I'll get a video with sound at some point. Makes me wonder why anyone would "upgrade". Even the look of the dual twin pipes (left and right) looks killer. Mind you, the CB is just a side project while I finish up the Magna. I'm still debating what to do with it too (the CB), but I know one thing ... that seat HAS to go! It's also not stock and the passenger padding is as high as Mt. Everest. May find a stock one, or shave the foam and recover.
Before with Mac's: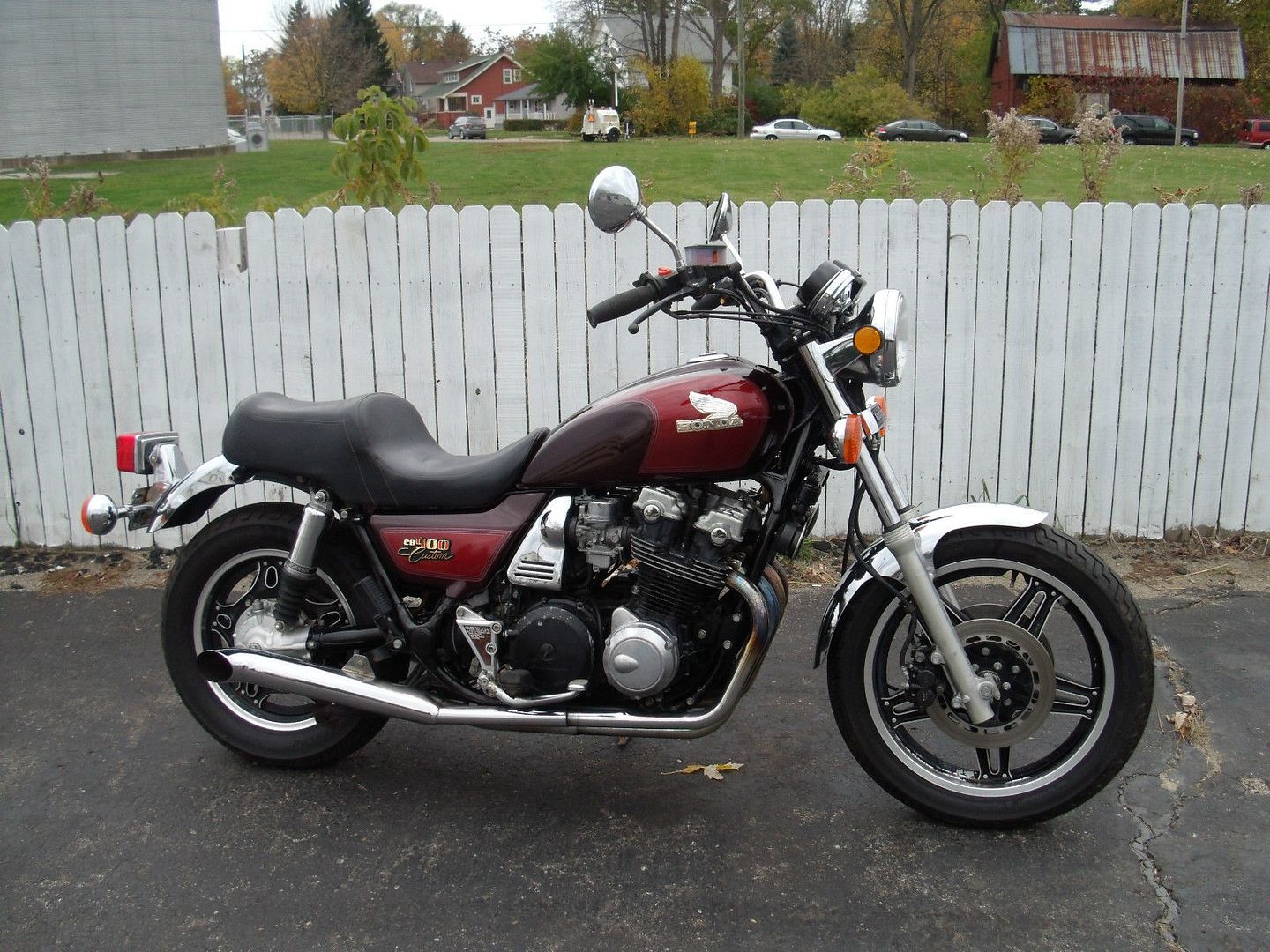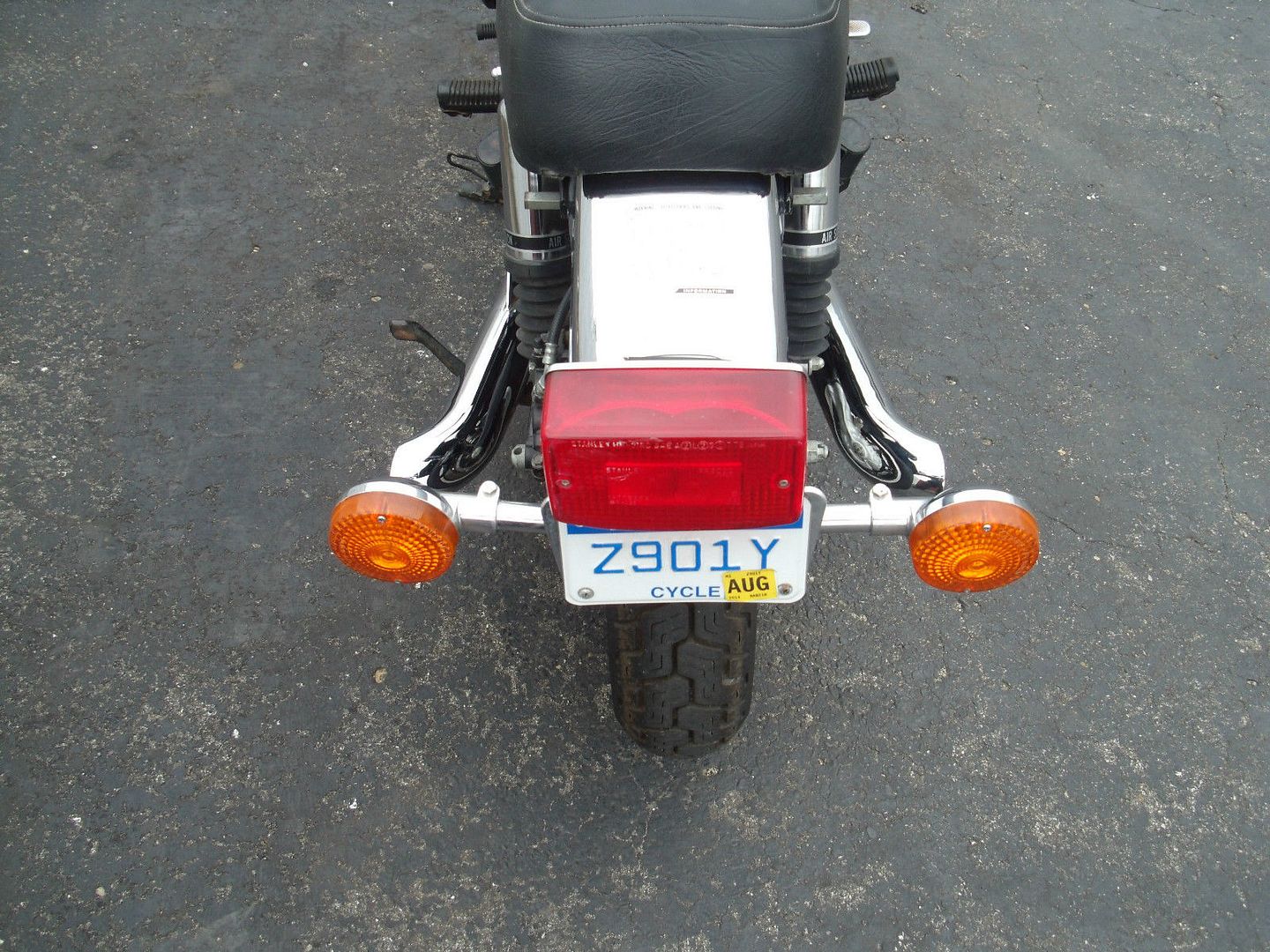 After with OEM: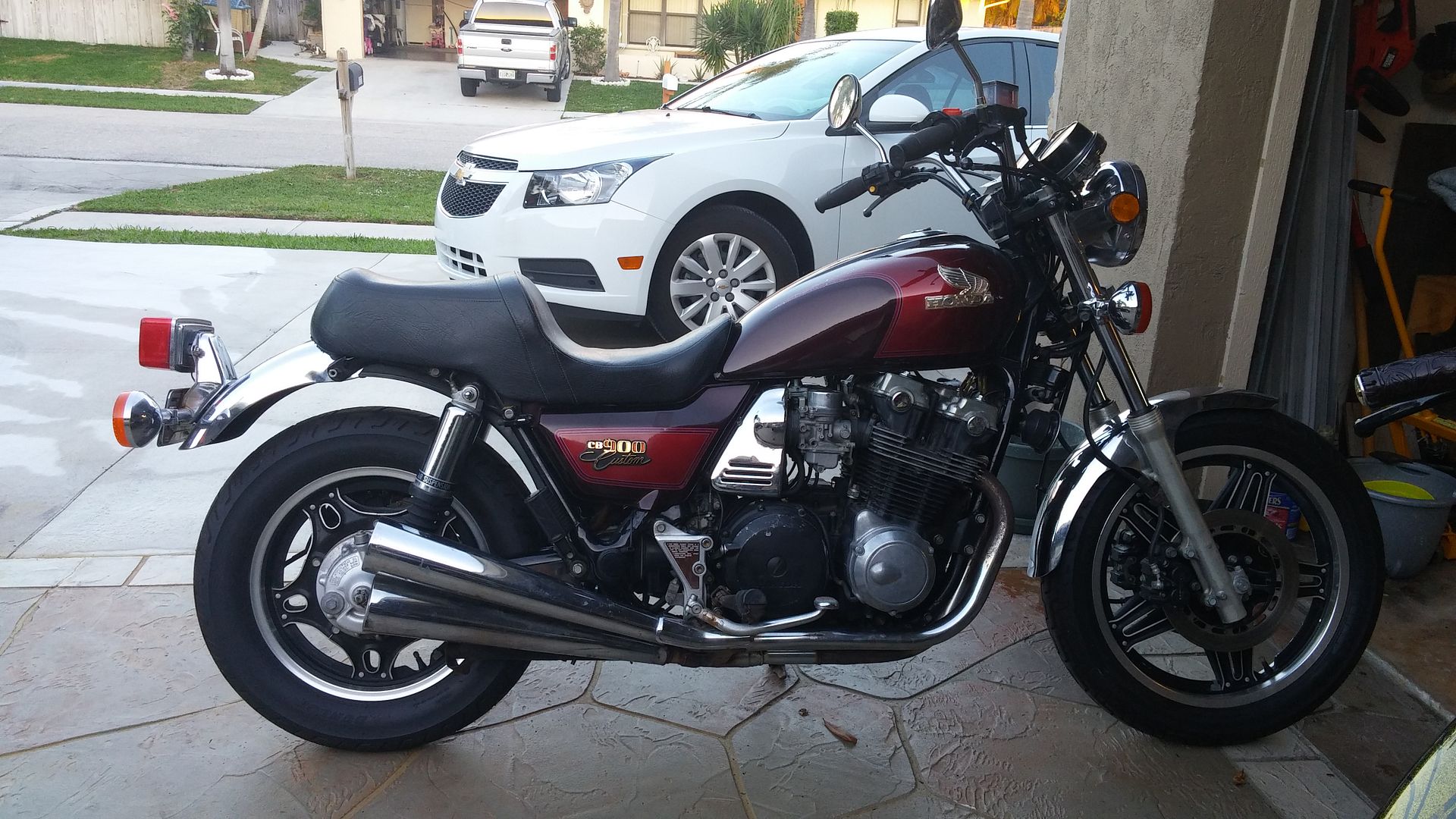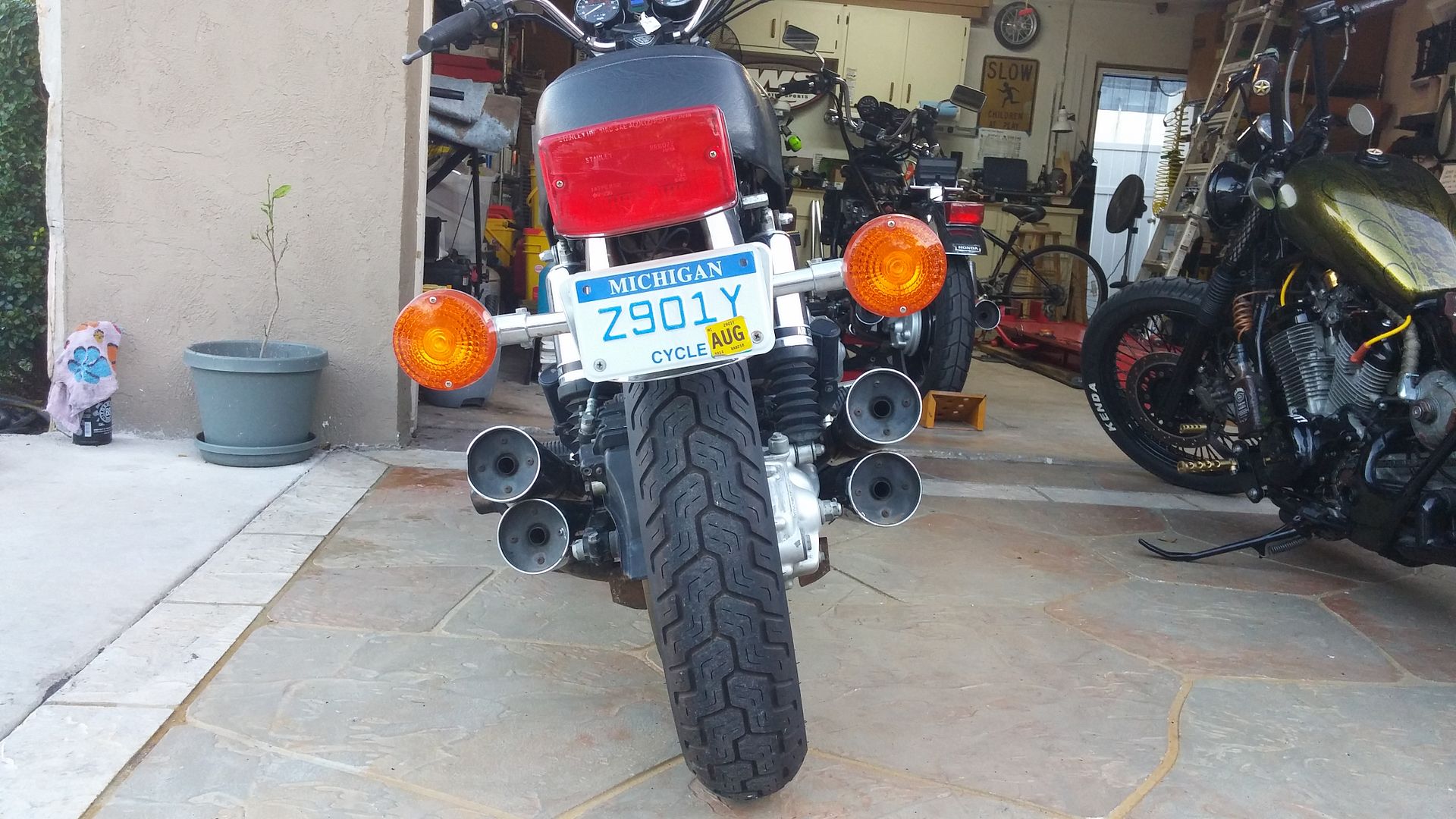 Dec 31, 2014 at 8:35am
Finally got around to registering this bike yesterday. TERRIBLE time of year to go to the DMV! - Haha! Anyway, simply transferred the tag from the ACE and got'er done. Took a nice ride around town last night. I have to tell you this bike feels brand new aside from a little highway vibration between 30 to 50mph. That could be a number of things that I'll look into. It's really weird sitting in the upright position with my feet like sitting on a toilet. But, the power this scoot has is just awesome.
And the ride quality over road imperfections, bumps, etc. is pure Heaven. I wish I had a GoPro to do some video and pics like Mandoozle - my phone is too complicated to use with gloves and one hand, aside from the vibration factor. I tried the other day on the VLX but damn near dropped the phone. (rofl)
Feb 27, 2015 at 9:57am
So ... it's begun. I haz ideas. It will be a simple transformation (hopefully).
Do you have any understanding how much better looking this bike is without that monstrosity of an ass pad?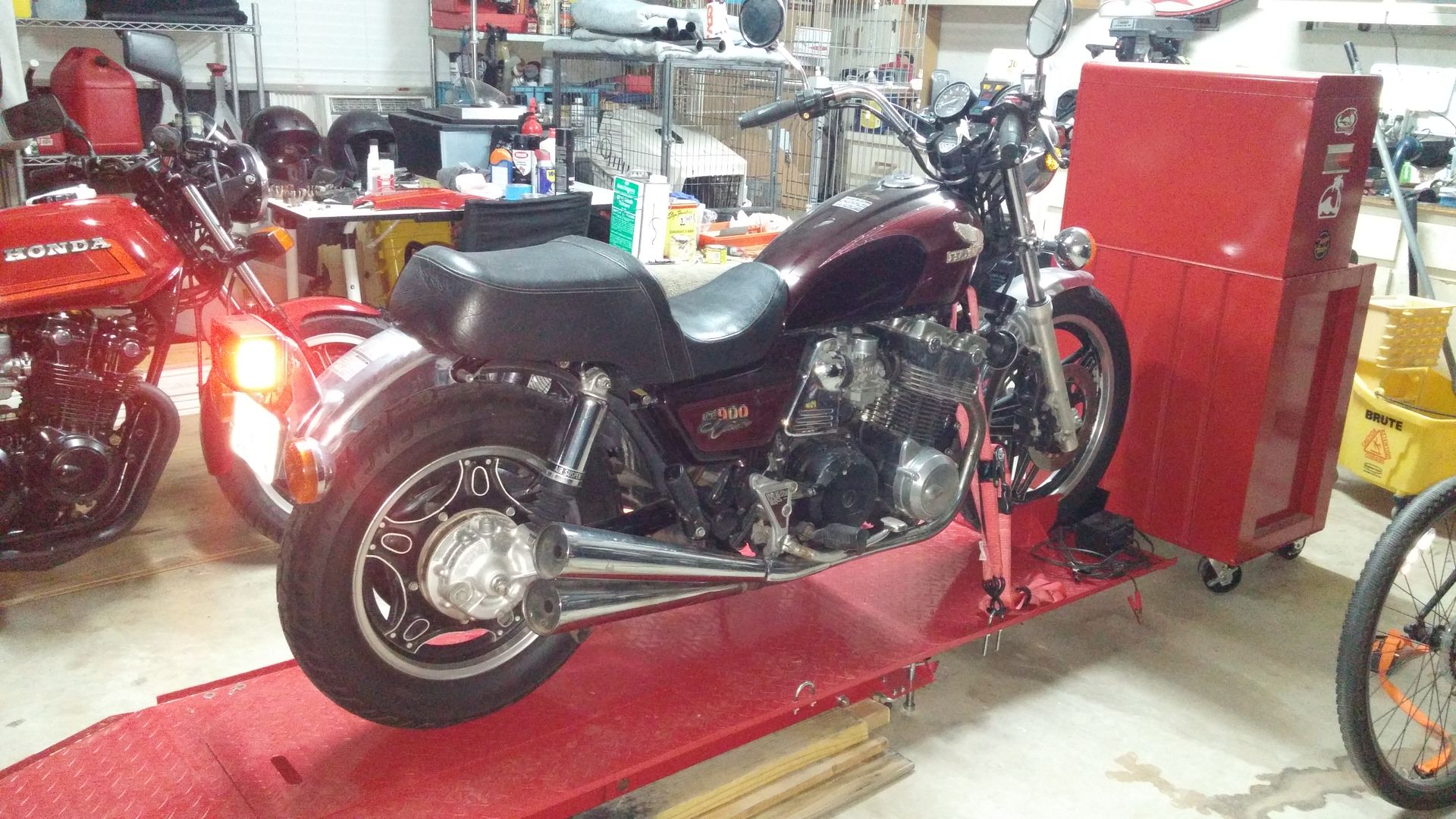 Done. Haha!
Mar 2, 2015 at 11:56am
Goodies have been ordered. This may be a "flip" project, but depending how she turns out I may change my mind, haha!
Mar 2, 2015 at 9:43pm
Started this evening with test fitting a few goodies.
First up, swapping out grandpa's rear suspension. Too fat, too cush. Slimming her down and lower the stance a bit.
Before: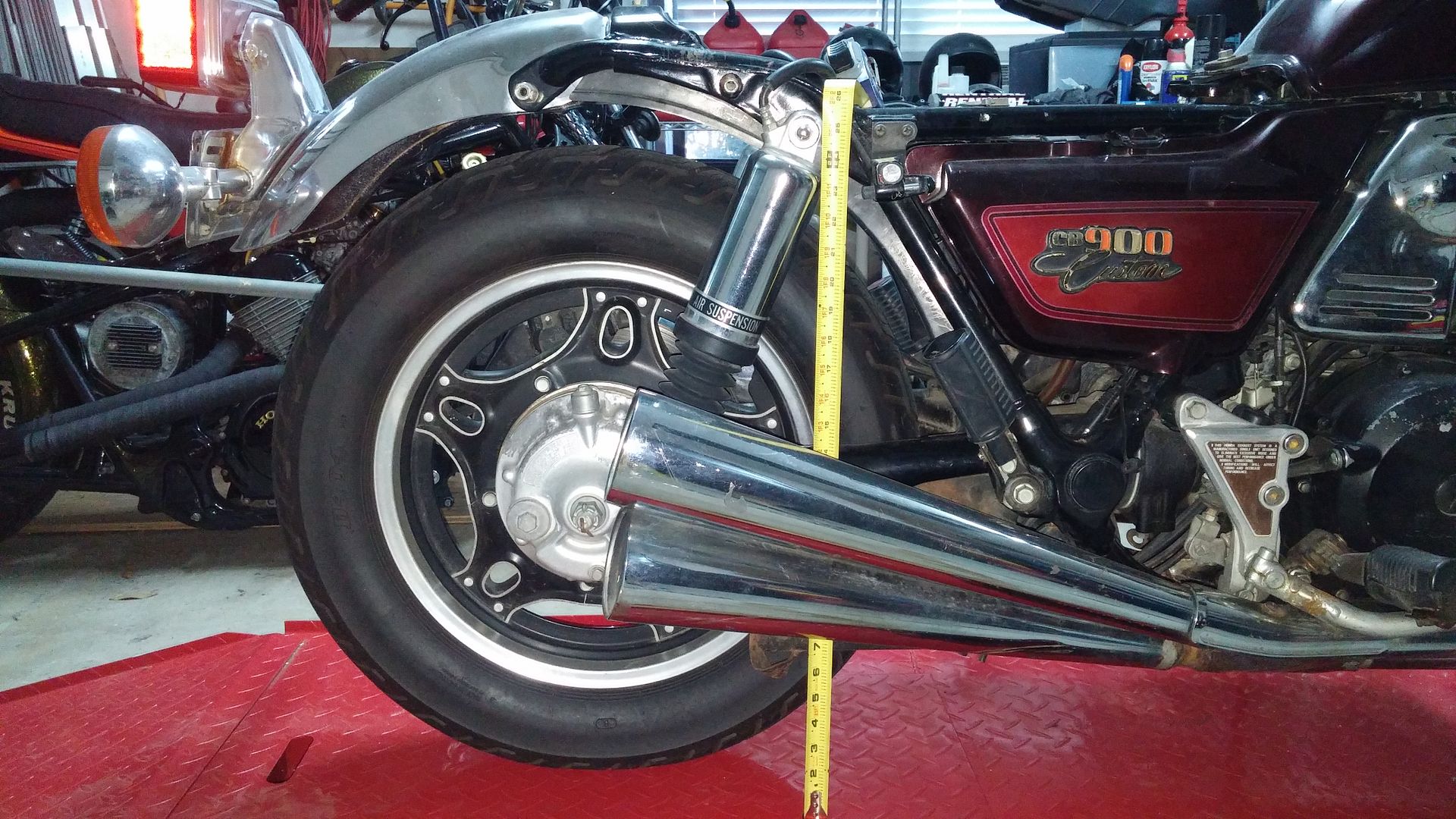 After: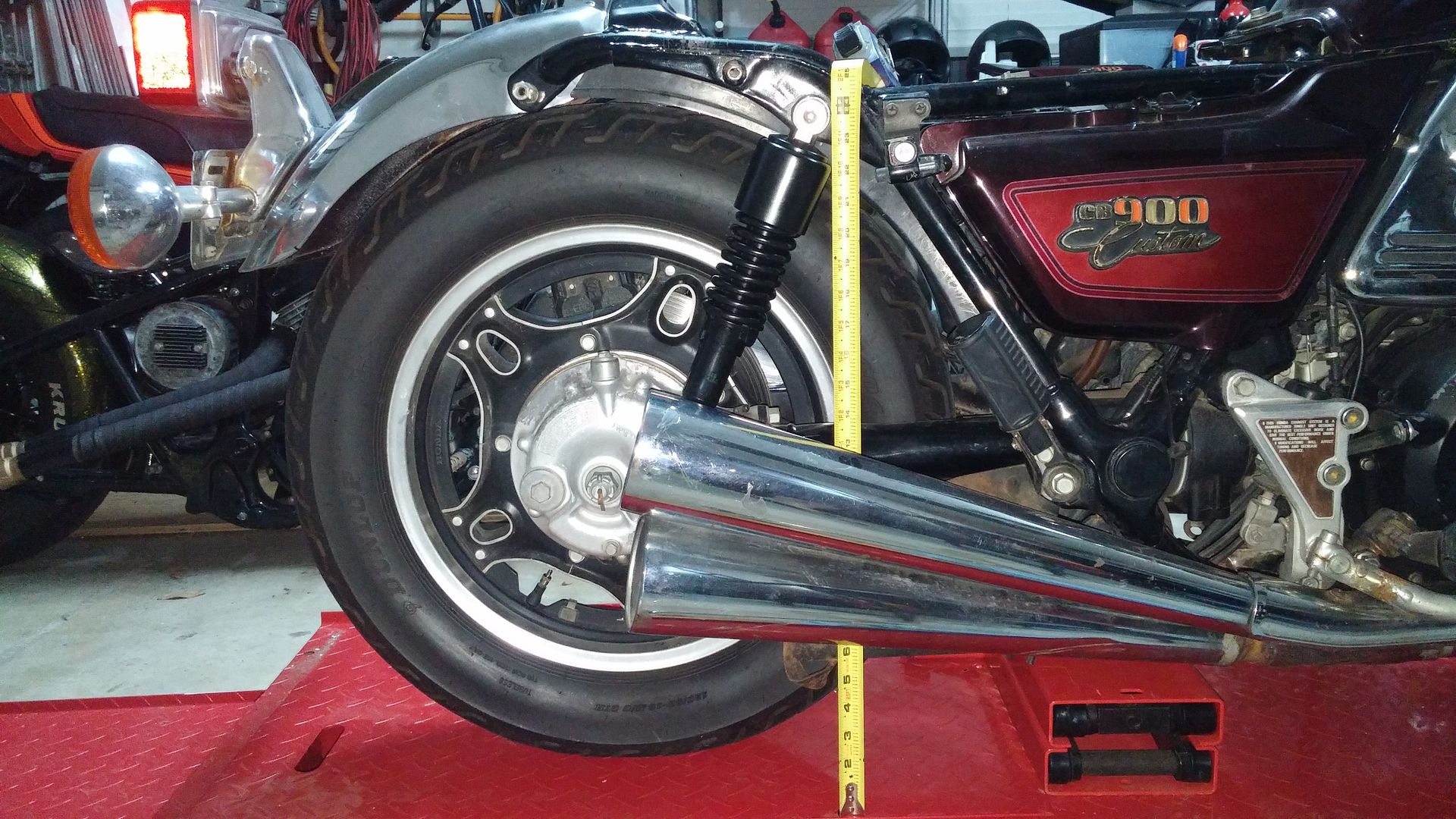 Then moved on to some bars. Yeah, you can now see some of the transformation. These are Renzo dirt bike bars. I removed the center bar and flipped them.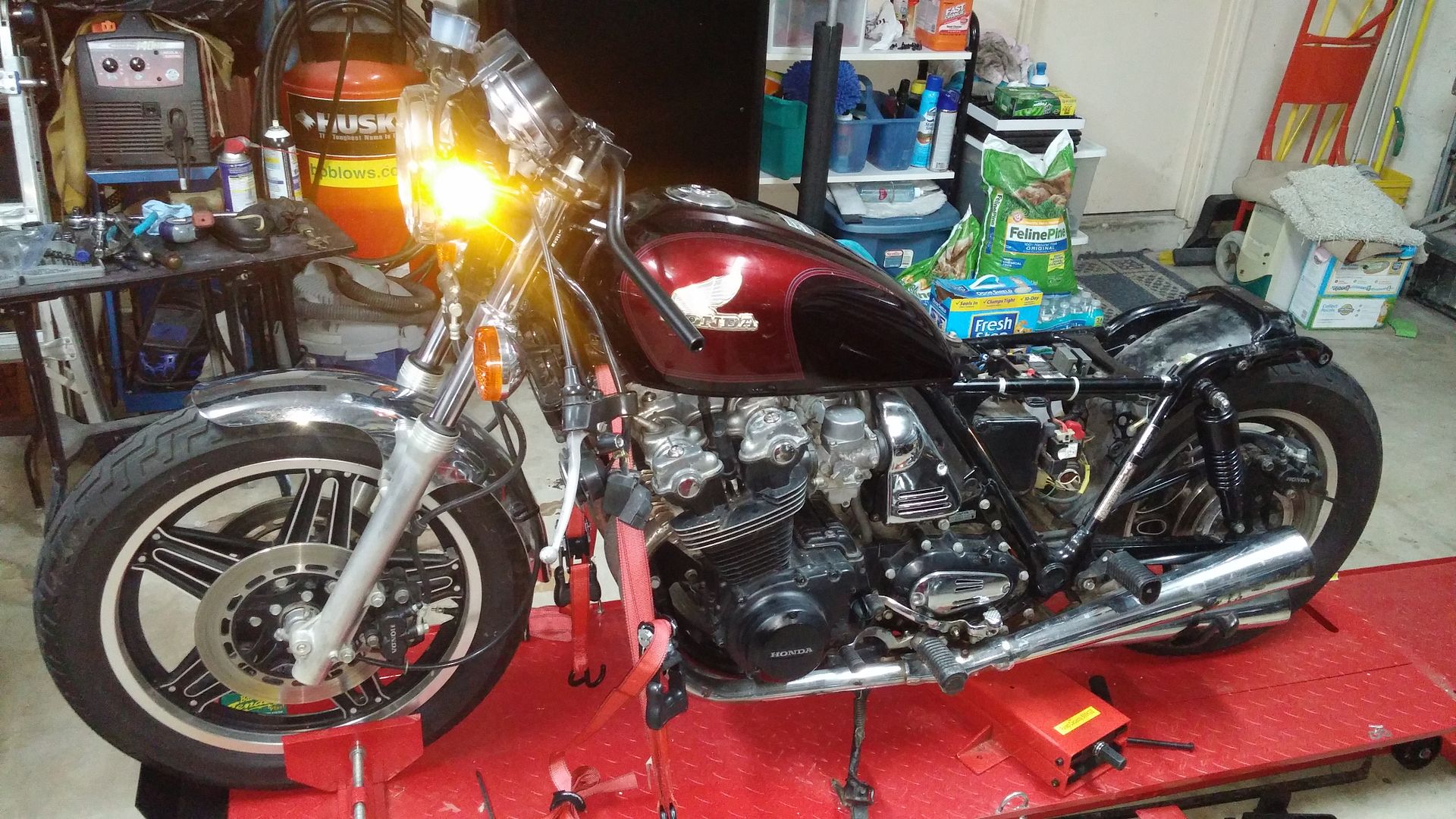 That's it for the night. Again, this is only test fitting, but so far so good. I "may" be stealing something soon ... more on that stay tuned, haha! More deliveries are on their way
Mar 4, 2015 at 11:33pm
I don't think I'm going to be using these bars anyway though because they are thickwalled, so much so that I can't use the bar end mirrors I got. Also got a rear fairing that I'm undecided on, and I may end up not using those shocks as well. Hahaha, I'm off to an awesome start, right?
Mar 6, 2015 at 9:03pm
Okay, so I wasn't going to post this yet but I'm so fukkn' ramped up with my thoughts! I'm gathering them and visualizing some things. I got a tail seat from Legendary Cycles; nice quality in hard ABS. I took forever and a damn day shopping the net to find something in a shape I like. It's got a bugeye tail lamp section and I got an LED cateye to go in it. Now I have to cut some of the rear portion of the upper frame and weld in a crossmember support at the shocks (not shown). But right now with this photochop I did, I'm diggin' it. Concept has me at a British racing green with a solid gold stripe. Chrome will be minimized and I may or may not use the factory side panels (not shown). I'm up in arms about the seat and grips, whether black or tan. I have black material, but may change the color as I go. Other details will come out once I sort them out, haha! I'm not diggin' the handlebars just yet, but with some modifications they may work. Now I just need some time in the garage. Anyway, here's the sneak peek (before and after) with nothing set in stone yet and obviously LOTS of finer details missing: