Discussion Starter
·
#1
·
Hey guys, I've been around for a while and finally decided to make a build thread to keep track of everything. Theres a lot of process that I didn't take pictures of because I tend to get into a groove when I work on stuff. A have a few months of catching up to do, so I'll try my best. I'm in my last semester of college and currently no job (long story), so funds will be tight for a while.
Took a big risk buying the bike as it didn't run and was in pieces, but I love tearing things down and rebuilding so figured I could manage it. The 3 hour ride home was tricky as nothing was attached properly, so I ended up tossing everything that could be taken off into the back of my brothers jeep.
IMPORTANT: If anyone has trouble with the pages whether images are too large or are not loading let me know.
A little Info on the bike: (This took a long time to figure out):nuts:
Frame: 2002 Triumph Daytona
Tank and Tail: 2005-07 Triumph Speed Triple (Still unsure)
Everything Else: 2001 Triumph Sprint ST
The Day I picked her up::rock:
This was the initial direction I wanted to go with, but have changed my mind.
The same weekend, I switched everything over from the black frame to a silver frame, which was in much better condition and had the proper mounting locations for the tank. Also gave the headlight/mask to my brother.
Current Status of Bike: (I will try and keep this photo updated)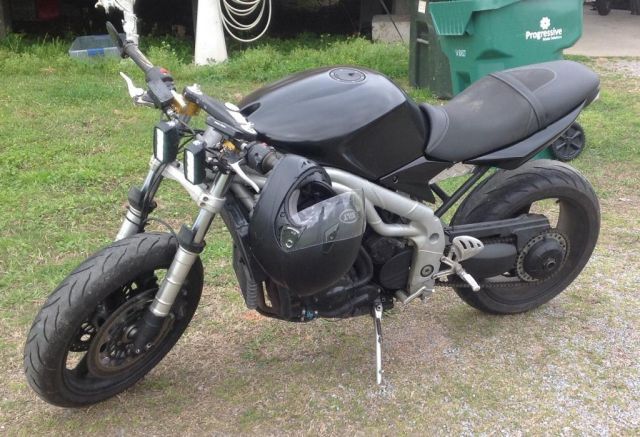 Estimated Total Build Cost to date: ($2939)
$1800 - The cost of the bike
$ 200 - Taxes (even listing the bike as $1000)
$ 260 - Rigid Industries SR-Q Headlights(Pair + Mounting Hardware)
$ 179 - Antigravity AG801 Battery
$ 130 - Vapor Digital Gauge
$ 250 - Wheel Bearings
$ 40 - Clutch Cable
$ 50 - K&N Pod Filters
$ 30 - Lonetec ECU Cable
____________________________________