Discussion Starter
·
#1
·
After each bike pic is the description of the build and the mods. You can also click the pic to go to the entry post.
Here they are listed in chronological order:
January - Fate's TL1000S/R
1998 TL1000S
TL1000R motor swap with TLS oil cooler mod (by me and some friends/members)
DDM 3k(yelow as hell) HID in 3" projectors courtesy of Piester
Vand Driver clear clutch cover
Bitubo rear shock
Done by FOH
Paint
2008 GSXR forks and trees
2005 GSXR calipers
Concours 14 Masters(cable to hydro clutch swap, turned out un-needed after R motor swap)
Second gen Ninja 250 front fender
Narrowed and trimmed Buell Firebolt fairing
Quater twist pop up frenched in gas cap
Ebay LED front turn signals
Ebay bar end mirrors
CRF50 pegs
Custom 2-1 exhaust
Bruce fab R6 can
Second gen monter seat with seat cowl
02-03 R1 tail light
There's nothing on this bike that is stock, it's all be painted, replaced, upgraded, swapped, etc.
February - Cookie's VTsp1000
Spec:
Honda VTR1000F Firestorm
Wheels: 1050 Triumph
Front brakes: GSXR1000 Radial Master, Triumph 675 Radial Calipers, Triumph 675 wave discs, braided lines
Rear brake: Ducati Brembo, braided line, Armstrong Triumph wave disc
Front Suspension: R6 2007 Radial USD
Rear Suspension: Aprilia RSV Mille Sachs with adjustable linkage and ride height
Frame: Firestorm - main / Daytona 675 - Sub / ZX9R Triple Clamp
Swingarm: VFR800 VTec Swingarm modified for Triumph 955 Axle + Brembo caliper, Renthal Sprockets (+2 teeth rear)
Lights / electrical: Front - KTM RC8 w/ custom integrated indicators, Rear - Triumph 675 integrated, Acewell 4xxx Gauge
Engine Mods: Full radiator / hose replace, window clutch cover, manual cam tensioners
Exhaust: Full hand-made custom stainless system with Fireblade Scorpion carbon underseat can
Body & fairing: VTR1000F tank (custom paint), 675 carbon tail, R6 carbon fender, "unknown" carbon hugger, handmade headlight surround and carbon underseat tray
Hand-made parts (by me): Subframe mounts, stainless exhaust headers, clutch window, carbon fiber / stainless steel underseat-tray, headlight mounts & cowl, various brackets, crash bungs, seat upholstery, adjustable shock mounts, rear brake adapter, manual cam-chain tensioners, wheel spacers..... etc.
Paint: Tank etc: Prepped and laid out by me, shot and polished by Steve Bartrum Ltd. Everything else: Me
Powder coat: Motorcool
Welding: Stainless - me, Alu - bloke I work with.
Bikes that laid down their life so that this one might live:
8 Brands - (Honda, Ducati, Aprilia, Kawazaki, Yamaha, Triumph, Suzuki, KTM)
13 Bikes - (VTR1000F, VFR800, 675, 1050, 955, 916, 999, Millie, RC8, ZX9R, CBR1000RR, R6, GSXR1000)
March - JAGspeed's CB750K SOHC
78 CB750K SOHC
-CBR954 Forks, brakes, bars, and switches.
-RC51 front wheel
-CBR F3 swingarm, and shock linkage.
-CBR-F4i Shock
-CB500t fuel tank
-Café tail section, w/ custom seat, and tail light,
-CBR F3 rear wheel and brake
-CBR F3 rearsets
-Custom fabed rear frame loop and side covers
-One of a kind front fender
-Custom oil tank and SS oil lines.
-Koso gauges (speedo and tack)
-Custom indicator lights
-Billet bar end mirrors and levers.
-Custom built one off headlight cowl and headlight
-4 into 1 reworked exhaust system
-Pamco ignition.
-Pod filters
-Powder coated, wheels, frame, swingarm
-Custom painted with Honda inspired colors.
April - TPEHAK 2009 Buell XB12 SCG
-Side bar mirrors
-K&N air and oil filters
-Knight Design foot levers
-Scorpio alarm system
-240 mm rear wheel
-Chain conversion
-Motogadget M-Lock
-Motogadget Motoscope mini and Motosigh mini
-LSL Urban Headlight
-R&G turn signals
-Highway foot pegs
-Chopped tail with LED strip integrated turn signals.
May - Cambandit's Bandit1200
2005 Bandit 1200
2007 Hayabusa Forks/ triples/ calipers
Fork shrouds
Modified gsxr 600 fender (Carbon fiber) painted
06 Gsxr swing arm, stretched 6" and unitized to look like it was made that way
Carrozzeria wheels
V-rod headlight/handmade light shroud
Ninja 2 Fiddy tail light
Hand made steel tail, side covers, front side covers, gas tank, belly pan, Engine bars, undertail
Big oil cooler, black lines
Billet engine covers
Clear clutch cover
Holeshot Stage 2 needles +5 degree advance
Shortest fuckin pods you can buy
Modified shortened stubby exhaust ceramic coated
O2 sensor added for A/F gauge for tuning
TRW rearsets
Gilles Axle adjusters
other things...
ALL work done by me, from design to paint.
Except for the seat. Mr Travis Bowen. (Ratfighters brother)
June - SEBSPEED's 1996 Honda VFR750F "Blue Meanie"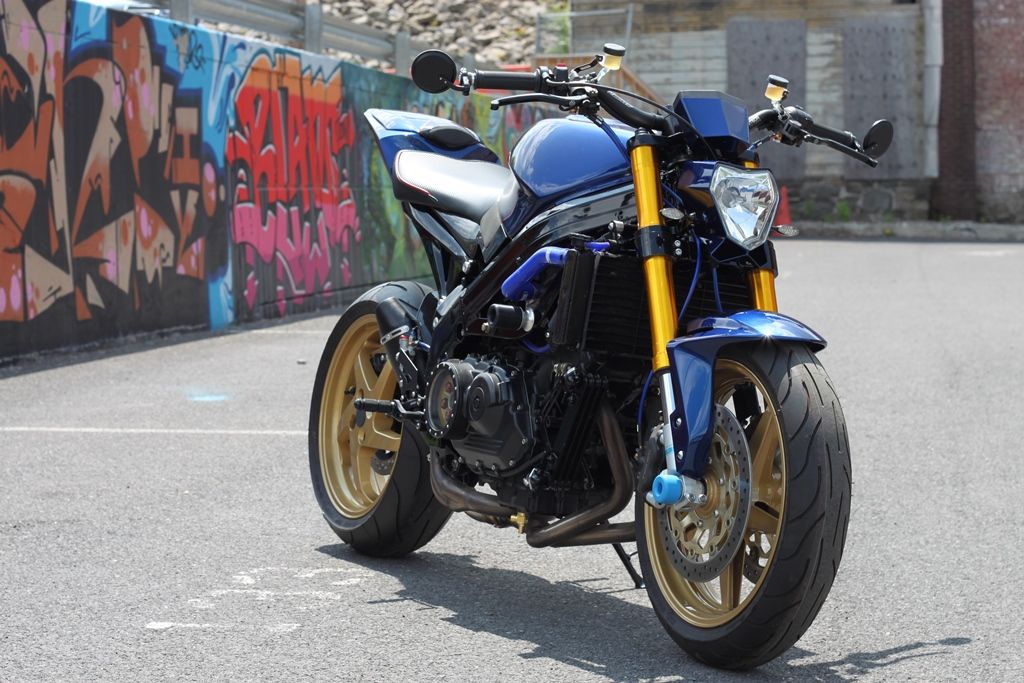 ENGINE – standard internals, soda blasted/primed/ceramic painted, de-snorkeled, K&N air filter, UNI crankcase breathers, GSXR stick coils on rear head, Two Brothers 4-2-1 full stainless header with modified CRF250F end can and custom link pipe, SebspeedCustoms (owner) windowed clutch cover, Factory Pro jet kit, modified and relocated oem oil cooler, full SAMCO hose kit, Core Moto ss clutch line, 1-off carbon rad covers, stainless fasteners
FRAME – 1996 VFR750F, bead blasted and painted gloss black, 1-off adapters to fit painted 2008 CBR1000RR subframe, SpeedKing rearsets on 1-off adapters with 1-off carbon heel guards, modified CRF450 rear master with VFR internals, Vortex frame sliders
REAR END – powdercoated stock swingarm, lightened rotor, DID Gold X-ring chain, +2 sprocket, Core Moto ss brake line and speed sensor cable run through arm, Wilbers 641 shock re-valved & re-sprung, 98 VFR80 rear wheel, eccentric flipped plus shock shimmed to correct rake & trail. 1-off parts: carbon chain guard, carbon hugger, brake torque arm, wheel plug, hub slider
BODYWORK – 08 CBR600RR front fender, 92 VFR750F gas tank modified to fit 96 frame, keyless gas cap, 08 CBR1000RR tail & solo cowl, seat pan modified to match tank & reupholstered by Travis Bowen, 1-off carbon side panels, knee pads, bump pad, carbon accent on solo cowl, cowl release, aluminum sheet undertray
ELECTRICS – heavily modified VFR loom. KTM headlight housed in 1-off aluminum housing and modified to fit digital hi/lo HID kit & LED running light, Shock racing led front signal, LED strip rear signals, KOSO DB-02R gauge w/ dash, MOTY 8-cell LiFePo battery, keyless RFID ignition, Powerlet socket in tail
PAINT – PPG Toyota Blue Ribbon Metallic by owner
FRONT END – 2007 CBR1000RR "NOHLINS" forks painted by owner using HOK Pagan Gold candy and Orion silver, re-valved, re-sprung, and internally lengthened by owner, RC51 SP2 wheel, CBR1000RR rotors and calipers, 1-off sliders, BFT lower triple, CB1000R upper triple, Driven Meteor Fatbar, VFR800 and RC51 switch controls, choke relocated to lower frame, HRC 1/5 turn throttle tube, early Fireblade grips, Brembo forged 19x18 brake master, Brembo billet 16x18 clutch master, ATE Typ200 fluid throughout
July - 370Steve's GS1157
Tank, body work, rear fender all original GS750
Frame strengthened and braced, all added brackets, plates, inserts, lock stops and frame mounts made by me
bandit 12 side stand
Ti brake disc bolts
Yoshi steering stem nut
taper roller head bearings with custom top hats
hand made alloy engine mounting plates and brackets
GSX1400 Swing arm, rear caliper, torque arm, chain guard, rear shocks, rear wheel
hyabusa rear disc.
TL1000R rear caliper hanger
CBR1000RR 07 forks, triple trees, front wheel & calipers, front fender
CBR600RR front discs
EBC HH pads
aftermarket 19 row oil cooler, oil hoses and alloy fittings with custom alloy mounting
Guliari seat
GSXR1100 Acrapovic S/steel full exhaust system with stubby carbon hex can
Transligic digital dash, with hand made alloy mounting brackets
Bandit 12 harness & CDI
E bay ZX10 rear sets
bandit 12 rear pegs and hanger brackets
hand made alloy rear jack up plates
custom S/steel exhaust header adapters
Mikuni RS38 carbs with K&N pods
CRG levers on Bandit 12 clutch and brake M/C's
CBR1000RR rear brake M/c
braided clutch and brake hoses
custom alloy head light brackets
GSX1400 pattern head lamp
frame and engine covers powder coated gloss black
engine painted with PJ1
GSXR600 stick coils with CBR600RR coil loom
lots of Ti and S/steel bolts and fasteners
custom paint work
Renthal 530 chain and sprockets
pro bolt s/steel rear axil nut
renthal ultra low bars with 1.5" risers and brace
BFT ignition pick up cover (just like Yans )
custom paint by Arnie at Pro kustom paint
bandit 12 switch gear
Motobatt battery in modified GS750 battery tray
S/steel braided cam link oil fitting
S/steel engine oil feed hosees and alloy fittings
R&G bar end crash protecters
Renthal soft bar grips
aftermarket indicaters
R&G modified tail tidy
K&N engine breather filter
August - Yantosh's GSX1100EFE
ZXR750 front wheel and discs
modified ZXR spindle
Tockiko radial calipers
caliper spacers by me
K5 GSXR forks
pattern gsxr mudguard
yokes by me
headlight mounts by me
B12 headlight - powdercoated
B6 clocks retro fitted with Koso speedo
riser block by me
magura fatbars
renthal grips
bar ends by me
ducati radial master cylinders
sprint steering damper, owner made mounts
modified GSX1100ET tank with R1 filler neck
modified GSX1100EFE frame
gsxr side stand
Setrab 19 row oil cooler
nylon / aluminium lockstops by me
goodridge oil lines
1216 bandit / GSXR motor
engine mounts by me
billet pick up cover (a lot like Steve's:LolLolLolLol
modified clutch and pick up cover
aluminium breather tank
B12 carbs
aluminium airbox
foot controls from.....? can't remember
footpegs by me
GSXR 1000 shock
adjustable dogbones by owner
K5 GSXR swingarm , modified by owner
SRAD rear wheel
suzuki tail light
GSX tail plastic
seat by me
paint - black, by me
pinstripe by Lawrence Laidlaw
ally undertrays by me
wiring loom by English Neil
green dyna coils
B12 headers
link pipe by me
end can by me
suzuki rear caliper
stainless torque arm by me
number plate mount by me
ally clutch slave cylinder mount by me
one off tank sticker
and possibly oddles n doodles of other stuff
stuff not by me (just for clarity)
tank art by Viz
pinstriping
top end rebuild
September - Suban12's turbo bandit
Frame powdercoated.
05 gsxr 1000 forks ,triples and front wheel.
R6 calipers.
07 gsxr 750 rear wheel.
02 gsxr 1000 rear caliper.
Fox rear shock revalved and resprung.
Jmc 6 inch over swingarm.
Galfer wave discs.
Ohlins steering damper.
Yanishiki rearsets.
07 gsxr 750 subframe and tail.
Carbon fibre front fender and tail side panels.
Fat bars and pazzo levers.
Acewell speedo.
Engine:
1216 cc mtc turbo spec pistons.
Ported head ,ape valve springs.
Ape studs ,nuts and cam tensioner.
Stock cams.
Gsxr 1100 coil spring clutch and lock up.
FBM turbo kit with TD04 turbo.
Dyna 2000 and mini coils.
That's the main stuff lots of little details not included!!Not much of the original bike left.
October - Robsroadeater's KZ1000
KZ1000 motor and frame
GPZ 750 swinger from my good mate SHIFT'
R1 dual shocks
Machine work on rear end hardware by FLINT'
Robbo subframe
KZ 900 tailplastic
GSXR front end~ Ala Adamsky
Drop down triple gifted ta me from Tagalicious (luv ya mate full ****)
Other stuf I caint remember
November - Kimmo57's SRAD750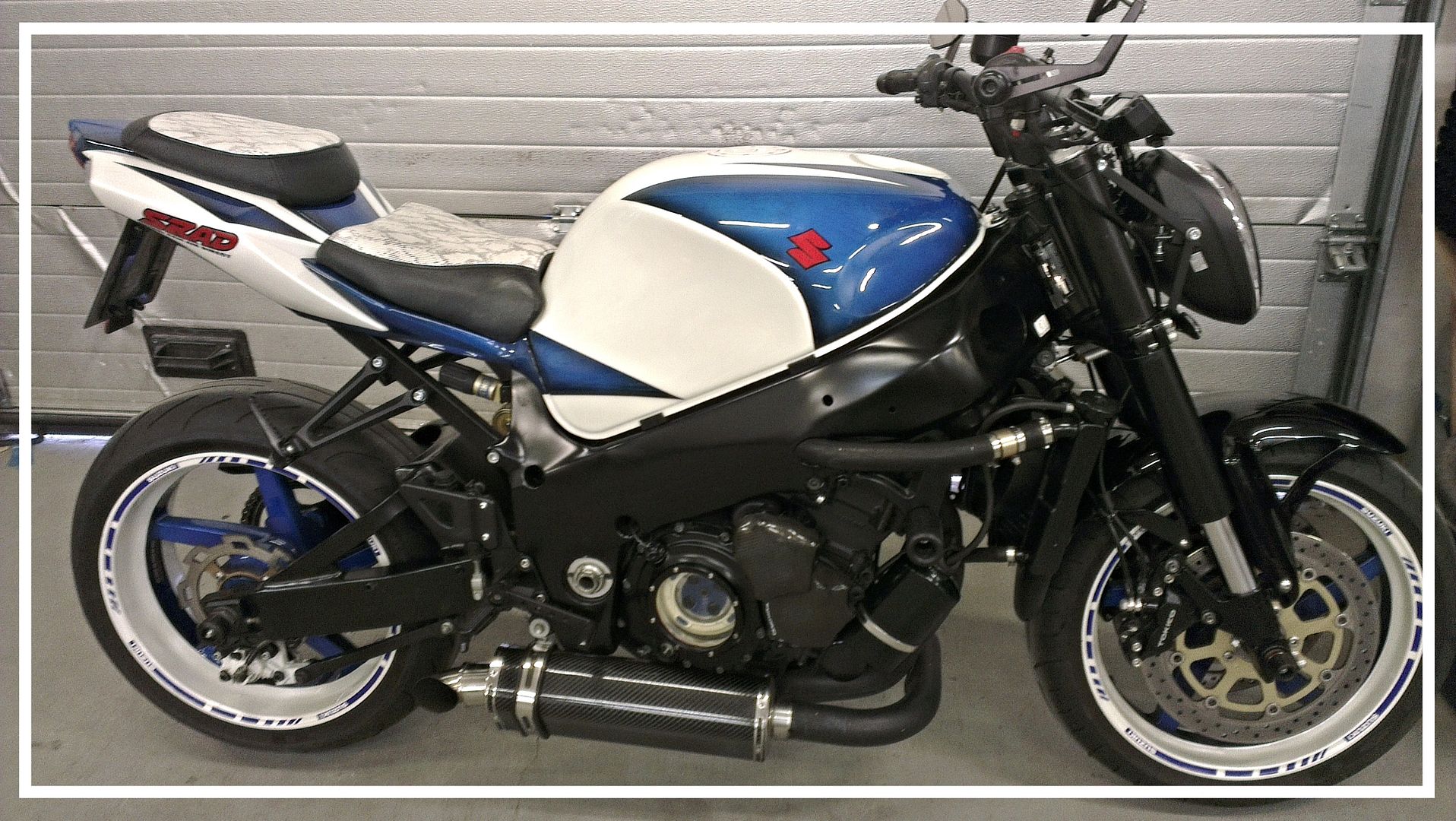 Here's The OrigiSRAD, 1999 Suzuki GSX-R 750. The theme is OEM+ style, something clean that could have come out of the factory, but with a bit of edge.
MV Agusta Brutale 675 headlight with self made brackets
shortened 2008 gsxr tail, fitted to the tank
Self made exhaust
self made subframe
self made undertail panels and plate mount
self made seats, professionally covered after my design
welds on the frame and swingarm bondoed smooth and painted by me
professional paint job after my design
Marchesini magnesium wheels, painted according to the theme
small OEM style stickers
clutch window rings by Yantosh, finished and assembled by me
clutch pressure plate painted and clear coated by me
painted engine
carbon fibre engine covers
Öhlins rear shock, came with the bike
GSXR 1000 K1 swingarm
CBR1000RR passenger pegs
custom rear brake rotor after my own design
self made LiFePo battery
fork covers by me
520 conversion with a Vortex alu sprocket
Trailtech gauges with a 3D printed back cover, designed by me
600 front brake calipers, Accossato radial M/C
mini reservoirs, bar end mirrors and other trinkets...
December - Henry's electric NC24
AC15 induction motor - Direct drive with regen
Curtis 550A controller
28x60ah LiFe batteries - 90V pack
DC-DC converter
New subframe
New stressed member
Profile cut motor mounts
Aluminium battery box
Aluminium welded/riveted front guard
Aluminium headlight housing for single headlight with solenoid activated high beam
Controller chill plate with machined water course
Custom hall effect sensor speedo (fed to arduino uno and displayed on backlit LCD in custom circular housing. Code chopped up from internet sources.
RFID access.
New tires, bearings, brake lines, fork oil/seals, brake seals etc.
LED indicators and tail light - entirely new wiring harness with 12v auxiliary battery charged by the main pack
Things to do:
Better cooling for motor
Water cool controller if I manage to hack it
Make speedo more accurate, use larger text.
Bike reaches max motor rpm at 142 km/h in its 1 gear which happens to be 88mph, just fast enough for time travel according to the Back To The Future doco.
Great bikes again this year, good luck to each of you! Voting will be open unti Feb 1st.