·
|||||||||||||||||||||||||
Discussion Starter
·
#1
·
After each bike picture is the description of the build and the mods. You can also click the picture to go to the entry post. Do your homework and choose wisely. May the best fighter win.
Here they are listed in chronological order:
January: hrdy's Cagiva Planet
-.Suzuki GS250X Engine, with Aluminium bracket
-.Custom Exhaust pipe, made from a bunch of used pipe, with a Tri-Oval Muffler
-.Single Dominator Headlight
-.Removed bunch of unnecesarry things
-.Other stuff i can't remember
February: busa1300's CBXtreeme
1979 CBX frame and engine
91 GSXR 750 front forks and front wheel
Bandit 1200 front rotors
racetech front springs
TL1000R front clipers
Honda 750F headlight and brackets
Fazer 700 handlebar mounts in GSXR upper triple
K+N dragbars
F3 switch gear and partial wiring
92 GSXR1100 gages
Stainless steel brake lines
Ferodo HH brake pads
81 CBX oil cooler
Supertrapp stainless 6-2 headers
polished covers
ported head
79 cams
viton valve seals
Cometic head/base gaskets
J+E bigbore high compression pistons...1147 / 10.5-1
TIMS clutch springs
Barnet clutch discs
MRE air shifter
MRE on board air compressor
MRE engine kill
Dyna ignition
Accel coils and wires
Dynojet stage 3 jet kit
K+N filters
All new seals and gaskets on AND between every carb.
TIMS alternator conversion
seat padding carved out by me, and upholstered by a friend of my dads
All paint / bodywork by me
Raask rearsets
Tail lights are 1960 mercury meteor
inner rear fender and tail light housing aluminum, by me
Swingarm by JMC of the UK
Vortex sprockets
92 GSXR rear wheel and rotor and caliper
Rear shocks, Works Performance old school piggyback racers
Bridgestone RS10 tires
There is probably more, but thats all I remember at the moment.
March: Predator6r's ZX6R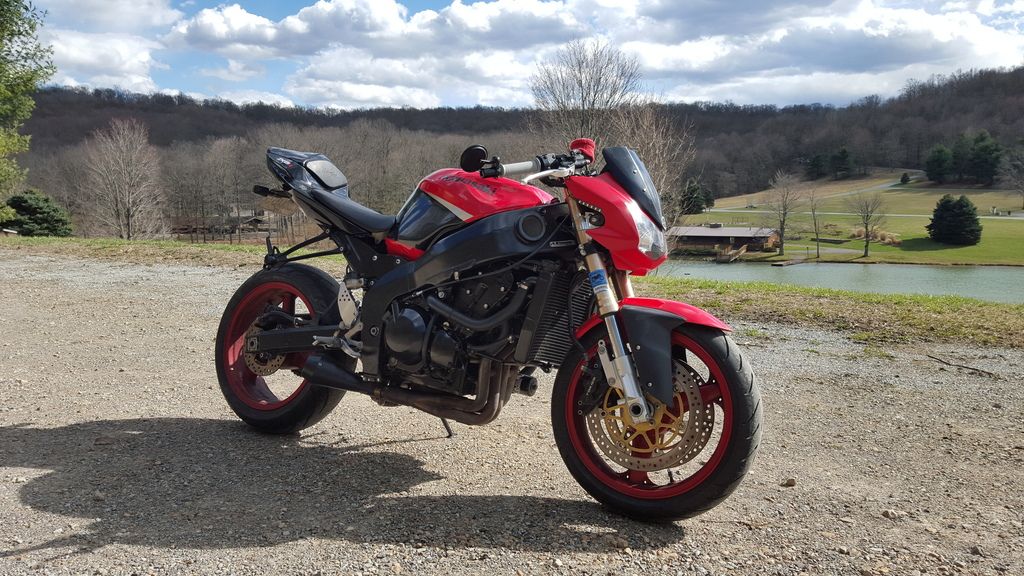 Frame, swingarm, tail, and engine painted gloss black
2000 ZX-12R forks, rotors, and triples
-Ignition arms cut to use steering lock
-Calipers painted and spaced in for rotors
2005 ZX-6R Front Fender
Fork Clamp Brackets
2003 Z1000 headlight
-Fairing stay cut to fit
-Custom fitted H6M bulb
-Brackets for speedometer
Standard Bar End mirrors
ZX-R Bar Ends
Renthal Grips
Brackets for brake reservoirs
Full 2009 ZX-6R subframe and tail
-2013 ZX-6R front seat
-Custom adapter plates
-Gas tank bracket
-Seat cowl
2003 ZX-6R headers
2013 GSX-R 750 M4 silencer
JT Racing 530 Chain and Sprockets
2003 ZX-6R front footpegs
2005 ZX-6R coolant reservoir
2005 ZX-6R shock linkages (had to swap the shock)
2005 ZX-6R heel guards
Fender Eliminator
Custom wiring
Stainless Steel bolts everywhere
April: Richyboy's Martek 1246
Martek 1246cc Turbo So many mods to list so will try to list to main mods=
Engine= Suzuki gsxr1100-flowed head-82mm mtc turbo pistons-reprofiled cams-balanced crank-lock up billet clutch-undercut gearbox- 41mm flatside carb-rayjay turbo etc.
Frame Very modified gsxr750w-*********** race suspension-modified 916 swing arm extended with air tank built in-brembo calipers full floating front discs-air shifter-spa dash-digital contactless ignition-etc.
Bodywork=Paint work by lee morgan art worx-bespoke fuel tank-gsxr1000k8 front carbon fender-yam mt07 headlight-custom made rear seat cowl-carbon rear wheel hugger.
As you can see by the pics there are a lot more to list!!
May: ninja10kid's ZX10R
Rotrex c15 -60 supercharger kit
Billet magnefine filter
water to oil cooler
Turbo-xs RFL bov
Braided lines
custom fuel rail
Custom fuel tank base
Aeromotive regulator
Walboro pump, Holley filter
Braided lines
Modified akrapovic evo 2 full exhaust
Samco hoses
Brock's clutch spacers
braking rotors
Brembo 19rcs, Pazzo lever
Crg ss clutch perch
Crg bar end mirror
Cbr 1000rr front calipers
Stock rear caliper underslung
Galfer front lines custom rear
Keyless ignition
Vortex rear sets
Custom reservoir
Custom kickstand
Stock gauge in tank
hyperpro rcs damper
Harris 1/4 turn fuel cap
methanol tank in tank for upcoming pre blower injection and 10 psi
Custom side shrouds
Modified Ktm rc8 tail custom subframe
ballistic evo 2 lithium battery
Radiantz 100 led taillight
eBay headlight
Super awesome rattle can paint job
June: Leroy's GSXR 1000
Carrozzeria wheels
Braking front wave rotors
Modified K9 1000 monoblock calipers to fit K3 forks
Brembo master cylinder
Braided brake lines
Ducati Streetfighter modified carbon cowl headlight
Translogic MD3 dash
Billet clutch lever
Billet rear sets
Billet keyless tank cap
Billet subframe
Billet frame sliders
Matris stabilizer
Modified gaz tank mount
Overflow botle from K7 1000 under the tank
Silicon hoses
Modified universal belly pan
Home made mounts from aluminium for belly pan, headlight, suspension adjuster
Moved thermo fan pick-up sensor behind radiator
Monster seat
Carbon Monster cowl
Led tail light
Harris carbon rear fender
BTR shok height adjuster
Elka rear suspension for K7 1000
Wave rear rotor
TiForce full exhaust
Powder Coat frame, subframe, swing arm, rear footpegs and belly pan mounts
Painted engine
HRC rear brake reservoir
Painted radiator with protective grilles
Pair delete
K5 1000 camshafts
Translogic quick shifter module with dynojet sensor
July: Predator6r's ZX6R
03 Z1000 headlight cut and shaped
Volar windscreen
Custom wiring
Stock cluster fitted
Orbital Racing grips
Chinese mirrors
Custom bar ends
09 ZX6R rear resi
Mad Scientist Moto levers
Core Moto blue brake lines
00 ZX12R triples - Top triple cut to fit ignition
00 ZX12R forks
02 ZX12R rotors
02 ZX6R wheel painted and polished
05 ZX6R front fender
Mid:
Frame painted gloss black
Ram air holes capped off with PVC caps
K&N Filters
98 ZX6R gas tank with Emgo cap
05 ZX6R coolant resi
Engine painted gloss black
Stainless steel engine cover bolts
03 ZX6R headers
13 GSXR 750 M4 muffler
05 ZX6R heel guards and footpegs
07 ZX6R rear resi
Core Moto line
Custom tail adapter plates
Rear
2013 ZX6R subframe
2013 ZX6R seat
2009 ZX6R tail fairings
Aftermarket seat cowl
Fender Eliminator
LED turn signals
Polished 05 ZX6R swingarm
05 ZX6R shock and linkages
02 ZX6R wheel painted and polished
Custom caliper bracket fitted
JT Sprockets 15/40 and 530 chain
Paint:
Dupicolor Ocean Blue metal speck
Dupicolor Wheelcast Blue
Gloss black paint
August: yantosh's Blade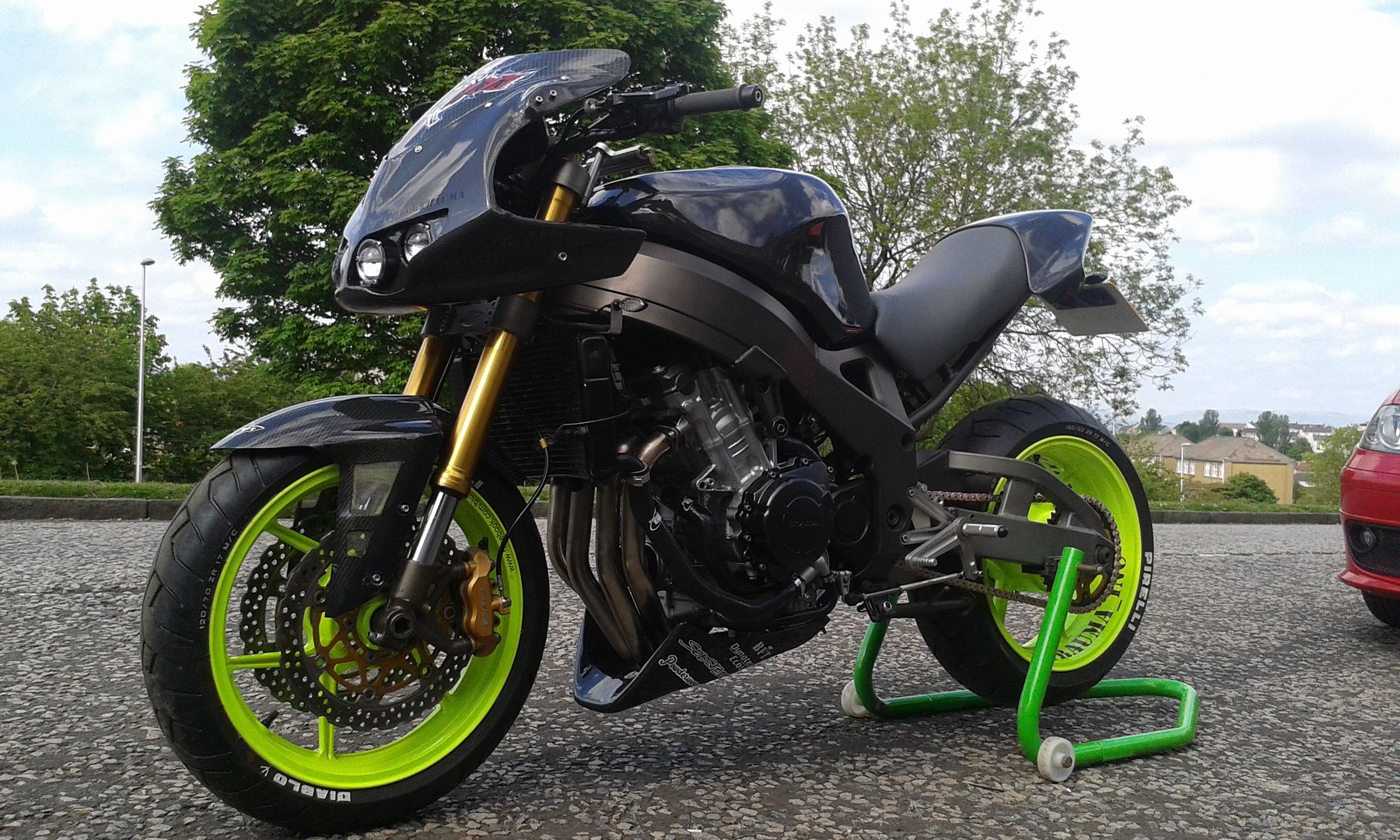 Kawasaki zx6r front wheel
Kawasaki zx10r brake discs and calipers
Hel brake lines
Kawasaki zx16r forks
yokes (triples) by me
fairing mounts by me
handlebar clamp by me
Renthal fat bars
renthal grips
bar ends by me
Buell fairing modified by Sebspeed customs
carbon front muddie
carbon screen by Sebspeed customs, painted by John O'Hara
Ohlins steering damper
mount made by me
stem top nut modified by me
lock stops by me and Callum
900rr tank , de-seamed by me. skinned in carbon fiber by Deeks and I
billet gas cap
1995 frame
1999 engine
standard rad
silicone hoses
hardcore fighters belly pan, skinned in carbon by me
subframe by me
monster seat, modified by me, recovered by a guy in Devon
monster seat cowl, skinned in carbon fiber by deeks and I
tail light surround by me
number plate and tail light mount by me
stainless headers
link pipe by me from existing link pipes
akrapovic Ti can, repaired by me
later model blade arm modded to fit by me
zx10r rear wheel
supersprox rear sprocket
pirelli diablo tyres
sachs aprilia mille rear shock
linkage plates by me
battery tray by me
loom fitted by Scott
race rear sets
clutch cover by me
powdercoating by Powderworx
mini indicators - ebay - mounts by me
reg rec - srad
manual cam chain tensioner
September: yantosh's Bandikat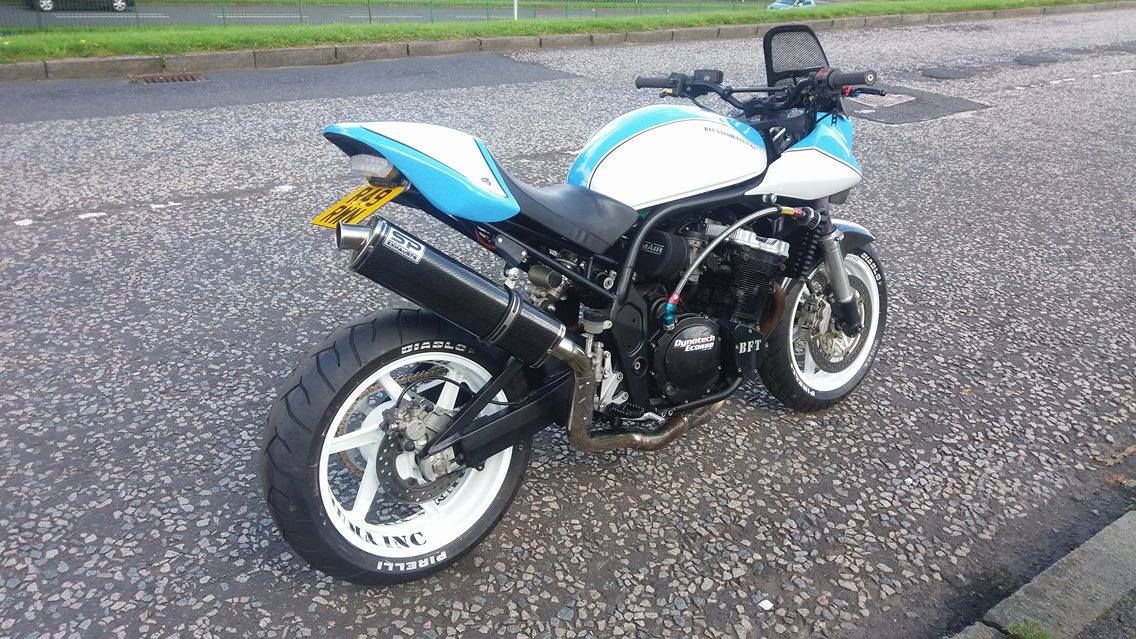 cbr900rr front wheel, discs, calipers and forks
front mud guard - modified zxr750 by owner
fork brace / mud guard mount - aluminium by owner
yokes - billet aluminium by owner
bar riser - billet aluminium by owner
headlight - toyota mr2 modified by owner
replica katana fairing
fairing mounts by owner
renthal bars
pirelli diablo tyres
blackbird master cylinders
chinese levers
mk2 Bandit tank
billet fuel cap
ducati monster seat - modified by owner
rear seat cowl - by owner and Deeks
frame - mk1 Bandit 600 - heavily modified by owner
rear shock - yamaha R6
swingarm - Hayabusa - modified by owner
rear wheel - CBR900rr
rear caliper - CBR900rr
rearsets - mash up of gsxr1000 and KTM by owner
engine - 1985 GSXR750
pick up and timing cover - billet aluminium by owner
carbs - gsx600f
billet magic fish by owner
ram air foam filters
rear light - zx6r
headers - slingshot 1100
link pipe - cobbled together by owner
SP carbon can
can bracket by owner
goodridge clutch cover breather
suzuki oil cooler.... gsxr of some vintage?
1985 gsxr750 wiring loom - lightly modified by owner
Wes Cooley replica paint by Powapaints
powdercoat by powderworx
might be more, i'll have a think
October: Vikrant Singh's Airbender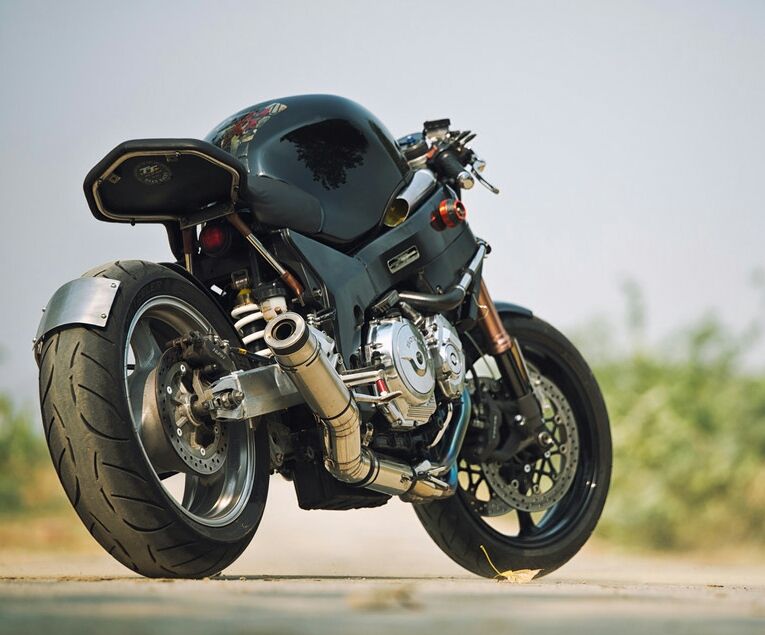 MECHANICAL
Exhaust
3 way trap system with triple mufflers built in SS 304 controlling sound right off the collector, end can in 0.5 mm fine gauge brushed SS. Exit end of the end can built with a ceiling LED body. Copper & SS rings tie the system.
Bend pipes & Collector - 4 into 1 Yoshimura
Cooling System
Yamaha XJ Rad, 30% reduction in volume vs stock radiator, retained stock fan. Flipped inlet & outlet, thermostat sensor slot stolen from stock rad.
Replaced primary stock hoses with SS pipes aligned with manual bender.
Relocated oil cooler, resized stock cooler lines.
Intake System
Hand made with aluminium cans & Suzuki Wagon-R intake hoses as a substitute to the OE intake to eliminate turbulence. Additional secondary inlets created on the rear of intake box.
FRAME
Split Seating
Rider - Sub Frame Hand crafted in SS 304 solid rod, manually bent into the seat pan with heat & die.
Seat Pan hand made in fibre glass, Domyos foam wrapped in Napa hide.
SS frame rods
Passenger - Seat Pan in aluminium strengthened with ss support plate. Sub Frame in SS, foam & skin same as rider's. Secured to rider frame & chassis, detachable on 6 bolts.
Front End
Suzuki GSXR 2007 forks, both yokes (with 28mm offset vs the Blackbird's 32mm), front wheel, rotors & calipers, brake + clutch master cylinders with levers & grips.
Hand made fork protectors in aluminium
Handle bar clips modified to incorporate OE Blackbird switches.
Aftermarket front & rear brake reservoirs
Front Fender
Hand crafted a 100cc Honda fender, supported with aluminium brake lines.
Single Sided Rear Hugger
Hand made in 8mm aluminium, strengthened in 2 parts with ss. Hugger plate crafted in 1mm aluminium
2nd Rear Hugger, front of rear wheel hand made from a Yamaha FZ, adjustable support bracket in aluminium
Delinked Brakes, added Goodridge rear brake lines
Chassis partially masked in 2 mm rubber & wrapped flat black.
Hand made chain cover in SS 304.
Modofied Motor Parts Crash Shrooms.
ELECTRICAL
Extensive mod to wiring loom, relocated under intake box & under tank with Battery.
Head Light Unit
BMW 5 Series 2009 Hella E44 projector with Xenarc D1s lamp & its OE ballast.
Projector & lamp bedded into a KTM Duke's Dome sealed with some transparency. Retained dome's parking.
Gauge - Motogadget Motoscope Pro with Breakout Box B with added water temp sensor.
Tail Light - Toyota Highlander modified with a kitchen strainer.
Turn Signals - Ixeno Bastard Bar End Turn Signals, clips pierced to circuit, added adjustable turn signal relay.
Relocated Ignition Key, ignition coils, Ignition Control
Module, horn.
BODY
Restored only -
Clutch/ Ignition/Drive sprocket & Alternator covers stripped and buffed.
Valve cover stripped, finished in brushed aluminium.
Restored exhaust collector & bend pipes, chassis & swing arm, foot pegs, hubs.
Rear wheel stripped & restored in brushed aluminium.
Tank cap in polished aluminium .
Paint -
Rear Strut Spring, wrapped strut.
Bottom, rear & cylinder sections of engine.
Partially repainted chassis.
Front fender.
Rider seat pan under body.
Engine synchronized, dual shaft balancers adjusted hours ago, good to go
November: axm203's 1990 Slingshot 750 "Predator"
1990 GSXR750 frame & motor, complete teardown
2007 GSXR1000 forks, triples, wheels, swingarm, & shock
Custom upper & lower link mounts and adjustable links for rear shock adaptation
Upper triple modified to delete ignition, adapt bar risers and gauge
2012 Yamaha R6 tail, shortened 3" to mate seat to tank, bolts to new mounts that were welded to the GSXR frame
MT03 headlight on Sebspeed mounts
Radiantz led front signals, integrated led rear light
Motor unmodified, but fully cleaned & detailed
Factory Pro jet kit + K&N filters
Yamaha throttle tube housing
CX Racing oil cooler, custom mount & lines
Custom crank breather overflow
Custom rear head vent lines
All lines & fittings are Earl's brand
Drag bar with ZX10 switch controls
Koso DB03R gauge set up for full function
Russell & Core Moto ss brake lines
Rearsets and other colorful shiny bits from China
Factory Pro billet case covers
Custom speed signal pickup, mounted on countershaft
Frame powdercoated gloss black
V&H drag header and Yoshimura pipe mated with custom mid pipe
Pilot Power tires
December: busa1300's GS1000 "Left For Dead"
1978 GS1000E
LEFT FOR DEAD…
Things changed or rebuilt
Frame powdercoated
Original rusted tank swapped out with clean original paint tank
Rear tail swapped with matching original color tail
Rotted seat swapped for clean seatbase and recontoured foam, with new cover
New lower rise handlebars
Rebuilt and repainted switch gear
New throttle cables, speedo cable, tach cable
All wiring redone, with a few new ends to replace missing/cut off wiring.
New Dyna coils, wires, plug ends, and full electronic ignition.
Restored gauges
Polished upper and lower triples
New head bearings
Steering damper and welded on frame mount.
Yoshimura oil cooler adapter and 11 row cooler
Daytona steering brace
GS1100E front forks, completely rebuilt with new bushings and seals, cut main spring and 1.5 inch spacer added to rebound spring. 15 weight fork oil
Rebuilt antidive units
600 Katana front calipers, with my own adapters
Custom fit braided brake lines
B-King front radial master cylinder
GS1100E cut down front fender
GT550 front hub, with 2.75x18 Sun aluminum rim, stainless spokes
GS1150E front and rear rotors
ALL bolts replated by me
New wheel bearings
Rebuilt carbs with Dynojet stage 3 kit and K+N filters
All new engine gaskets
Engine completely soda blasted and repainted as original
Bottom of engine sump pulled off and everything cleaned and checked.
Clutch inspected, valves all checked, along with 135-140 compression throughout.
GS1100E aluminum rear swingarm with new bearings
GS1000C rear hub with Sun 3.5X18 rear alumnium rim, stainless spokes
New 530 conversion front ad rear sprockets and chain
150x70 and 110x18 Avon tires, new tubes
Japanese home market KYB piggyback shocks (1994 GSX1100S)
600 bandit rear caliper, with modified mount, and aluminum control bar
HH sintered metalic brake pads front and rear
600 Katana rear master cylinder with custom mount and aluminum actuating rod
Vance and Hines header
Shoria ion battery
Super heavy duty regulator rectifier swap
ALL rebuilt by me…..