Discussion Starter
•
#1
•
VOTE FOR YER FAVORITE 2012 Fighter!
Another year, another collection of awesome machines.
Click on the pictures to go to the entry post to read more about each bike, and click on the username to go to their profile (if you want to stalk them or something)
I used the picture of each bike from the voting thread, if you would like a different picture, shoot me a pm or message on my profile.
Good luck to all the builders!
January 2012 - juma's 1990 fj1200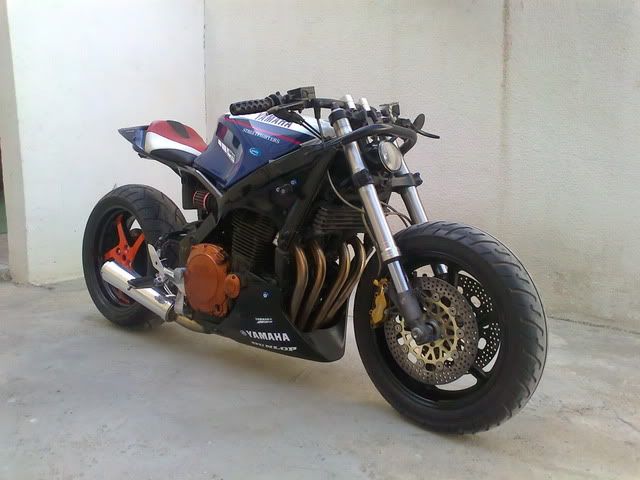 Mods:
1990- YAMAHA FJ 1200CC
FRONT FORK FOR CBR 954
FRONT WHEEL SIZE 16 FOR CBR 900RR
THE REAR SSSA FOR VFR 800
I maximize the wheel size of 5.5 to 6.5
210/50/17/ZR METZELER MARATHON
February 2012 - spart666's bastard busa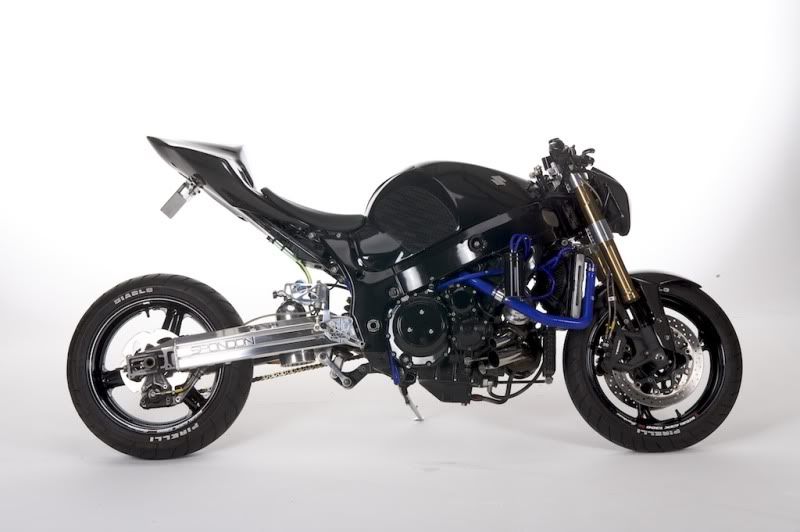 Mods:
Engine fully stripped and rebuilt new mains and big ends
forged je pistons, barrel spacer
Cams: cylinder head had the valve seats re-cut and lapped and some minor porting
bearings and seals heavy duty head studs
Clutch: heavy duty clutch springs modded clutch basket billet clutch slave support bracket
Turbo: Garrett gt/28 turbo charger tial 38mm waste gate small dump pipe k&n cone filter
alloy plenham chamber samco hoses inline thermo cooling sender
Nitrous oxide system: not plumbed in yet
Power Output:when set up at holeshot stage 1. 287.6 r/w bhp 178.8 lb of torque (150lb of torque produced @ 5000rpm
bill (dynotmutt) has replumbed the system and put two level boost system standard 240bhp
high boost 292bhp confirmed but more like 300+ when wiring sorted
hayabusa 1999 frame
Modifications: lugs cut off and ram air ducts smoothed down powder coated frame
Billet coolant bottle
Subframe: modded aprillia /gsxr sub frame
Footrest/Hangers: Harris adjustable rear sets,

Front End:
Forks: hayabusa 2008
Yokes: billet thug yokes, one off risers
Wheel: hayabusa 2008 front wheel 120/70/17 Pirelli Diablo tyre
Discs: hayabusa 2008 discs
Calipers: hayabusa 2008 radial calipers
Brake lines: Goodrich braided lines
Handlebars: black renthal drag bars rizzomo res, matris steering damper with
916 style mounting bracket
Master Cylinders: brembo rs
Switchgear: hayabusa 2004 switch gear
Clocks: motogadget clocks and idiot lights
Instrument Surround: one off clock mount

Rear End:
Swingarm: spondon drag arm with 2.5lb noz bottle
Shock(s): hayabusa 2004 shock reworked
Wheel: hayabusa 2004 rear wheel 200/50/17 Pirelli Diablo tyre
Disc: gsxr 1100 wavy disc
Caliper: hayabusa standard 2004
Torque Arm: modded short bar
Chain & Sprockets: d&d extended chain standard rear sprocket

Bodywork:
carbon mudguard,
Fairing: are for puffs
Petrol Tank: standard hayabusa 2004 tank modified to fit frame boost gauge and temp
Built into the tank Oberon filler cap
Seat: gsxr k6
Tailpiece/Rear 'Guard: gsxr k6 carbon seat unit and under tray

Electrics:
Main Loom: hayabusa heavily modded loom, aux in seat hump,

Ignition: fuel m,ment MBE 9A4 ECU - modified harness to suit ecu- 3 bar map sensor - hd fuel pump heavy duty fuel injectors top hats and clips,eboost 2 boost controller new regulator rectifier 6 stages of boost,
update new plug and play loon for race ecu from holeshot and new loom for boost by dynomutt new loom for all auxhillaries by dynomutt new carbon mount and guages for boost and temp guage with two way switch for high and low boost

Headlight: Yamaha mt03 front light, one off clock and headlight bracket,
Tail Light: one off billet plate tidy with built in flush mounting brake, tail, indicators leds,
Indicators: as above

Paint:kept the carbon, tank black with pearl gt stripes in pearl white with blue pin stripe…………………………………………………………………………………
March 2012 - piester's 1998 gsxr7/10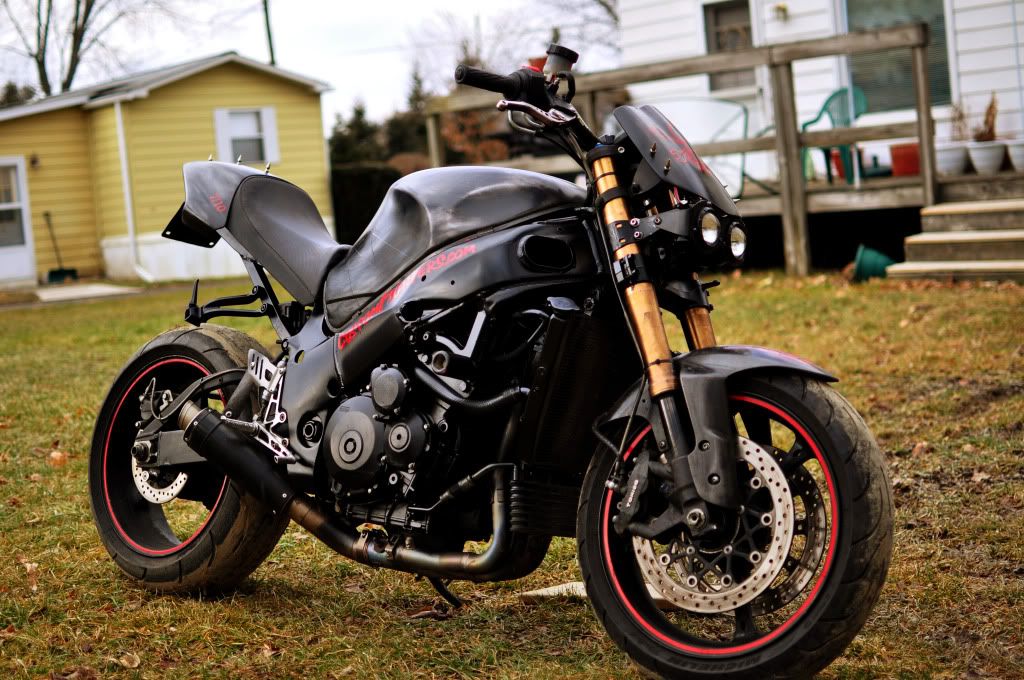 Mods:
98 gsxr 750 frame and top of gas tank
08 gsxr 1000 motor, forks, wheels, front brakes, rear shock, bottom of gas tank and fuel pump.
05 gsxr 600 swingarm, and rear brake
05 gsxr 1000 radiator.
kickstand found in my shed
ti header, i think stock. ti midpope and can tucked under
braided clutch and brake lines.
home made subframe with ducati monster seat, cbr smoked integrated taillight.
smikes on the monster solo cowl and buell xb12 windscreen
projectors from a zx14r modded to both take 65w builbs.
protaper risers and fatbars.
chazzo levers. protek rearsets
vortex 520 alloy sprockets and did evr3 chain
vortex keyless gascap
coolant res, battery, and all electrics under gas tank
4 way flasher button to turn fan on early. switchable timing retard eliminator
new oil, plugs, and airfilter.... finally
all rattle can paint built in a shitty shed by me
April 2012 - Dyrden's 2003 Yami R1
Mods:
Vrod headlight
Custom triple
Key less ignition
all internally routed wiring
custom sub frame
all aluminum custom tail(hand bent in my kitchen)
custom tail light with leds
custom black ano on lots of misc parts
custom overflow
rattle can black painted on my patio
black levers
black mirrors
chopped exhaust with baffle in header
other stuff that I forget about
May 2012 - cube's 1200 GSXR Monster Race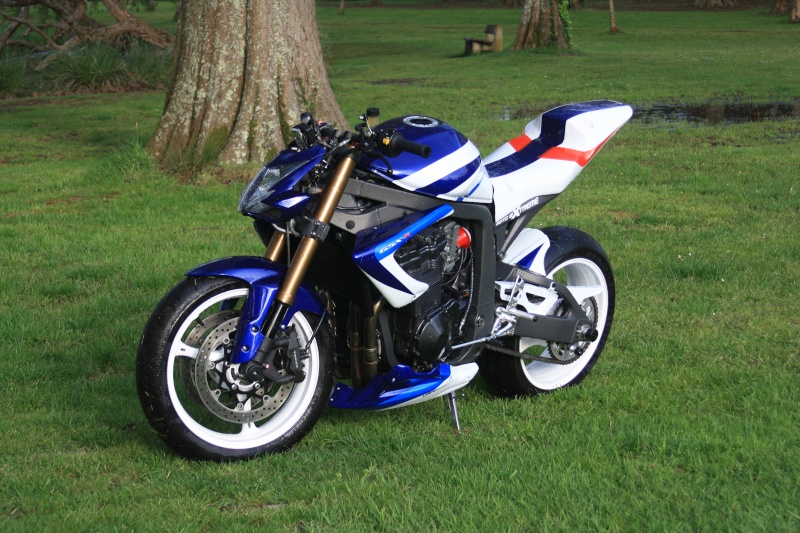 Mods:
Engine 1200 bandit 2004 18.000Km
Carbs FCR 41 Khein
Advancers 1100gsxr 1990
Cams 1100 gsxr 1990
Exhaust Micron & Akrapovic

For the frame
Epoxy powder coated wheels and the frame
Fuel tank 1200 Bandit 2004
Front shok GSX-R 1000 2006 and wheel
Swingarm GSX-R 1000 2006 and wheel
Subframe CBR1000 RR 2010
Headlilght Ducati Streetfigther
Meter Koso DB-02R
Handlebar Rizoma

Paint Newchrome.fr , turning it's USVracing.fr and for machining it's me.
The construction of the bike has taken six months to be completed.
June 2012 - Yamaha chop's 1979 XS650
Mods:
1979 XS650- used to be anyway
custom frame
custom swingarm
custom designed rear suspension
custom intake/turbo manifold/exhaust/intercooler piping
2007 GSXR 600 forks
CBR F2 front wheel
Ducati 749R headlight
GSXR 750 gas tank
Kawi636 seat
CBR 1000rr tail/second seat
Buell XB12R rear shock
Audi TT turbo
Audi S4 intercooler
Mitsubishi Eclipse Blow off valve
Dodge neon throttle body/ injectors
Vapor speedo
Sv1000 tail light
F3 rear wheel
Ballistic battery
Megasquirt MSII v3.0 controlling fuel and spark
Bunch of other odds and ends.....
July 2012 - purpony's 1999 buell X1
Mods:
- Metallic Ocean Blue Paint
- Custom cut "BUELL" outlined decals under clearcoat
- Carbon Fiber Tank side covers
- Powdercoated Frame
- Wrapped Header
- SuperTrapp Muffler with custom eblow
- Custom homemade "force style" intake
- Cone air filter
- Ford IAS mounted in custom intake
- Buell Race Tune
- Buell Pro Seat
- XBS Headlights
- Custom Dash (holding factory gauges)
- XBS Flyscreen with X1 factory graphic
- XB City Headlight Grill
- HID bulbs
- Dual Highbeam Mod
- Custom XB Heel guards
- Custom Bar-end Mirror
- Custom homemade undertail
- Custom Billet LED taillight/blinkers
- Custom Plate holder
- Custom underseat electronics tray
- Powdercoated XB Rocker boxes
- B2R billet pegs (anodized)
- Powdercoated starter (black)
- New style X1 exhaust hanger
- X1 Battery cover
- Amsoil 20w-50
- Powdercoated X1 Swingarm - shaved and machined for hidden caliper (black)
- Powdercoated XB Forks (black)
- Powdercoated XB Triple Trees - machined (black)
- Powdercoated XB Wheels
- Custom Wheel Spacers
- Powdercoated XB Front Brake caliper (black)
- EBR 6mm Front rotor
- XB rear rotor
- Brembo/Ducati hidden brake caliper
- Custom hidden rear caliper bracket
- Brembo/Ducati master cylinder
- Ducati rear brake reservoir
- Powdercoated Rethal Fatbars
- PreEng Risers
- Custom tubular rear subframe tail
- Custom billet aluminum 61 tooth pulley - Hardcoated
- Powdercoated XB Rocker Boxes (black)
- XB Oil cooler - custom mount and plumbing
- Modified Pegasus Catch Can
- Orange Wheel stripes
- Bankes Shifter (anodized)
- B2R Brake Pedel (anodized)
- Pazzo Brake/Clutch levers
- Custom length Motion Pro clutch cable
- EBR decals on swingarm
- Penske Rear Race Shock
- Custom Penske shock reservoir clamps
- All new updated isolators
- New style voltage regulator and mount
- Michelin Pilot Road 2 tires
- and probably some other things im forgetting

All mods, paint, machining, and design was done by myself... from designing and machining the billet rear drive sprocket and tail light, to making the custom tubular tail, to powdercoating every piece on the bike...
August 2012 - cabbie's BOXER
Mods:
Turbo cbr 900 motor 200bhp (estimate till it's Dyno'd)
GSXR K9 forks
OZ wheels
Aprilia RSVR swing arm
custom radiator
Streetfighterbling.net yokes
gsxr K9 calipers on Brembo disc's
Rsvr rear caliper on Galfer disc
Scratch built frame (welded by a pro)
Scratch built:- tank, seat, subframe, subframe cover, handlebars, speedo housing, side stand, expansion tank, hugger, adjustable ride height unit, hydraulic clutch conversion, steering damper mounting kit and sprocket cover.
September 2012 - knuckles's 1991 Honda CBR 600 F2
Mods:
*Frame~smoothed, de-tabbed, stock subby chopped off and custom tubular subframe with 'bolt on' brackets installed, painted.
*Engine~stock internals, APE manual CCT (not pictured), painted.
*Exhaust~Yoshi 'big tube' race header, custom stainless midpipe, custom stainless muff-box, painted.
*Front end~stock '92 forks, smoothed and painted, stock triples with one-off riser adaptor for Pro-Taper 'fat dirty bars", fender eliminated, stock brakes, stock wheel...painted and wrapped in Dunlop D208 Sportmax tire (120/70/17), stock controls, bicycle speedo.
*Rear end~stock '92 swinger, smoothed and painted, hugger eliminated, stock brakes, '98 F3 wheel wrapped in Michelin Pilot Power Race tire (170/60/17)
*Body~stock tank (with dents) stripped and mirror polished, then painted with translucent black paint, custom aluminum seat, mirror polished, then painted with translucent black paint.
*lots of other things.....
October 2012 - Nate l's 600Double rrrrrrr THE BUSINESS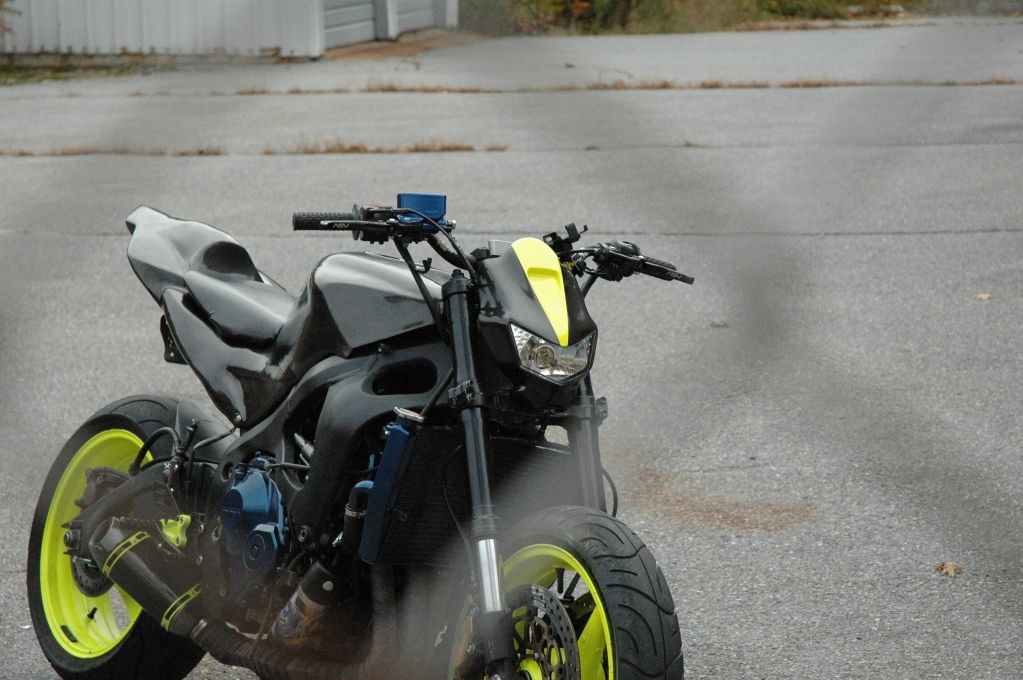 Mods:
one off carbon fiber "monocock" body with custom subframe made by me, nice mask, 929 frontend ballistics battey, pc, some head work and you can see the rest.
November 2012 - chaos6's 2005 Kawasaki Z750
Mods:
'05-'06 Kawa 636 Forks, Front Wheel, Front Brakes, Fender
'05 Kawa Z1000 Triples
'05-'06 Kawa 636 Swingarm, Rear Wheel, Brakes
Braided stainless brake lines front and rear
Fairing eliminated
Side and frame covers eliminated
Cover mounting tabs removed and smoothed out
Risers machined down
Gauge mount fabricated and gauges relocated
PAIR Valves eliminated
Airbox delete/Pod Filters fitted
Battery and electronics relocated
Chopped carbon fiber Two Bros can, underslung
Rear fender elimination
Chopped front fender
Fabricated headlight and signal mounts
Shortened front and rear turn signals
Water bottle coolant overflow
Shorten and reroute wiring harness
Worn black over gold Rustoleum rattle can paint job
...Super-duper, hyper-awesome, limited edition, custom made, golden Skully sticker on the overflow bottle (it's pretty bad-ass)

All work done in my garage, by me, with the exception of the machining of the swingarm spacers, handlebar risers, and the powdercoating of the rear wheel.
December 2012 - david502's TL1000S
Mods:
Painted BMW Marrakesh brown
Custom polished aluminium radiator
Custom 2-1 headers with single sided exhaust
Custom polished fork shrouds
Front and rear wave rotors with race pads
Polished rear swing arm with tabs removed
Custom polished aluminium subframe
Black powder coated wheels
Michelin 2CT Tires
Modified GSXR K6/7 600/750 front guard
Custom GSXR K6/7 600/750 headlight
Custom headlight shroud
Koso XR-SR digital dash
CRG mirrors
CRG shorty levers
Driven grips
Customised Gemo Fighters tail
Led tail light and indicators
Braided brake lines front and rear
Keyless ignition
Modified top clamp
Motydesign lithium battery
Riflemans 1/5 throttle insert
Ohlins rear shock
Rizoma front and rear brake reservoirs
50mm risen clip-ons
Modified wiring loom
K&N air filter
Custom seat
SV1000 belly pan
Custom rear sets
Custom swing arm spools
Custom keyless gas cap
Van's billet clear clutch cover + retainers
Not sure what prizes are for the winner yet.