Discussion Starter
·
#1
·
I don't know about yall but enamel paint (such as rustoleum or duplicolor) blows, sure it's cheap... That's about all it has going for it. It's soft, not very chemical resistant, and it fades. It has no business being on a bike if you ask me. Aside from painting your engine with engine enamel that is, don't waste your time guys. I've used it plenty to know that it's no good.
The problem with urethane lacquer and whatever else is it's expensive as hell if you buy it by the quart. You could easily end up spending $300 in materials if you paint it yourself; you take it to a shop and they're gonna want $1000 easy for tank fenders and a couple panels.
I found something awesome and tried it myself. It's the two part paints in rattle cans. For $60 + shipping I had the paints I needed. You could paint a tank for $40 if it has fact paint on it, mine didn't so I had to take it to bare metal. The paint I used is called spray max. One can can paint two fenders, or one gas tank. So if you're doing tank + 2 fenders grab two cans of everything. At $20 a can you can't beat it.
I used the 2k epoxy primer, the 2k filler and some single stage 2k gloss black. All urethane aside from the epoxy. It turned out pretty well, it's not perfect as it's a single stage and has some peel and what not but shit; its a big improvement. It's strong paint, gas resistant, uv resistant, and with good primer (fact paint or epoxy) it will not chip or scratch easily.
Materials:
Scraper
Sand paper 320, 400 and 600 grit. Wet or dry
Aircraft stripper, (if your paint is not fact or is shit paint)
Tack cloths
Windex or acetone or some evaporative cleaner.
Respirator (DONT SKIP THIS!)
News paper
Plenty to drink.
If you're starting with fact paint then you will not have to spend near as much time as someone with shitty paint.
Do your body filling/smoothing first, tons of guides on this everywhere
GOING TO BARE METAL IF YOUR PAINT IS NO GOOD
Definitely do this if you have any kind of rattle can enamel on, if you don't your paint will crinkle and wrinkle and suck dick.
Spray your stripper on, give it a few minutes to work; if you're using the gel just spread it on and give it about 15 minutes. BE CAREFUL WEAR GLOVES! This shit burns pretty good. After it's set, scrape it off. Rinse repeat until you start seeing metal pretty well. At this point begin wet sanding with 320 grit to get the rest of the paint off and scuff the metal up. Try to get any shit impregnated in the metal out; better to be on the safe side. Get all your tiny crevices and cracks with the sandpaper, especially down into where you'll be filling your tank up at.
So you're at bare metal such as this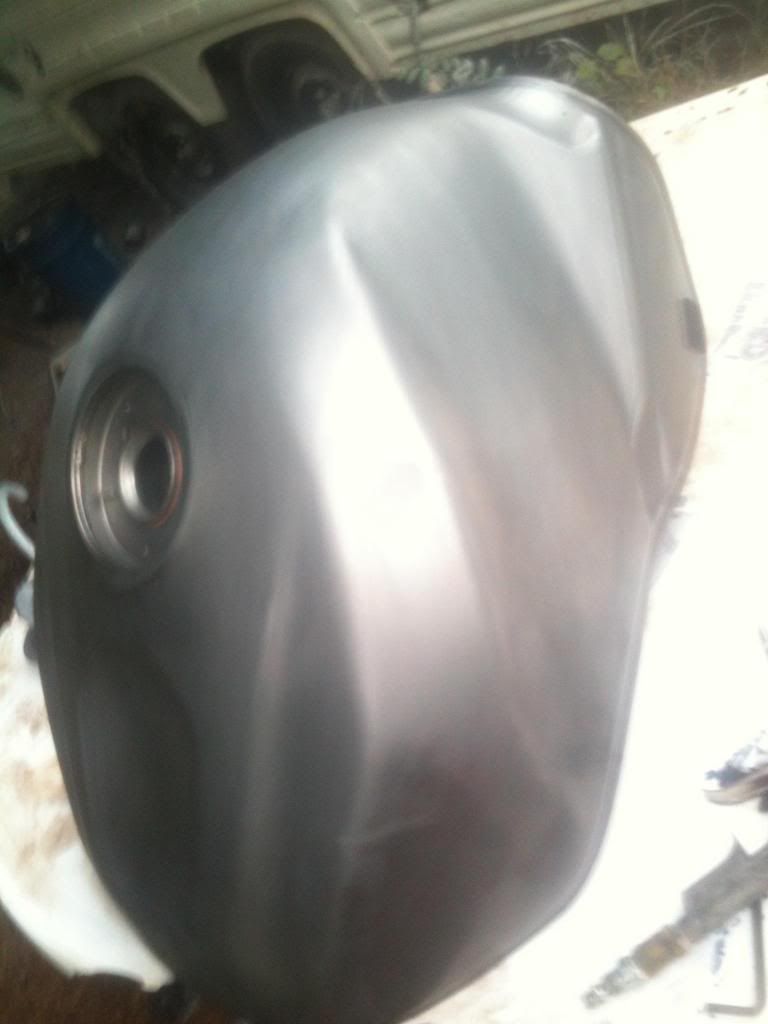 Clean your tank off well with your cleaner solvent and tack cloth. Get OCD with it.
Place your tank on some fresh newspaper, or a clean surface at least, you don't want to knock dust off the surface your tank/fender is sitting on into the paint while you're spraying.
Get your epoxy paint ready, shake it 3-4 minutes before you pop the thing on the bottom to mix it and then shake it 3-4 minutes afterwards. Spray a good 2-3 wet coats, it's hard to make this paint run but if it does you'll be fixing it with filler primer in the next step. Give the epoxy a good 30 minutes to dry. Skip to filling and priming.

Fact paint start point.
Wet sand the entirety of the tank with 400 grit, scuffing it well and getting into the clear coat; you don't have to sand the clear off but give the new paint something to bite into.
After you've scuffed the paint well with the wet 400, trying to smooth any chips or imperfections as much as you can you're going to get your 2k primer filler ready. Shake it for at least 2 minutes, the stated minimum is two but I'd shake it for 3 or 4. After that, mix it, pop the dilly doolopper into the bottom of the can and press until it bottoms out; then shake it again for 3-4 minutes.
Now that your paint is ready, spray your tank/fender with your cleaner solvent and wipe it off clean with your tack cloth. Get ocd, anywhere theres solvent or grime or loose paint you run the risk of the paint having problems. Wipe dust off, solvent, anything.
FILLING AND PRIMING
Mix it like before 3-4 minutes of shaking before and after
After you've done that spray good thick coats of the primer. Before you even spray on your fender/tank start it off by spraying it on a test panel just to get the paint flowing. This stuff is hard to make run so don't be afraid to get gratuitous, you're going to be sanding it smooth anyway. Cover your damaged areas well with it. The point of this paint is to put enough on to sand it smooth so it'll hide imperfections. Wait about 5 minutes between each coat, this stuff dries very quickly; a good bonus of 2 part paints.
Give that a good 30 minutes to dry.
Come back at it and start by wet sanding it with 400 then finishing it up with 600 grit. If you really want a great smoothness, hit it with 1000 grit afterwards but thats up to you. I just went 400-600 on this and it turned out great
Here's what I had after I had sanded the primer filler.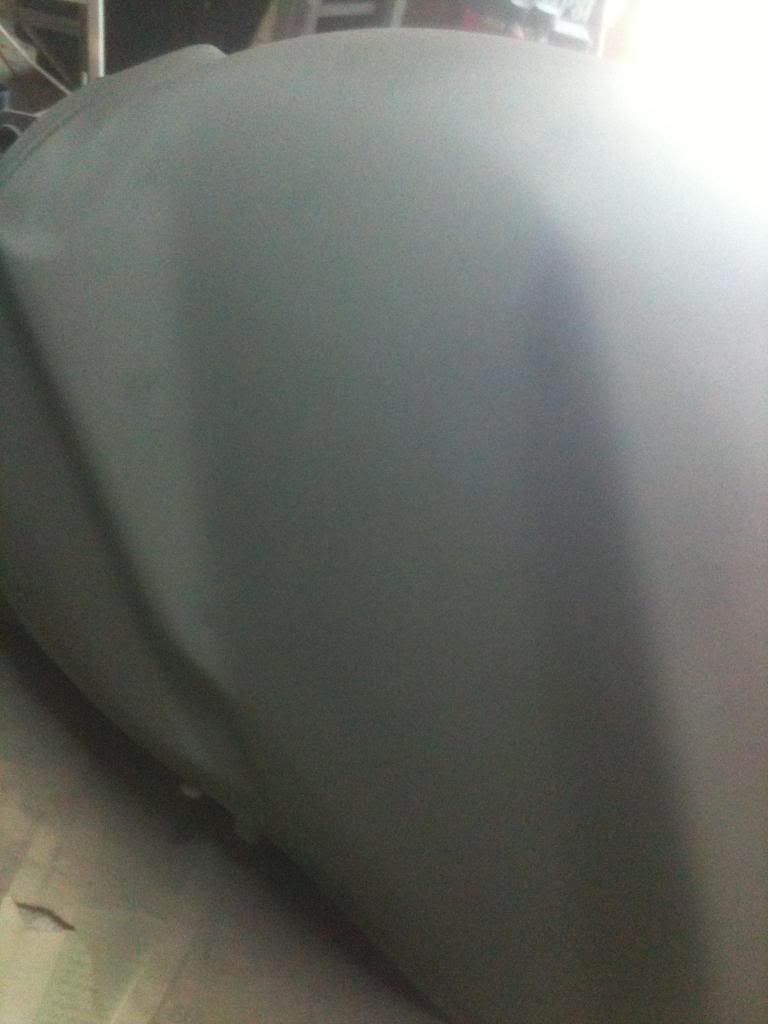 Yes my phones camera is weak but you're gonna want a smooth surface, feel all over this tank like you're trippin balls on lsd. The smoother you get the better your finish. Wipe it off regularly with a wet cloth
So you've gotten this far, your shit is smooth and you're ready for color. Your color will run a lot more easily, mix your paint same as your primer. You're going to want to do 3 coats, try to work your way low to high, chasing the dry out. Overlapping well enough not to make it run Give it a good 10 minutes between coats, especially if you're working with dark colors; it can be hard to tell when it wont run. I had a run on mine but it turned out alright anyway.
If you sprayed well you should get a nice finish, this is just single stage so I won't go into clear coat buffing and all that shit but here's what I finished with
Give this a thought guys before you pick up some rustoleum and start throwing away your time and money. This really makes quality paint jobs a lot more available to the DIYer. don't have to set up a paint gun, no need to mix, simple and easy. This paint is strong too, dries completely in 24 hours.