Discussion Starter
·
#1
·
This time I looked - but didn't see that this has been posted before.
but who knows.............it's old, so it prolly has been:
No animals were hurt or injured during the
filming of this phucktards home video: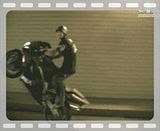 BTW, don't worry - he obviously didn't get hurt in this accident, because he was wearing a NOVELTY helmet and a long sleeve T-SHIRT!!!
dang mang................wish i was that cool!
ha! ha!
Miki