Discussion Starter
·
#1
·
1982 Yamaha XJ650R Seca
Clean title, 32K miles, 653cc, 4-cylinder, 5-spd
$3,000
(630) 306-1248
Located in Lombard, IL (25 miles west of Chicago)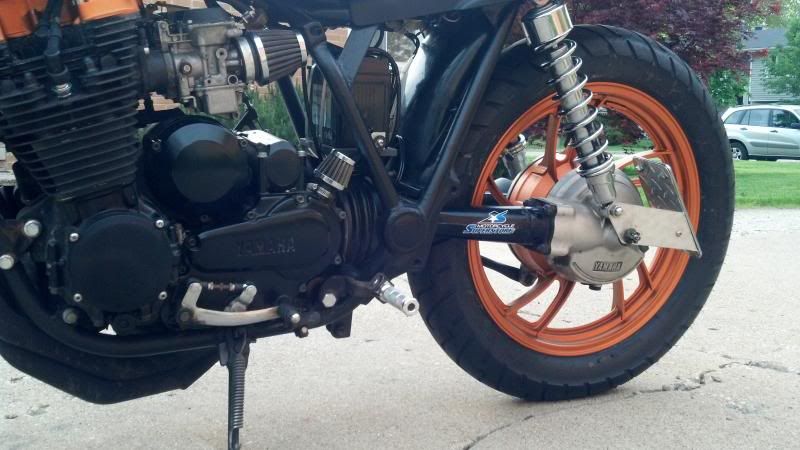 -----------------------------------------------------------------------------------
There's a build thread on here, somewhere, if you're interested in seeing the progress.
There are more custom/aftermarket parts on this bike than there are stock parts, but I'll try to list most of them anyway:
New Shinko tires
Custom "burnt copper" painted wheels and valve cover
Harley sportster overload shocks
Custom Clip-on bars
Custom headlight brackets
Brown barrel grips
Norton-style café-racer mirrors
New clutch and clutch springs
New brake pads
XJ750 maxim slotted rotors
Shortened/reshaped Seca XJ650J turbo front fender
XS750 speedometer (140mph)
Custom CBR600RR foot pegs
Custom license plate bracket
Custom sub-frame
Custom tail-pan
Custom seat
Custom gas-tank mounts
Mac 4-1 racing exhaust
Pod filters
Manual fuel valve, with inline fuel filter
Custom front turn signals
Custom 2-light taillight/turn signal conversion
Custom battery tray
New battery
Custom GPS bracket
Water proof XOG GPS
Other little custom stuff here and there.
Best of all, a binder full of receipts.
-----------------------------------------------------------------------------------
There's more in this bike than what I'm asking for, and it's a blast to ride, but I want to move on to my other projects
While the bike can be, and is ridden as is every day, it is a 32 year old bike, and you can always find things to work on.
-Because of the pod filters, and the racing exhaust, it should be re-jetted.
-There is also a small oil leak, visible wet spot on the engine head, but no puddles.
-It currently has original front springs, which are very soft. I have purchased aftermarket progressive springs, as well as new oil seals and dust seals/caps, but I wasn't planning on replacing them until the end of the riding season.
-----------------------------------------------------------------------------------
Sorry, but no test rides unless you have an M-license, and I'm holding the full amount in cash in my hand.
I'm also not looking for any trades. I have my hands full with other projects.
I'm pretty FIRM on the price, so let's not waist each other's time if you don't have the money.
I'm in no hurry to sell it, since I'm planning on going to Sturgis, and I don't think I'll have my other bike ready by then.
Call or text me at (630) 306-1248
The bike is located in Lombard, IL
By North Avenue and I-355 intersection
Must meet face to face, cash only.
P.S.
These are the latest pictures I have of the bike, taken less than a week ago. The blue "motorcycle superstore" decals were on the bike for a contest entry, and are easily removable.