Discussion Starter
·
#1
·
We've all faced these struggles, it's either due to a lack of space/time/funds or an ear beating from the significant other. Somehow, I have never gotten to that one special project rattling around in the back of my head.
There is something about frankensteining a motorbike together that appeals to me. The time it takes to pick over rotting frames, fabricating, meeting new people, and re-purposing parts to suit your needs feels somewhat artful, even though it's not about looking pretty.
Mad Max was a film I grew up on and I'd be damned by my own father if I didn't say it had an influence on my odd mechanical fetish now as pseudo adult. So, when I found this half torn down Yamaha in my possession it just felt like the right time to do what needed to be done, plus Cycle-Barn was having its annual 80% off sale that month.
THE STARS HATH ALIGNED!!!
WELCOME TO THE MAD MAX ROAD WARRIOR RAT BIKE TRIBUTE BUILD THREAD!!!
Code name: MAD-RAD​
Goals?
-Big ass tank
-Blinker delete
-Harness tuck / fuse block update
-Custom tail fairing / indicator lights
-Crude ducktape seat
-Air box delete
-Battery relocation / box delete
-Passenger peg delete
Current Objective: Tare Down
There is A LOT of ugly stuff I need to sort out in order to build the essential shopping list. Everything rubber is pretty much cracked and falling apart, it's going to need new tires, wires, carb boots, ect.
After taking off the tank to get good look at it, I realized the bubbles in the paint were actually pinholes from the rust eating through, and the cap had been molested with a power tool... That's cool, I'm not even mad. This thing needs a much more ridiculous fuel tank anyway.
But the wiring is going to need love. Every single ground looks like this.
And this is my wonderful fuse box!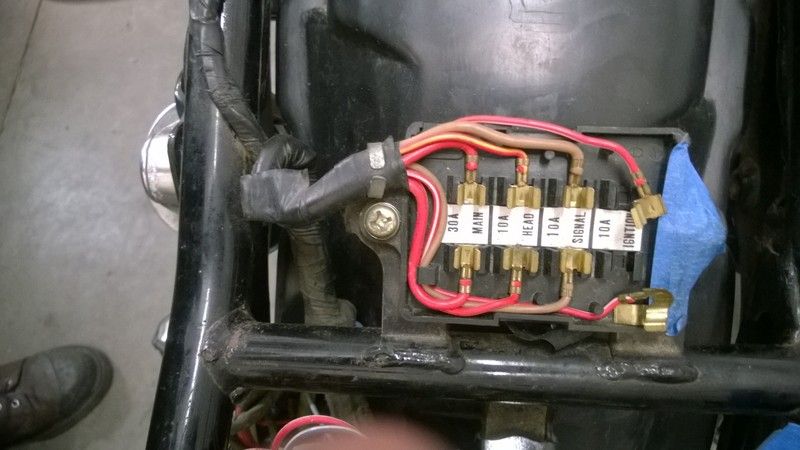 I will be plucking away at this thing for a while, but by the time I'm done I should only have 5 visible wires with colored shrink wrap
Now, if you'll excuse me, I need both hands to drink beer tonight.
***Updates will be had within the week, or whenever I can get around to posting them, CHEERS!!!